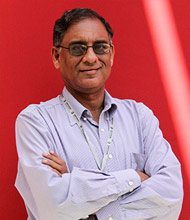 Professor of Practice, Arzu Program for Languages and LiteratureDirector, Arzu Center for Regional Languages and Humanities
School Of Arts, Humanities & Social Sciences
Research Interests
Development of modern Urdu fiction;
Sociocultural aspects of historical events in 1947 and 1971 with contemporary literature;
Post-colonial fiction;
Themes and trends in contemporary Urdu poetry;
Translation theory.
---
Biography
Dr. Asif Farrukhi is a fiction-writer, critic and translator. A public health physician by training, he did his MBBS from the Dow Medical College, Karachi in 1984 and Masters in Public Health with concentration in International Health from the Harvard University, USA in 1988. He completed the Short Course on Health Economics and Financing from the London School of Hygiene and Tropical Medicine in 2012. He served as Senior Instructor in Community Health Sciences at the Aga Khan University, Karachi with primary responsibilities of teaching undergraduate medical and nursing students and developing modules of primary health care in under-served areas of Pakistan. From 1994 to 2014, he served as the Health and Nutrition programme Officer at UNICEF, Karachi with primary responsibility of planning, monitoring and managing Maternal and Child health related interventions in collaboration with the government and NGOs.
Dr. Farrukhi's academic and research interests are in literature and language. Known for his short stories and essays, seven collections of his short fiction and two collections of critical essays have been published. He has published translations of prose and poetry from modern and classical writers. His recent publications include a collection of new critical essays on Manto and Look At The City From Here, an anthology of writings about Karachi, published by OUP. Dr. Farrukhi contributes regularly to the English- language press. Two of his adaptations have been staged in Karachi. He is the editor of Duniyazad, a literary journal of new writing and contemporary issues in Urdu.
Dr. Farrukhi has presented papers and participated in literary events at home as well as abroad. He is a founder member of the Karachi Literary Festival. For his distinguished work, he was awarded the Prime Minister's Literary Award by the Pakistan Academy of Letters in 1997 and the Tamgha-i-Imtiaz by the Government of Pakistan.
---
Selected Publications in English
An Evening of Caged Beasts: Seven Postmodernist Urdu Poets, Selected an introduced by Asif Farrukhi, translated by Frances Pritchett and Asif Farrukhi, Oxford University Press, Karachi,1999.
The Distance of a Shout, selected poetry of Kishwar Naheed, edited by Asif Farrukhi, Oxford University Press, Karachi , 2004.
The Critic as a Delighted Reader, Introduction to A Critical Survey of the Development of the Urdu novel and short story by Shaista Suhrawardy, Oxford University Press, 2006.
Hundreds of Pathways in the Sky and the Wind, introduction to Godavri by Fahmida Riaz, Oxford University Press, 2008.
Nasooh and Nazir Ahmad: From Cholera to Book-burning, Introduction to the Penitence of Nasooh, Oxford University press, Karachi 2008.
Look At The City From Here: Karachi writings, selected and edited by Asif Farrukhi, Oxford University Press, Karachi 2011.
Upon a Time: Cultural Legacies, Fictional Worlds of the Partition and Beyond, in Quurratulain Hyder and the River of Fire, edited by Rakhshanda Jalil, Oxford University Press, Karachi, 2011.