CEO, Babson Global
PhD in Accounting and Organizational Behavior, Columbia University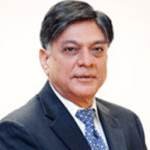 Dr. Ansari has extensive experience in teaching, scholarly research and consulting. Prior to his joining Babson College, he was a member of faculty at the University of California, Los Angeles (UCLA), New York University (NYU), and the Naval Postgraduate School. He has also served as visiting faculty at INSEAD, Macquarie University, Pretoria University, the Marshall School at USC, the Shell Learning Center in Houston and Holland, Rice University, and the Darden Graduate School of Business. He has also worked as a consultant for several major national and multinational corporations, as well as the U.S. Department of Defense.
Dr. Ansari is the author of a number of articles, which have been published in the award-winning series "Management Accounting: A Strategic Emphasis"; "Target Costing: The Next Frontier in Strategic Cost Management"; and "Hitting the Target: An Implementation Guide for Target Costing". He has received several accolades for distinguished teaching over the course of his career.
Dr. Ansari served as department chair at Babson College before assuming the position of provost and dean of faculty. He is now the chief executive officer of Babson Global, a wholly-owned subsidiary of Babson College.