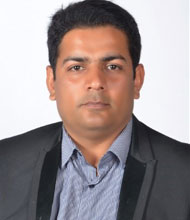 Assistant Professor, Computer Science
Dhanani School of Science & Engineering
Education
Ph.D. in Electronics and Communication Engineering, Politecnico di Torino, Italy.
Masters in Communication Engineering, Politecnico di Torino, Italy.
Masters in Electronics, Quaid-e-Azam University, Pakistan.
Bachelor of Science in Computer Science, Bahauddin Zakariya University, Pakistan.
---
Awards & Honors
HEC-UESTP scholarship for masters leading to Ph.D.
HEC approved Ph.D. supervisor.
---
Conferences
IEEE International Conference on Innovations in Intelligent Systems and Applications – INISTA 2017, Gdynia, Poland.
Frontier of Information Technology, FIT 2016, Islamabad.
International Conference on Computer Vision / Computer Graphics Collaboration Techniques and Applications, MIRAGE '13, Berlin, Germany.
---
Biography
Dr. Ahmad earned his Ph.D. from Politecnico di Torino, Italy in the subject of electronics and telecommunications. He worked at Image Processing Lab in collaboration with STMicroelectronics Milano during his masters and Ph.D. studies. He contributed to European FP7 project Real and Virtual Come Together in a Virtual Reality (REVERIE). It is a general-purpose tele-immersion system that enables individuals to interact in a shared 3D synthesized environment. The system reconstructs a virtual character of participating user by forming a mesh, which is further encoded to be transmitted over a network.
Dr. Ahmad joined Iqra University, Islamabad in 2014, right after his Ph.D., where he worked as an Assistant Professor till March 2018. He has been teaching various courses of core computer science at graduate, post graduate and doctoral levels. He has supervised many postgraduate theses in the fields of computational theory, networks, wireless communication and cryptography.
He joined Habib University's School of Science and Engineering, in March 2018. He admires the philosophy of HU that teaching liberal core to science students can produce better elements of society. He believes that the challenges faced by Pakistan today are of socio-technical nature, and acquiring only the cutting edge technology is insufficient to address them.
---
Selected Publications
Opposition-Based Initialization and a Modified Pattern for Inertia Weight (IW) in PSO Mehr Umer Farooq, Akhlaque Ahmad, and Abdul Hameed, IEEE International Conference on INnovations in Intelligent Systems and Applications – INISTA 2017, Gdynia, Poland
A Simple, Fast and Near Optimal Approximation Algorithm for Optimization of Un- Weighted Minimum Vertex Cover, Muhammad Fayaz, Shakeel Arshad, Umar Zaman, and Akhlaque Ahmad, 14 International Conference on Frontiers of Information Technology, Islamabad, 2016
Traffic Pattern Based Adaptive Spectrum Handoff Strategy for Cognitive Radio Networks, Irfan Hanif, Muhammad Zeeshan and Dr. Akhlaque Ahmad, 10th International Conference on Next Generation Mobile Applications, Security and Technologies, 2016, Cardiff, Wales, United Kingdom
An Adaptive Spectrum Handoff Strategy for Cognitive Radio Networks, Irfan Hanif and Dr. Akhlaque Ahmad, 12th International Conference on High-capacity Optical Networks and Enabling/Emerging, Technologies (HONET) 2015, NUST Islamabad
3D Graphics Compression and Rendering Framework, Ahmad, A. and Ijaz, U. and Olmo, G. and Quacchio, E. and Anselmo, T. and Alfonso, D., Proceedings of the 6th International Conference on Computer Vision / Computer Graphics, Collaboration Techniques and Applications, MIRAGE '13, Berlin, Germany
Factoring the RSA Key with New Factoring Algorithm IMFFV3, Usman, M. and Ahmad, A., International Conference on Engineering and Emerging Technologies, 2015, Lahore, Pakistan