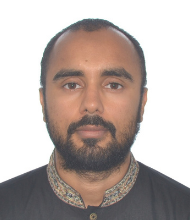 Assistant Professor, Integrated Sciences and Mathematics
Dhanani School of Science & Engineering
Education
PhD. in Mathematics, University of Western Ontario, Canada, 2019
MS. in Mathematics, University of Western Ontario, Canada, 2014
BSc. in Mathematics, Lahore University of Management Sciences, Pakistan, 2012.
---
Invited Talks
Eulerian polynomials for sub-arrangements, Arrangements at Home, Online Conference, May 5-6, 2020.
Cyclic flat approach to matroid base polytope volume, Discrete Math Seminar, UMass, March 28, 2019.
---
Awards & Honors
Mitacs Globalink Research Award for Japan, Mitacs Canada, May-Aug, 2019.
---
Biography
Dr. Ahmed Ashraf received his doctorate in Mathematics, in the area of algebraic combinatorics, from the University of Western Ontario in 2019. His field of expertise is matroid theory, polyhedral combinatorics and tropical geometry. His research focuses on solving problems in one of the areas using tools in the other.
---
Publications & Preprints
Eulerian polynomials for subarrangements of Weyl arrangements with T.N.Tran and M.Yoshinaga, 2020 (Advances in Applied Mathematics ScienceDirect).
Matroid Chern-Schwartz-MacPherson cycles and Tutte activities with Spencer Backman, 2020, submitted.
Another approach to volume of matroid base polytopes, 2020, submitted.