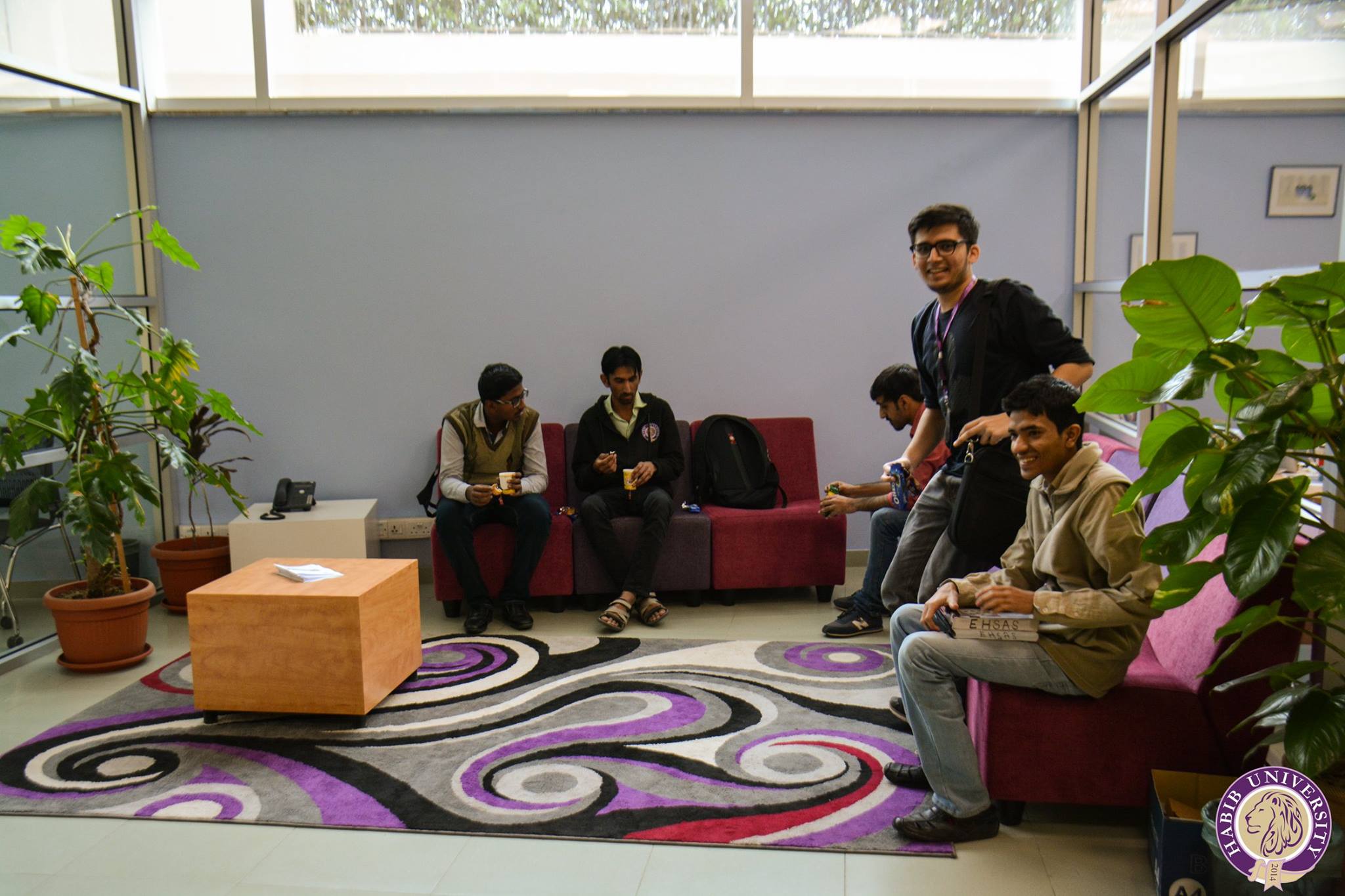 The peer tutoring program at the Educational Help, Services, and Academic Support Center (EHSAS) is an important service provided by Habib University to assist students in achieving academic excellence. This program has been developed to promote collaborative learning between students who have shown academic excellence and students who want academic support. With this aim of focusing on individual development within a supportive and collaborative learning space, the objectives of the peer tutoring program are as follow:
To provide learning assistance to students in overcoming their academic challenges in specific courses.
To promote empathy and a culture of collaborative learning, and supporting each other as members of a cohesive community.
To provide tutors with an opportunity to refine their interpersonal, communication, and instructional skills.
To access the peer tutoring schedules and the courses click here.
Types of Peer Tutoring Sessions
The following types of peer tutoring sessions take place at EHSAS based on the needs of students.
Walk-In Appointments
Students can walk-in on an ad-hoc basis during a tutor's EHSAS hours.
Individual Sessions/ Scheduled Appointments
These are one-on-one sessions, where a student can meet with the tutor on an ad-hoc basis. These sessions are designed for students who drop in looking to have a few specific questions/concerns addressed by the tutor. All tutors have hours in the week where students can ask for assistance on a drop-in basis. In the case where multiple students drop in, tutors address each student's queries one at a time.
Group Sessions
These are group sessions where a tutor usually announces a pre-determined topic at a particular time and date. These sessions are designed to clarify specific questions/concepts that may be particularly challenging.

Individualized Learning Program
These are scheduled sessions, usually bi-weekly where a customized plan is made for a student to provide them with consistent, supplemental support for specific skills or course work. These sessions are designed based on recommendations received from academic advisors and/or course instructors. Students may also contact the Assistant Manager, Learning Support Services, directly for these sessions.
Review Sessions
Group sessions may be held by tutors to review course content during the term or in preparation for exams. These sessions will either be announced beforehand, or students may book them in advance by contacting the tutors directly.
Online Sessions
EHSAS also provides online support when the campus is closed. Certain re-runs of workshops are often conducted online. Also, if a tutor is not on campus, you may reach them on MS Teams.
Venue for Peer Tutoring

Following venues are available for EHSAS Peer Tutoring:
The EHSAS Center (Library, Lower Ground Floor)
The Writing Center (Library, Ground Floor)
Drop-in Hours
The EHSAS working hours are 9:00 am – 5:00 pm on all weekdays and all working Saturdays.
For scheduled tutoring hours, no prior appointment is necessary; however, it works on a first-come, first-served basis. If you find a tutor busy, there is plenty of space to wait and read/study/use a computer.
In an online setup, tutors may also conduct some sessions outside the working hours of the EHSAS Center. Students will be informed accordingly.
EHSAS Peer Tutors
The EHSAS Peer Tutors are selected from a pool of high performing students with excellent academic records. They are assigned to help other students learn academic concepts, techniques, as well as success strategies for specific courses.
EHSAS Peer Tutors are welcoming, supportive, and enthusiastic about their subjects, with the desire and the ability to engage with students, help them identify learning gaps, and pass on their skills. They welcome problems, both big and small, and help students gain confidence in their own capabilities and develop a deeper understanding of the topic.
Being a Peer Tutor is a popular and well-respected position; students from all disciplines apply to become part of the EHSAS team. Peer Tutors are selected on the basis of their CV, course grade, CGPA, interviews, and faculty endorsements.
Reaching EHSAS Peer Tutors Online/How to Contact EHSAS Tutors Online
Peer tutors can be found in their respective MS Teams channels on the EHSAS Team. Students can join any course channel and avail help from tutors in their designated EHSAS hours. To join the EHSAS team send a request and join the relevant channel for your courses.
If you have any questions or concerns, please email at Ehsas.Center@habib.edu.pk.