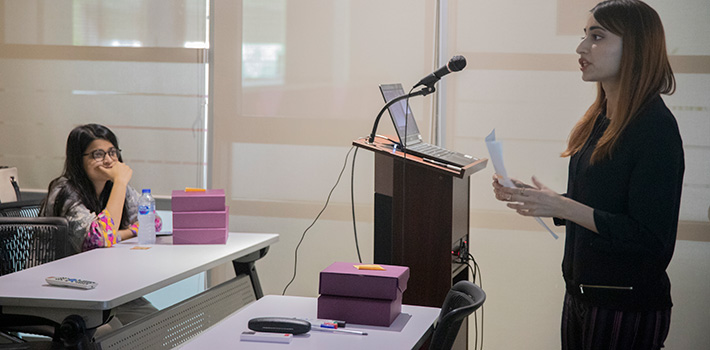 Overview
The humanities are a series of distinct but closely interrelated academic disciplines, which include History and Art History, Literature, Philosophy and Religious Studies.
Humanists seek to understand and analyze the human experience in all of its complexity and range of meanings, across both time and geographic space. The humanities explore what it means and has meant to be human.
Unlike the natural sciences, and even the social sciences, the humanities try to understand deep and complex questions about virtually every aspect of the human condition that don't have definitively verifiable answers, such as: Why are human societies structured as they are? How did that happen and why did it happen? What is truth? What is just? What is good? What is real? What constitutes a meaningful life?
Humanists are deeply committed to the search for truth, just like natural and social scientists, but because of the profound complexity and ambiguity of the very questions that they investigate, the humanities do not claim to produce truths in the same way that the natural and social sciences seek to produce verifiable truths. Instead, humanists produce rigorous interpretations of truth about the human experience. These interpretations are, in turn, in conversation with other interpretations – not to establish which is the definitive truth, but to reach closer approximations of what truth might be.
Learning Outcomes

As a Comparative Humanities major, you will take a number of core courses that will both introduce you to each of the main concentrations within the program (History, Literature, Philosophy and Religious Studies). These core courses will also teach you the skills of comparative inquiry into broad topics of common interest across humanities disciplines. You will concentrate in one of the four constituent disciplines of the humanities: History, Literature, Philosophy or Religious Studies. You may also choose to minor in one or more of several special interdisciplinary areas, such as Digital Humanities, Humanities and Technology, Environmental Humanities or Humanities and Leadership.
As a Comparative Humanities major at Habib you will study some of humanity's greatest thoughts, you will ponder some of the most complex and perplexing questions of human existence and you will be nourished by some of the most beautiful and profound expressions of the human spirit. Beyond preparing you for a wide range of career options, this major will also foster deep within you habits of critical questioning and an insatiable love of learning and a level of empathy and understanding for your fellow humans that will sustain and fulfill you intellectually for the rest of your life.
Language Requirement
All CLS majors must take a minimum of three semesters of a regional language offered by Habib's Arzu Center for Regional Languages and Humanities. The regional languages currently offered are: Punjabi, Sindhi, Pashto, Balochi, Persian, Chinese.
* Students may apply to the program to fulfill this requirement with other languages.
Senior Capstone Project
All CLS students must write an Honors thesis in their final year.

Electives
CLS majors must take a minimum of two (2) electives in each of the disciplines of History, Philosophy, and Religious Studies, at least one of which must be an independent study in their junior year. Students must also take one Language & Literature Elective.
Students must further take three (3) free electives offered by any of the other majors at Habib University.

Career Prospects
The combination of curiosity about ultimate questions of human existence, a thoughtful discursive mindset, deep training in systematic and accurate research, strong analytical and interpretive skills and proficiency in elegant, logical and persuasive argumentation have made the graduates of humanities programs enormously successful in a wide variety of careers. Because humanities majors have minds trained to struggle with the most profound and complex questions to which there are no verifiable answers, they are comfortable with ambiguity where others are not. Humanities graduates can often see complexity and nuance where others cannot.
They develop empathy where others cannot. They often see answers to problems that others haven't even recognized yet. They see opportunities and possibilities where others cannot.
So, to the question: "What can I do with a Humanities and Comparative Inquiry major?" the answer is: 'Pretty much anything you want!" Many humanities graduates have gone into business or even started their own companies. For example, the founders and leaders of some of the top corporations in the world, such as Ali Baba, American Express, Paypal, HP, Disney, Xerox, P&G, Bank of America, IBM, YouTube, Goldman Sachs and Slack have all been graduates of humanities programs.
Humanities graduates have also gone into law and politics – many with similar success in leadership positions. Career opportunities are available for humanities graduates in :
Journalism
Media and communications companies
NGOs
Departments of applied and professional ethics in corporate and governmental institutions
Biomedical ethics units in hospitals and healthcare facilities
Consulting companies
Public relations firms,
Advertising companies
Fundraising and grant writing advisors
Banks and insurance companies
Editing and publishing houses and human resource management firms
Educational Institutes.
* Note: The second Philosophy requirement for the Comparative Liberal Studies Major must be fulfilled by taking Hikmah II, Islamic Aesthetics or another course in Religious Philosophy.
Requirements for the BA (Honors) Comparative Liberal Studies Major

A major in BA (Honors) Comparative Liberal Studies requires completion1 of 40 courses and a minimum of 124 credit hours of coursework, with a minimum CGPA of 2.33, as shown in the table below:
Requirements
Course Category
Number of Courses to complete
Habib Liberal Core
University Core
10
CLS Programs Core

(6 courses)

Critical Inquiry and the Humanities
1
Genealogies of Modernity/Conceptual Genealogies
1
World Historical Figures: Statesmen, Leaders, Judgement
1
Criticism, Dissent and the Ethics of Disagreement
1
Comparative Hermeneutics I & II
2
Primary Concentration in one of the four areas

(8 courses)

 – 1.  Philosophy (8 courses)
What is Philosophy
1
Formal Reasoning/Logical Problem Solving
1
Arguments in the History of Philosophy I & II
2
Electives
4
 – 2.  History (8 courses)
What is World History
1
Being Historical: Historicity and Historical Method
1
Ruptures in World History I & II
2
Electives
4
 – 3.  Literature (8 courses)
What is World Literature
1
Introduction to Literary Theory and Criticism
1
Interrogating World Literature I & II
2
Electives
4
 – 4.  Religious Studies (8 courses)
What is World Religion
1
Comparative Study of Religion
1
Sacred Texts in World Religion I & II
2
Electives
4
Secondary Concentration in one of the four areas or CLS electives
Electives
8
University-wide free electives
Electives
7
Capstone Research Seminar

Senior research seminar

1

 
Over All
40
1 The requirements may be altered to enhance the learning experience.