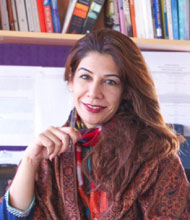 Affiliated Assistant Professor, Comparative Liberal Studies
School of Arts, Humanities & Social Sciences
Education
Ph.D. (Creative Writing), University of Leicester, UK.
Recipient of the School of English CW Research Scholarship (2012).
M.St. (Creative Writing & Critical), University of Oxford, UK.
B.A. in (Humanities), St. Joseph's College, Karachi, Pakistan.
---
Biography
Dr. Sabyn Javeri is an Assistant Professor at the Arzu Program for Languages and Literature at Habib University. She has a Masters from Oxford University and a doctorate from the University of Leicester. She is an award-winning short story writer and the author of best-selling novel 'Nobody Killed Her'. Her texts on creative writing have also been widely published. Dr. Javeri is interested in rediscovering our creative heritage and literary past. Her research is currently exploring the works of forgotten literary heroes of the subcontinent and developing a discourse related to cultural identity through creative writing.
---
Publications – Anthologies
Writers on Writing, Short story and Critical reflection on Creative Writing technique, Ed. Amal Chatterjee,
Watermarked– Guardian Anthology, ed. Homa Khaleeli (2012)
Initiate- An Oxford Anthology of New Writing, 'Malady of the Heart', ed. Dr. Morgan, Oxford University (2010)
Jeans- An Anthology of Pakistani Women Writers (translated into Malayalam) ed. Dr. Kumar of Calcutta University (2011)
And the World Changed (title story) Feminist Press, New York, (2008)
Neither Night nor Day (title story) Harper Collins (2007)
And the World Changed (title story) Oxford University Press, Pakistan (2007)
And the World Changed (title story) Women Unlimited, India (2006)
---
Publications – Literary Journals and Magazines
'The Session,' Short story, Sugarmule (2013) 'The Lovers,' Bengal Lights (2013)
'Only in London, Again,' Short story, The South Asian Review, (2010)
'The Bride,' Short Story, Wasafiri, (2008)
'Behind the Veil,' Short Story, Trespass Magazine, Issue 3 (2008)
'Only in London,' Short Story, The London Magazine- A Review of Literature and the Arts, ed. Sebastian Barker (2007)
'God's Own Children,' Short Story, World Audience, (2007)
---
Publications – Awards
The Session, Shortlisted, Leaf Books Competition, 2013
The Letter, Winner, Oxonian Review, short story competition 2012
Once We Were Beautiful, Shortlisted, Tibor Jones South Asia Prize, 2012
The Lovers, Shortlisted, The Meridian Short Story competition, 2011.
---
Publications – Novel
Nobody Killed Her, Fourth Estate, Harper (DOP: 2017)