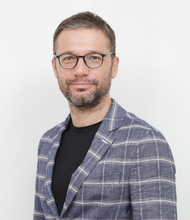 Assistant Professor, Social Development & Policy
School of Arts, Humanities & Social Sciences
Education
Ph.D. in Political Science, Syracuse University, USA.
M.A. in Near and Middle Eastern Studies, SOAS, University of London, UK.
M.A. in African and Asian Studies, University of Pavia, Italy.
B.A. in Social Sciences, University of Pavia, Italy.
---
Biography
Dr. Ramaioli completed a BA in Social Sciences in Cooperation and Development and an MA in African and Asian Studies at the University of Pavia, Italy. Subsequently, he moved to the School of Oriental and African Studies, London, to gain a second MA in Middle East Politics. He recently completed his PhD in Political Science at Syracuse University.
Before joining Habib University, he was an intern at the Italian Embassy in Nairobi, Kenya; and he taught for two years at the Center for International Exchange and Education in Amman, Jordan. Also, he studied Arabic in Syria, Lebanon and Morocco.
His doctoral dissertation, Contentious Politics in the Arab Middle East: Jordanian Salafism and the Social Appropriation of Tradition, explores how Salafi scholars influence social and political mobilization. This research was funded by the Moynihan Institute for Global Affairs, the Association for the Study of the Middle East and Africa, and the International Institute for Islamic Thought. In this work, Dr. Ramaioli has combined research on the politics of Islam, social movements, and critical theory, in particular the work of Antonio Gramsci. Beyond these, he has interests in social constructivism, international relations theory, postcolonial studies and political economy.
He is the co-founder of La Formoise – Critical Social Theory in the Middle East, a venue for reflections and commentaries on the region and beyond. He writes regularly for the Quadrante Futuro about the political economy of the Middle East.
Dr. Ramaioli sees Habib University as a unique intellectual and academic environment to broaden his understanding of world politics. Convinced that academic inquiry and life discovery are indeed one and the same, he informs his teaching also on the basis of his own experiences living, studying and working in North America, Europe, Africa and the Middle East. He aspires to show students how life and politics are hardly separated, and how as citizens of the world we have duties, rights and – especially! – possibilities in front of us.
---
Publications and Manuscripts under review
"Questione Libanese, Forze di Pace in Medio Oriente e l'Impegno dell'Italia [The Lebanese Issue: Peace Forces in the Middle East and the Contribution of Italy]," Il Politico, University of Pavia, Vol. I, January 2010. With Giuseppe Lissi.
"Interviewing Salafis," in Doing Political Science Research in the Middle East and North Africa: Methodological and Ethical Challenges, ed. by F. Cavatorta and J. Clark, Oxford University Press, forthcoming.
"Discourse and Policy Change: United States and Tibetan Resistance in the Cold War," with Sinan Chu, manuscript under review at Journal of Cold War Studies.
"Politicizing Salafi Discourse," manuscript under review at American Journal of Islamic Social Sciences.