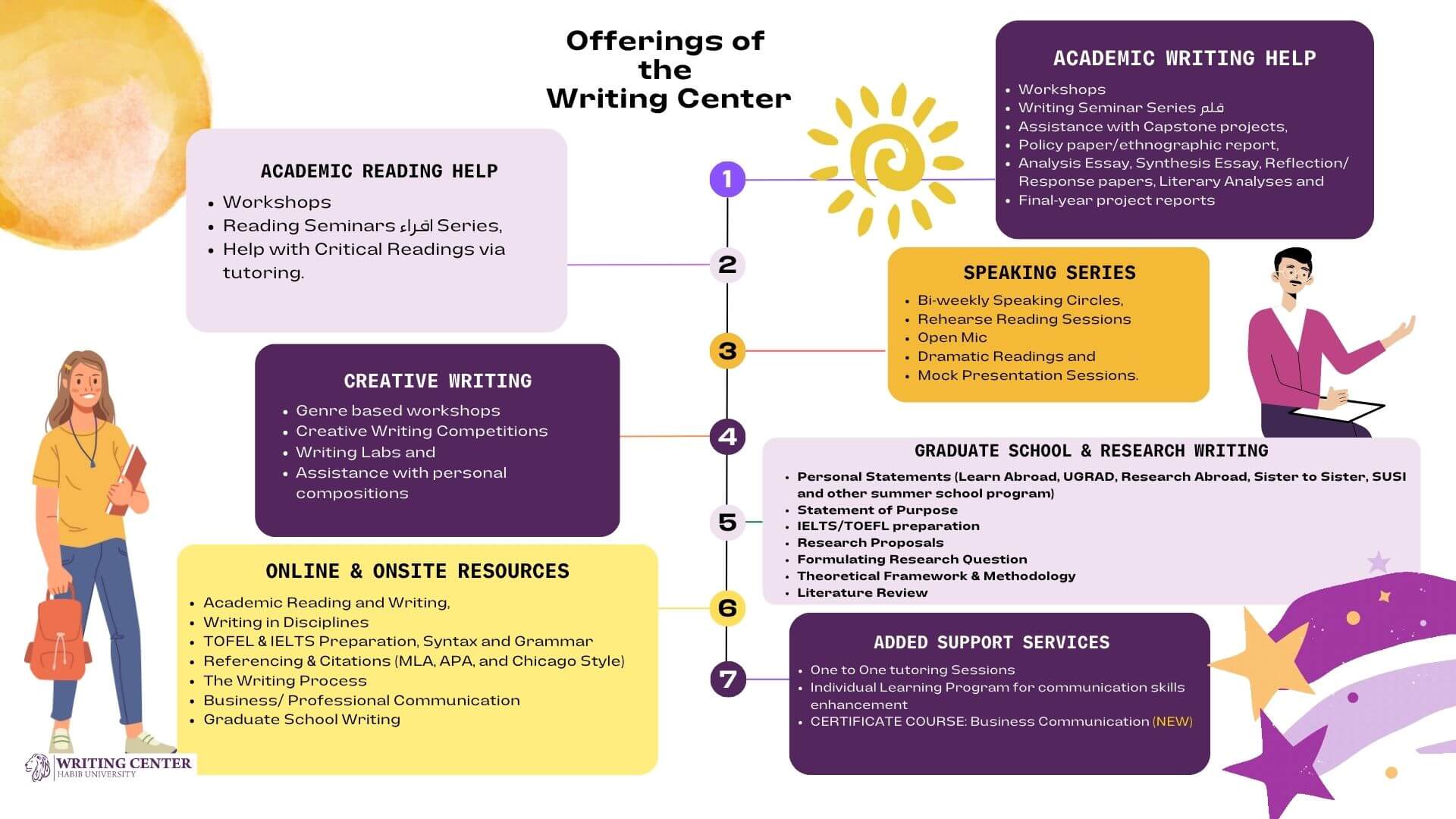 Access the EHSAS & Writing Center Event Calendar 2023 from here
Academic Writing Series
The Academic Writing Series introduces students to a range of pre-writing, research writing, and editing tools that can be applied to any and all writing assignments. It will teach students how to approach a question critically and how to structure their arguments for the sake of clarity.
Workshops
Writing Seminars قلم Series
Help with academic assignments
Assistance with Capstone projects
Final-year project reports
Reading Seminars
The Writing Center Reading Seminars are a series of workshops offered in the Fall with the aim of acquainting students with various reading techniques that will help them meaningfully engage with texts at college level. They are designed to cover both creative and academic texts, and are specifically focused on the incoming class of freshmen. These hour-long workshops introduce students to different styles of analysis and annotation that will equip them to actively participate in their core-courses.
Reading Seminars اقراﺀ Series
Help with critical reading
Speaking Circle Series
Aimed at students lacking confidence to voice their views, the Speaking Circle Series aims at providing participants with a low-stakes discussion group to slowly chip away the daunting task of speaking up in class, building vocabulary, and working on fluency through practice.
Speaking Circles راوی
Dramatic Readings
Presentation Skills Workshops
Creative Writing Series
Genre-based workshops
Writing Labs
Assistance with personal compositions
Research Writing Workshops
Formulating Research Question
Theoretical Framework & Methodology
Literature Review & Synthesizing Information
Abstract Writing: Types and Framework
Research Proposal
Presenting a Research Paper
Graduate School and Exchange Program Prep
Personal Statements (Learn Abroad, UGRAD, Research Abroad, Sister to Sister, SUSI, and other summer school programs)
Research Proposals
Statement of Purpose
IELTS/TOEFL preparation
Online and Onsite Resources on
Academic reading and writing
Writing in disciplines
TOFEL & IELTS preparation
Grammar and syntax
Referencing and citations (MLA, APA, and Chicago Style etc)
The Writing Process
Business/Professional Communication
Graduate school writing
Added Support
One-to-One Tutoring Sessions
Students can see a Writing Associate for these sessions either as a walk-in, or as a scheduled appointment.
Individual Learning Program for communication skills enhancement
These are scheduled sessions, usually bi-weekly where a customized plan is made for a student to provide them with consistent, supplemental support for specific skills or course work. These sessions are designed based on recommendations received from academic advisors and/or course instructors. Students may also contact the Assistant Manager, Learning Support Services, directly for these sessions.

Certificate Courses
This certificate course introduces participants to a wide range of professional communication tools that they are likely to encounter in a variety of work environments. Beyond formal writing, the course stresses importance on self-advocating, and the presentation and reporting of work done. The course's ultimate goal is to equip participants with the commonalities between these types of communications so they can adapt and respond to situations critically.