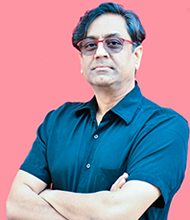 Professor of Practice, Communication & Design
School of Arts, Humanities & Social Sciences
Education
M.A. in Industrial Design, Ohio State University, Columbus, USA.
B.S. in Interior Design, Ohio State University, Columbus, USA.
---
Achievements
In February 2016, Mr. Khan was selected as part of a jury for India's Best Design Studio Awards (IBDSA) 2016, making him the only Pakistani on the panel. India's Best Design Studio is the first and most respected recognition for Design Studios for their professional work, business practices and transparency, initiated by POOL Magazine in 2015.
---
Biography
Professor Muqeem Khan holds a B.S. in Interior Design and an M.A. in Industrial Design from the Ohio State University. His motion picture credits with Walt Disney and Square USA include Deep Rising, George of the Jungle, Flubber, Armageddon and Final Fantasy.
Professor Khan believes that a creative individual should be searching, isolating, managing and manipulating the methodologies of multiple knowledges. Through 'empathic design' and associated techniques, he is currently researching Digital Intangible Heritage (DIH). He is focusing on the continuity of cultural knowledge by proposing a new model for access to indigenous methodologies, particularly non-codified or traditional knowledge. Specifically, he is investigating, documenting and transmitting the Unani medicinal practices in Pakistan.
Besides teaching design classes at Virginia Commonwealth University and Northwestern University in Qatar, Khan has been predominantly been teaching 2D/3D animation classes for over 12 years in the Arabian Gulf region.
See his mixed reality experimentations and presentation, "Playful Technology to Keep Cultural Heritage Alive," at the TED@Doha Summit on Vimeo.
---
Selected Publications
Khan, M. (2017, July). Co-Designing And Technology Interventions For The Preservation & Learning of Sub Continental Traditional Knowledge. Vital 2017 Best Paper Awards for ELLTA Conference: Perspectives on Leadership, Learning and Social Enterprise in Asia, Bangkok, Thailand.
Khan, M. (2017, April). Technology Interventions in the Context of Ancient Knowledge and its Cultural Production. In the 6th International Conference on Interdisciplinary Social Science Studies, Harvard Medical School, Boston USA.
Khan, M. (2015, September). Reformulating the repository, Digital Intangible Heritage, empathic design and Greek/Unani medicinal practices. In 2015 Digital Heritage (Vol. 2, pp. 487-488). IEEE.
Khan, M. (2015, September). Archive to repertoire: Motion capture & motion sensing data for digital intangible heritage (DIH). In 2015 Digital Heritage (Vol. 2, pp. 197-198). IEEE.
Khan, M. (2015, September). A radicalized phenomenological transformation of Greek/Unani humoral theory into a virtual reality based game engine. In 2015 Digital Heritage (Vol. 1, pp. 397-400). IEEE.
Khan, M. (2015). Transmitting Al Ardha: Traditional Arab Sword Dance. International Journal of Heritage in the Digital Era, 4(1), 71-85.
Khan, M. (2014, March). MUSE: Understanding traditional dances. In Virtual Reality (VR), 2014 iEEE (pp. 173-174). IEEE.
Khan, M. (2014). "Technology Embedded Imagination for Arab Women," Journalism and Mass Communication, Vol. 3, No.6, 351-360. ISSN 2160-6579.