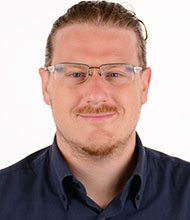 Assistant Professor, Communication & Design
School Of Arts, Humanities & Social Sciences
Education
Ph.D. in Film Studies, University of Bologna (Bologna, Italy)
M.A. in Film Studies, University of Bologna (Bologna, Italy)
B.A. in Film Studies, University of Bologna (Bologna, Italy)
---
Biography
The main core of Dr. Marco Grosoli's research interests consists in the radical revision of the film theory and criticism that were produced in France (particularly in the Cahiers du Cinéma journal) in the very fertile couple of decades that followed the end of World War Two. His research intends to show, among others, that a new and more accurate account of those theories (and of that crucial era in the history of film criticism) can be used to fruitfully explore contemporary cinema too, despite the incommensurable gap that seemingly separates the postwar era from today's chaotic and extremely diverse cinema landscape.
After earning his doctorate (from the University of Bologna, Italy) with a dissertation on French film critic and theorist André Bazin, Dr. Grosoli moved to the University of Kent (Canterbury, United Kingdom) in 2012 thanks to a three-year Postdoctoral Fellowship funded by The British Academy, which enabled him to carry out a research project trying to pin down (in theoretical, aesthetic and historical terms) the "theory of authorship" that was elaborated in the Cahiers du Cinéma journal during the 1950s.
At Habib University, besides carrying on working on that project's main research outcomes (i.e., two monographs he has already started to draft), he plans to apply this new version of that "theory of authorship" to various contemporary instances – particularly to so-called World Cinema and to Media Theory.
A long-standing research interest of his (he has published extensively on such authors as Amir Naderi, Park Chan-Wook, Elia Suleiman, Hou Hsiao-Hsien, Mamoru Oshii, Takeshi Kitano, Kurosawa Kiyoshi, Hong Sang-Soo, and most notably on Lav Diaz), World Cinema is by all means one of the areas Dr. Grosoli plans to devote himself the most to here at Habib University, besides expanding the scope of his research to contemporary mediascape and media theory.
His other research interests include European Cinema (especially French and Italian cinemas), Film Theory, Film Criticism, Film History, Film Analysis, Film Aesthetics, Hollywood Cinema, Contemporary Cinema, Film Philosophy, Film Authorship/Authors.
In addition to his work as an academic scholar, Dr. Grosoli has also been a film critic for about a dozen years.
---
Selected Publications
BOOKS:
EDITED VOLUMES:
La capture de mouvement ou le modelage de l'invisible, Rennes: Presses Universitaires de Rennes, 2014 (co-edited with Jean-Baptiste Massuet).
Consumato dal fuoco: il cinema di Guy Debord. Pisa: ETS, 2012 (co-edited with Monica Dall'Asta).
EDITED JOURNAL ISSUES:
"The Cahiers Film Critics in Arts Magazine", special issue of Film Criticism vol. XXXIX, no. 1 (Fall 2014). (co-edited with Hervé Joubert-Laurencin).
ARTICLES AND BOOK CHAPTERS:
« Bazin et ses lecteurs », in Critique no. 857 (Octobre 2018), pp. 837-847.
"The global city and the cinematic novel. Jersey City in Lav Diaz's Batang West Side", in Manila Castoro and Carolina Vasilikou eds., Contesting Artscapes: Essays on cultural localities and political narratives, Jefferson: McFarland, 2018.
"Les influences philosophiques de Rohmer critique", in Hugues Moreau ed., Le Paradis français d'Eric Rohmer, Paris: Pierre-Guillaume de Roux, 2017, pp. 211-227.
"Jusqu'au bout de la Nouvelle Vague: Claude Chabrol's (and Paul Gégauff's) Une partie de plaisir (1975)", in Douglas Morrey ed., Studies in French Cinema 17:2 (special issue on The New Wave), 2017.
"The Professor, the Tourist and the Bombshell. The Young Federal Republic of Germany in Italian Cinema", in Olaf Brill and Olaf Moeller eds., Beloved and Rejected: The Cinema of Young Federal Republic of Germany (1949-63), Frankfurt/Locarno: Deutsches Filminstitut/Locarno Film Festival, 2016.
"Space and Time in the Land of the End of History. The Cinema of Lav Diaz", in Jeong Seung-Hoon and Jeremi Szaniawski eds., The Global Auteur: Politics and Philosophy in 21st Century Cinema, London: Bloomsbury, 2016.
"The Vertical Frontier. Amir Naderi's Vegas and the End of American Dream after 9/11", in Scott Stoddart ed., The New Western: Critical Essays on the Genre since 9/11, Jefferson: McFarland, 2016, pp. 207-228.
"Tertium Datur: The Cinema of Alexander Sokurov by Jeremi Szaniawski", Senses of Cinema 73 (December 2014).
"The Politics and Aesthetics of the politique des auturs", in Film Criticism vol. XXXIX, no. 1 (Fall 2014), pp. 33-50.
"Ocean Doesn't Live Here Anymore: Steven Soderbergh's Contagion and the Stock Market Crash", in Heiko Feldner, Fabio Vighi and Slavoj Žižek eds., States of Crisis and Post-Capitalist Scenarios, Farnham: Ashgate, 2014, pp. 167-179.
"The Paradox of the 'Dictactor': Mimesis, the Logic of Paradox and the Reinstatement of Catharsis in The Great Dictator, Monsieur Verdoux and Limelight", in Lawrence Howe, James E. Caron and Benjamin Click eds., Refocusing Chaplin: A Screen Icon Through Critical Lenses, Lanham: Scarecrow Press, 2013, pp. 141-162.
"History Is Always Virgin. Quentin Tarantino's Inglourious Basterds and the Lyotardian Sublime", in Todd Comer and Isaac Vayo eds., Terror and the (Post)Cinematic Sublime, Jefferson: McFarland, 2013, pp. 88-102.
"Back to the Future of Capitalism: A Christmas Carol in 3d", in Agnes Petho ed., Film in the Post-Media Age, Newcastle: Cambridge Scholars Publishing, 2012, pp. 227-238.
"Impure or Bastard? The Actual Place of Heterogeneity in André Bazin's Writings", in Sébastien Lefait and Philippe Ortoli eds., In Praise of Cinematic Bastardy, Newcastle: Cambridge Scholars Publishing, 2012, pp. 219-229.
"Surface vs. Depth: Ernst Lubitsch's That Uncertain Feeling as anti-late modernism", Comedy Studies, vol. 3, n° 1, Bristol: Intellect Journals, 2012, pp. 53-64.
"Motion/Performance Capture and the Afterlife of the Index. A Reconsideration of André Bazin's 'Myth of Total Cinema'", RS•SI, vol. 31 (2011) nos 1-2-3, Montreal: Association canadienne de sémiotique / Canadian Semiotic Association, pp. 153-173.
"The Sin of Repetition", Cinéma et Cie., Vol. XI, no. 16-17, Spring-Fall 2011, pp. 121-132.
"The Privileged Animal: The Myth of Childhood and the Myth of Realism According to André Bazin", Red Feather Journal, vol. 2, n° 2 (Fall 2011), pp. 59-67.
"Drying Blood: De-Sexualization and Style in Schrader's Cat People", in Regina Hansen ed., Roman Catholicism in Fantastic Films, Jefferson: McFarland, 2011, pp. 140-151.
"Moral Tales from Korea. Hong Sang-Soo and Eric Rohmer", Acta Universitatis Sapientiae. Film and Media Studies, vol. 3, Cluj-Napoca: Sapientia Hungarian University of Transilvania Scientia Publishing House, 2010, pp. 95-108.
"The New Millennium Films of Marco Bellocchio", in William Hope ed., Italian Film Directors in the New Millennium, Cambridge: Cambridge Scholars Publishing, 2010, pp. 37-49.
"Montage interdit Revisited. Hou Hsio-Hsien's Le voyage du ballon rouge", in Francesco Casetti, Jane Gaines, Valentina Re eds., Dall'inizio alla fine. In the very beginning, at the very end, Udine: Forum, 2010, pp. 351-357.
"Rohmer's Les Amours d'Astrée et de Celadon as a Systematical Synthesis for Bazin's Space-Based Adaptation Theory", Journal of Adaptation in Film and Performance, vol. 3, n° 2, Bristol: Intellect Journals, 2010, pp. 115-127.