Habib University's Talent outreach, promotion And Support Program (HU TOPS)
HU TOPS offers 100% Scholarship to brilliant students from all Boards of Intermediate Education (BIE) | Federal Board (FB) | Aga Khan University Examination Board (AKU-EB)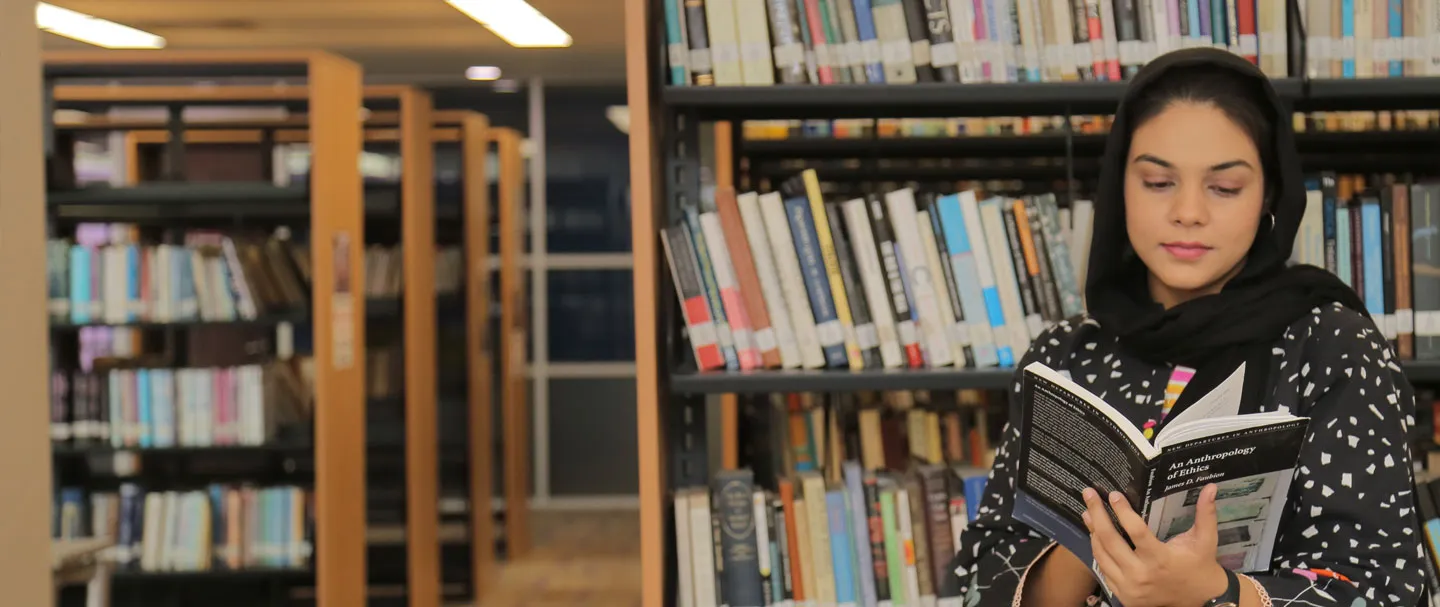 #DiscoverYourWorth
Habib University's Talent outreach, promotion Support Program (HU TOPS)
HU TOPS facilitates brilliant students from all boards of Intermediate Education | Federal Board | Aga Khan University Examination Board
About HU TOPS Program
avail 100% Scholarship
---
Habib University's Talent Outreach, Promotion and Support Program (HU TOPS) is designed for students who are enrolled in Pakistan's Board of Intermediate Education (BIE), Federal Board (FB) and the Aga Khan University Examination Board (AKU-EB) for their intermediate education. HU TOPS provides an opportunity to talented students of BIE, FB and AKU-EB to apply for admission to Habib University. Students will be admitted with full tuition and laboratory fee waived for their undergraduate degree based on their academic talent and passion to learn.
Habib University believes in providing equal opportunities and nurturing talent irrespective of a student's educational, socio-economic and ethnic background. HU TOPS is an example of this commitment to Pakistan. Habib University ensures students enrolled through HU TOPS shape thoughtful careers and life paths for themselves. These students will be supported in growing as life-long learners, creative problem solvers and dynamic leaders, with a passion to serve the society.
Benefits
An exceptional opportunity to study at Habib University for a transformative learning experience.
Full Tuition, Laboratory and Semester Registration Fee waiver.
Admission Application Fee waiver.
The opportunity to attend a HU TOPS Admission Preparatory Program at HU free of cost.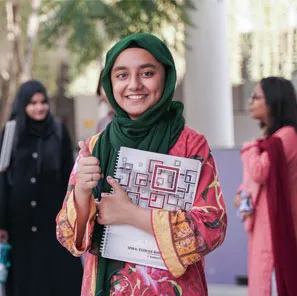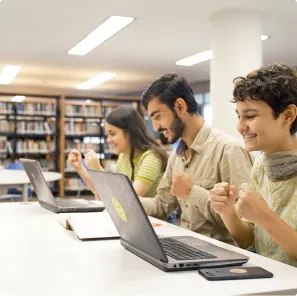 Admission Criteria
Who Can Apply?
---
All potential students who fulfill the following conditions can apply for
HU TOPS:
Graduated from or enrolled at the following boards:

Any Board of Intermediate Education of Pakistan
Federal Board of Pakistan
Aga Khan University Examination Board (AKU‐EB)

Have completed or will complete HSSC II by September, 2024.
Planning to pursue a four-year undergraduate program
at Habib University.
Have scored:

Science groups


80% or above in SSC (Matric)
75% or above in HSSC (Intermediate)

Other groups


75% or above in SSC (Matric)
70% or above in HSSC (Intermediate)
Application & selection Process
The six-step selection process for HU TOPS:
HU TOPS has a six-step selection process as highlighted below:
---
Tap to view the steps
1

Register

Register yourself for HU TOPS. Fill the application, scan the required documents and upload them to our online portal. You can register for HU TOPS with no charges.

2

Qualify

Take the HU TOPS Core Skills Test. Click here to see further details of the test.

3

Apply

Successful applicants from the qualifying round can apply for admissions to Habib University through HU TOPS. They will not be charged any admission application fee.
Shortlisted candidates from the Core Skills Test will submit their Merit Scholarship and Financial Aid applications along with the required supporting documents.

4

Prepare

HU TOPS applicants can choose to attend a free of cost HU TOPS Prep Program specifically designed to help them prepare for the HU Entrance Examination. The Program will be organized in April 2024. Participation is not mandatory.

5

Take test

HU TOPS applicants will take the HU Entrance Examination in May 2024.

6

Enroll at Habib University

The top 60-80 successful applicants (based on their performance in the HU Entrance Exam and Interview) will be offered admission in their major of choice. Tuition, laboratory and semester Registration fee for their four-year study at Habib University will be fully funded through scholarships and grants. All HU TOPS Scholars will be required to maintain a CGPA of 3.0 to continue to receive their scholarships and grants.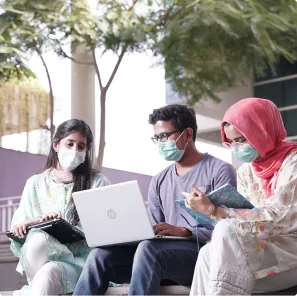 expenses covered
what the program will cover and not cover
---
HU TOPS will cover the following expenses:
HU TOPS Registration Fee
HU TOPS Qualifying Round Fee
Habib University Admission Application Fee
HU TOPS Prep Program Fee
Full Tuition Fee to study a four-year undergraduate program
at Habib University
Full Laboratory Fee
Semester Registration fee
HU TOPS will NOT COVER the following expenses:
Non-refundable Enrolment Fee of Rs. 59,000/= at the time of admission (subsidized for HU TOPS students)
Security Deposit of Rs. 25,000/= (Re-fundable)
Transport Fee (if opted for the transport)
The expense for books, stationery and other learning resources needed as per programmatic needs
Cost of accommodation and living expenses if you are applying from outside Karachi
Membership fee for recreational facilities (students will pay this fee if they make use of the facilities)
HU TOPS Timelines
Dates to look out for
---
Steps
Timeline/Date
Register for HU TOPS
21st October 2023 – 11th February 2024
Take Qualifying Round Test
22nd, 23rd or 24th February 2024

*

Announcement of Qualifying Round Results
22nd March 2024

*

Apply for Admission (shortlisted applicants only)
24th – 30th March 2024

*

Participate in the HU TOPS Prep-Program
1st – 30th April 2024

*

Take HU Admission Test
1st week of May 2024

*

Admission Interviews
2nd week of May 2024

*

Announcement of Result
Third week of May 2024

*

Attend HU New Student Orientation
August 2024
Start Attending Regular Classes for Fall 2024
August 2024
*Habib University reserves the right to change any date(s) should unforeseen circumstances occur.
Inspired for Success
HU students are provided a well-rounded experience of the outside world, exposing them to different perspectives. This experience has helped them achieve success in various industries and different areas of life. Let's hear it from them!
Inspired for Success
The HU students are provided with well-rounded experience of the outside world, which gives them the exposure of different perspectives. This experience has helped them achieve a successful mark in the industry and different areas of life. Let's hear it from them!
HU lIONS' blog
Welcome to HU Lions Blog! Read all of the latest blogs by our students, professors, experts and alumni. Get an inside look into what's happening at the University.
Contact us
Get in touch with the admissions team
If you have further questions or require assistance with a specific issue, please don't hesitate to contact us. Our office hours are Monday to Friday, 9:00 a.m.to 5:00 p.m.
FOR ADMISSIONS RELATED QUERIES

EMAIL US
tops@habib.edu.pk

CALL US

T (Office)
UAN: +92 21 111 042242 (HABIB) Ext: 4515 | 4520

Admission Counsellors
+92 3218203568 | +92 321 8203545 | +92 322 2850249

Deputy Manager HU TOPS
+92 322 2008996

FOR TECHNICAL SUPPORT

facebook.com/hutops