Habib University's Araaish e Khayal Club hosted its first ever Literature Festival on November 22, 2019. The name for the festival, Sareer e Khama, literally translates into the sound of a pen and is derived from the great Urdu poet Mirza Ghalib's poetry:
aate haiñ ġhaib se ye mazāmīñ ḳhayāl meñ 
'ġhālib' sarīr-e-ḳhāma navā-e-sarosh hai
'When mysterious matters come in ones thoughts,
Then the sound made of a pen, resonates like the voice of angels'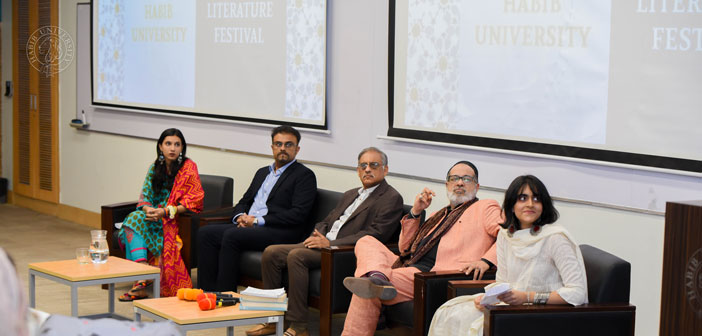 The event provided a platform for students and academics to promote our literary heritage and cultural roots through an evening with distinguished authors, artists and fellow creatives. The club's aim to express, share, and promote the Urdu tradition was manifested, and extended, in the festival's incorporation of literature produced in various languages to encompass the interests of all literary enthusiasts.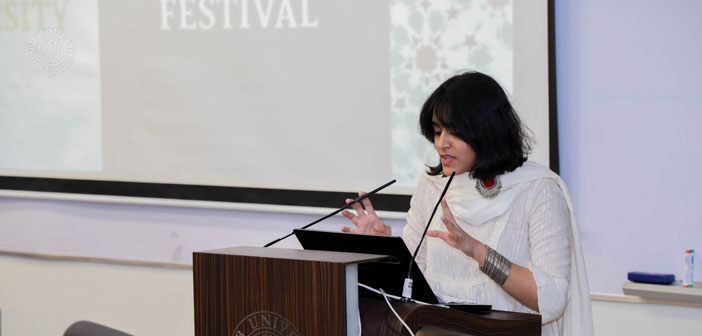 This student-led initiative featured creatives from different walks of life, within the Habib community and outside, engaging in intellectually stimulating discourses and connecting with literature. The students and alumni of Habib University curated these insightful discussions.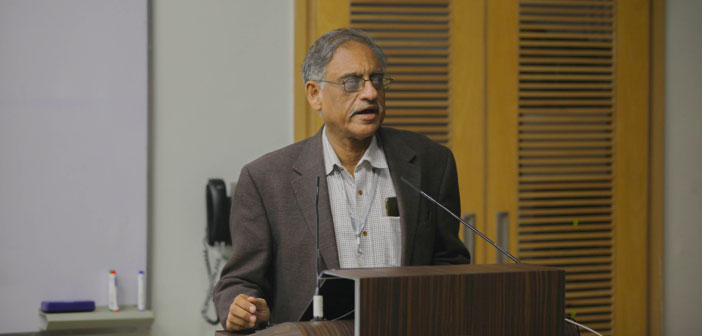 Gatherings for the event were held on many locations at the Habib University campus including the lecture hall, classrooms, and H.M Habib Auditorium with a turnout of over 250 people.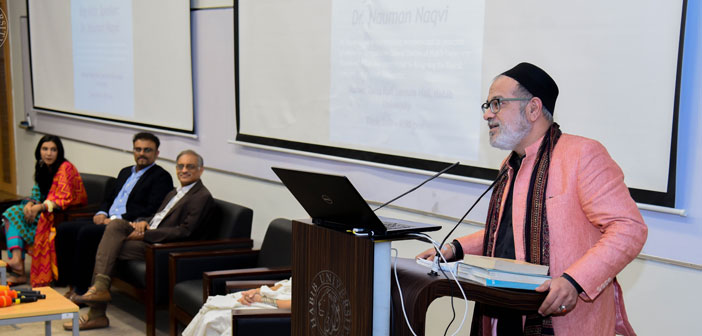 The opening ceremony consisted of speeches from Araaish e Khayal's President Sarah Khan and the club patron Dr. Asif Farrukhi, and a keynote address by guest of honor, Dr. Nauman Naqvi.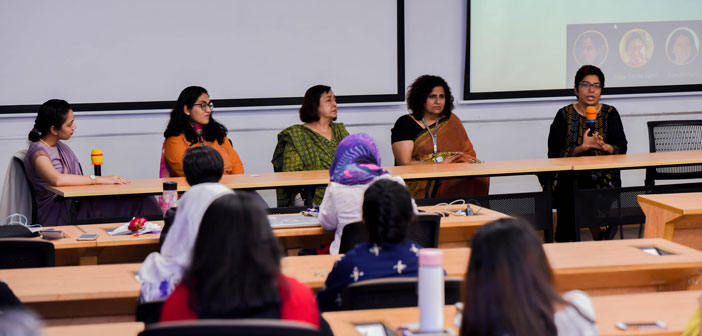 The festival had nine different panels, inclusive of different artists and authors, ranging from Urdu-based panels such as Urdu Shayari Ke Badalte Rujhanat and Urdu Adab aur Gussay ki Nayi Fasl to a discussion around power and literature titled, The pen is truly mightier than the sword. Other panels included Science Fiction and Utopias, Inheriting the Future: The Importance of Inheritance for the Present and the Future, Empowered Women Empower Women, Drama Mashra aur Haqiqat, and Ecology, Energy, Economy.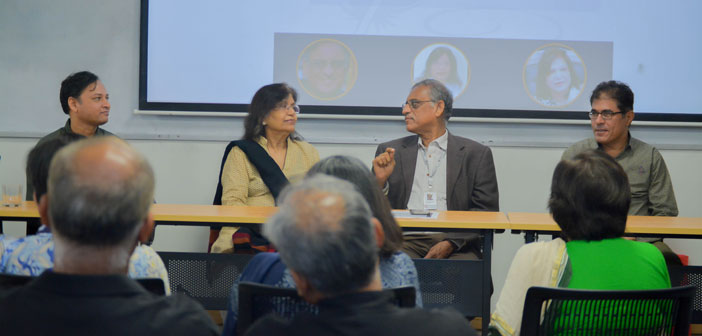 Some of the prominent figures at the event included lawyer and political activist, Mr. Jibran Nasir — who curated a discussion on Youth in Action — as well as Urdu novelist, Zahida Hina, and Dramatist Haseena Moin.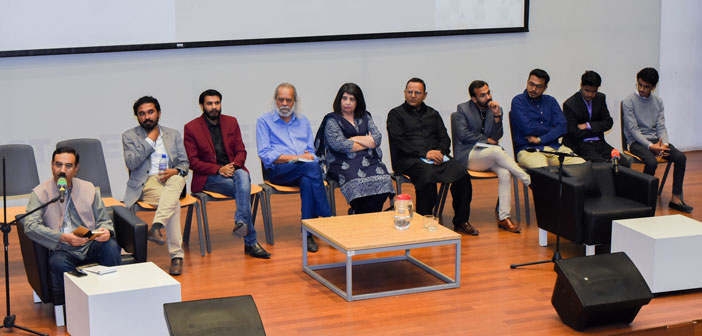 After the panel discussions were over, Mr. Fawad Khan and his team revived an ancient art form of oral storytelling known as Dastangoi, which was followed by a Mushaira, featuring Mr. Afzal Ahmed Syed as the sadarat, with the nizamat done by Mr. Inamullah Nadeem.
In order to promote literary values and culture, this one-day event was a true example of Habib University's core values, highlighting the essence of its philosophy of Yohsin (thoughtful self-cultivation). Sareer e Khama provided a space for these activists and creatives to lead some brilliant and thought-provoking discourses together on one platform, but most importantly, the event was a celebration of the very beauty of literature.