In recognition of their outstanding abilities, as well as their dedication to Habib University and its values and mission, four of Habib University's founding faculty members were promoted during a ceremony on December 10, 2019.
Dr. Nauman Naqvi from the School of Arts Humanities and Social Sciences (AHSS), Dr. Anzar Khaliq, Dr. Waqar Saleem and Dr. Shah Jamal Alam from the Dhanani School of Science and Engineering (DSSE) were all promoted from Assistant Professor to Associate Professor for their outstanding ability and years of service at Habib University since its inception.
The promotion process emphasized excellence in teaching and excellence in at least in one additional area, either service or scholarship, and a record of accomplishment in the third area.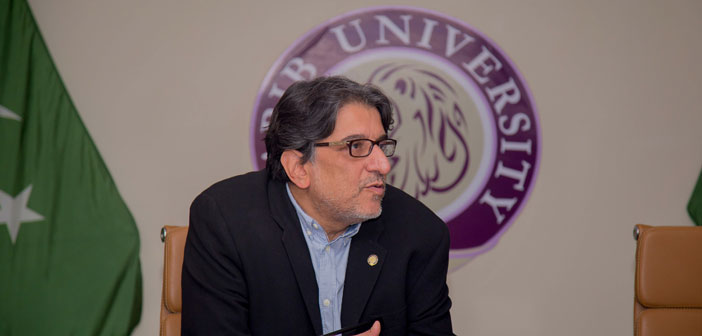 President Wasif Rizvi spoke on the occasion, congratulating the faculty members and paying tribute to their commitment in three vital areas of education; intellectual experience, formal programs, and being mentors for Habib students.
He commended Dr. Christopher Taylor, Vice President of Academic Affairs and Dean of Faculty, for conceptualizing and implementing a thorough vetting process for the promotions, on par with the most respected liberal arts colleges and universities internationally.
President Rizvi said that the faculty members' dedication to helping build and sustain the university has been highly commendable and appreciated by their peers. He also underscored their important role in forming a pioneering transdisciplinary experience for students that would allow them to thrive in a unique educational environment.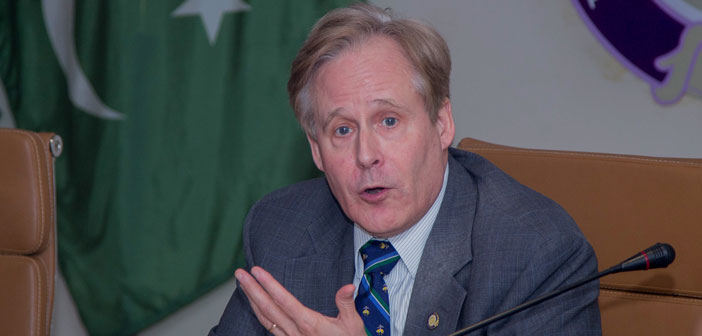 Dr. Christopher Taylor then spoke at the gathering and congratulated all four professors, saying that their commitment to Habib University is exemplified by how far the institute has come in only a few years.
"Through your efforts and example we hope to make Habib not only the finest university in Pakistan, but also on the same level as some of the finest universities in the United States," Dr. Taylor said.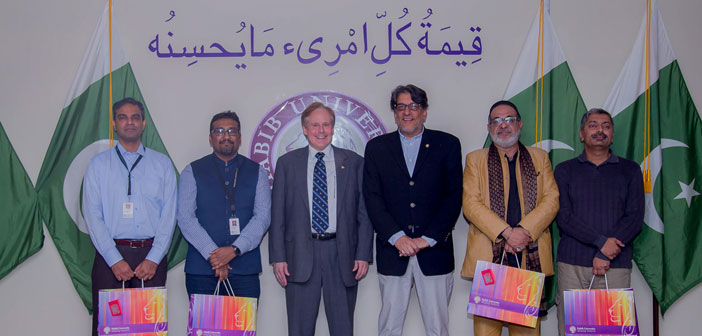 Each promoted faculty member then spoke a few words and expressed gratitude on the occasion.
"I want to acknowledge all of my colleagues on this occasion. I have worked alongside each of them and know full well their outstanding abilities…congratulations," said Dr. Anzar Khaliq.
Dr. Waqar Saleem on his part expressed gratitude to everyone for the recognition and praised Habib University for its ability to attract and retain academics of such high caliber.
Dr. Nauman Naqvi also expressed his appreciation and said that it has been a tremendous learning experience for him. "I can't imagine being anywhere else…this institute has given me much more that I hoped for and I am very grateful."
Dr. Shah Jamal also thanked his peers for their years of dedication to Habib and said that he was "very humbled" by being honored in such a manner.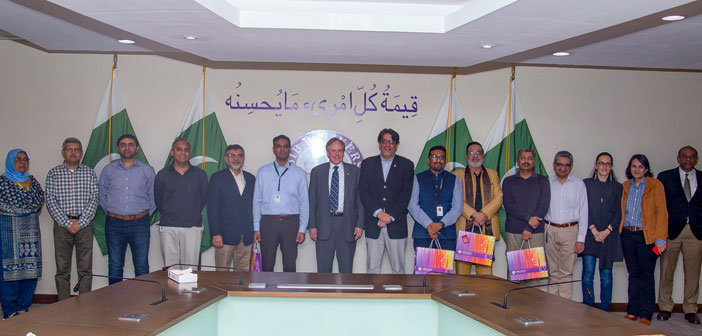 President Wasif Rizvi at the event's conclusion said that that through this ceremony "we are acknowledging that this is an institute that believes in and exemplifies thoughtful self-cultivation". He then gave each of the faculty members an award in recognition of their promotion.