The World Design Summit held in Montréal from 16th-25th October 2017 played host to 3500 industry professionals from around the world to foster creativity, celebrate design, and "create viable solutions to global social, economic, cultural, and environmental challenges".
Saima Zaidi, Assistant Professor at Habib University, a Communication Designer by profession, was the only Pakistani to be invited to speak at the congress. She represented Habib University as well as Numaish Karachi–an award winning interdisciplinary collective–which aims to activate underutilized public spaces in the city for cultural production, and transform them into inclusive urban retreats. Its core team members include Aamir Habib, Tahera Hasan, Mahim Maher, Ifrah Jafri, Dr. Saleha Raza, Sohail Zuberi and herself.

Left: The venue Palais des Congres, Montreal | Right: From the Expo attended by over 25000 visitors
Zaidi spoke about design activism in Pakistan. Part of her talk covered their latest venture, DIY Karachi-Manchester, a hyperlocal guerilla placemaking intervention at the Rambagh Quarter in Karachi in Sobhraj Chetumal Terrace, Burnes Garden. This cross-border experiment brought together local expertise and cutting edge creative technology to reimagine public spaces; the international collaboration involved Numaish Karachi, Habib University, MadLab which is United Kingdom's most active grassroots digital innovators' organisation, and the British Council, Pakistan.
As a teacher of Communication and Design at HU, she along with Dr. Saleha Raza and Dr. Noman Baig introduced DIY Karachi-Manchester, an undergraduate course focusing on "Design for Participation". It encouraged the students to work at the intersection of design, culture, science and technology allowing the development of creative thinking strategies and playful experimentation.
In her talk, Zaidi stressed the importance of integrating academic knowledge with the experience of actual field work. Students taking the classes were from three programs at HU (Computer Science, Communication and Design and Social Development and Policy), encompassing the liberal arts approach of HU, making the experience truly multidisciplinary. This initiative culminated in the 'DIY City, Karachi-Manchester Nano Festival' in late April this year and included four site-specific students' projects.
The talk also included images from a few of the three dozen projects designed and implemented since Numaish Karachi's inception in 2015 demonstrating its "commitment to shape communication and facilitate access to information". Importantly, these ephemeral, hybrid practices served to dissolve barriers between different strata of society, and the private and the public sectors. They engaged the community–adults and children alike–by employing multidisciplinary participatory design for education and entertainment.
Student Projects
Bostaan
Concept and Design: Misbah Azhar, Amin Gilani, Arqam Khan, Meher Malik, Rida Rais, Sumbul Zehra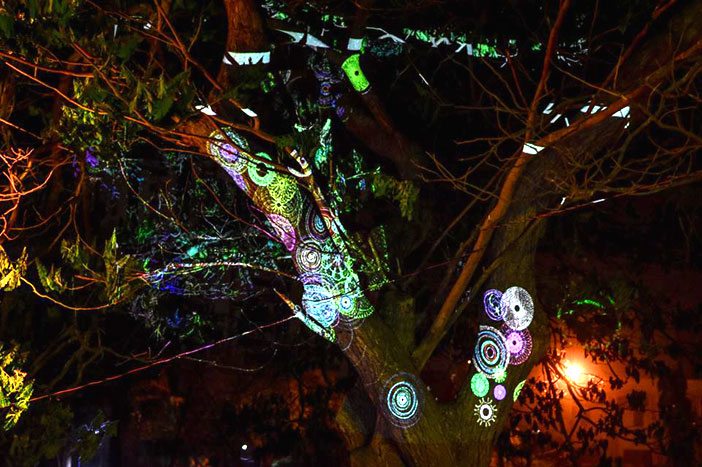 Photo by Humayun Memon 
Concept Note: We live in times when our interaction with screen-based technology has eclipsed our interaction with nature. For this installation we asked how we could not only integrate the two but try to heighten the sensation of experiencing our natural surroundings. The Sobhraj Chetumal Terrace lent itself perfectly to what we realised could be made playful interaction with the help of a screen and motion sensors in a Kinect.
Sitaron ki Sair | A Celestial Tour
Concept and Design: Hamza Arif, Anusha Ijaz, Anas Masood, Moizza Salahuddin, Hira Waseem, Syed Kumayl Reza Zaidi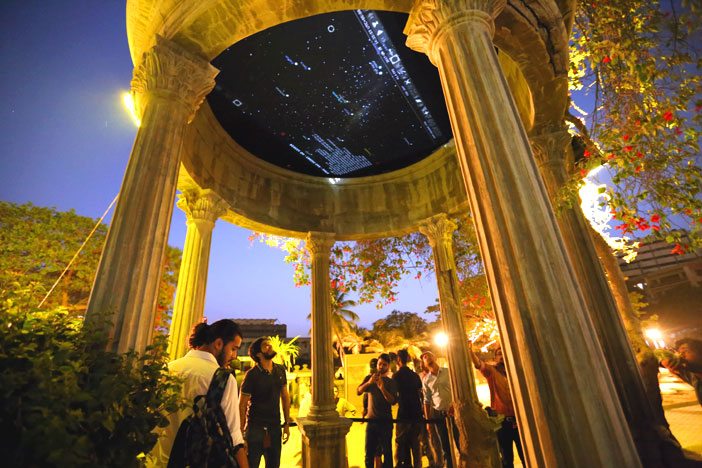 Concept Note: In this installation, you can physically interact with the night sky projected onto the intrados or inner vault of the dome of the pergola at the Sobhraj Chetumal Terrace that has been linked to a Kinect motion sensing device. Travel through the galaxies, learn about the stars, planets and constellations with a wave of a hand. Experience a starry night that is otherwise so rare in inner neighbourhoods of our cities that have become cloaked by layers of smog and light pollution.
Bicycle Ride around Burnes Garden
Concept and Design: Farjad Ahmed, Mahnoor Shoukat Bawa, Anusha Fatima, Sana R. Gondal, Iqran Rasheed Mehar, Ali Rizvi, Alizar Lalani, Syed Talal Wasim
Concept Note: Karachi is so vast that you can perhaps never know it fully in one lifetime. The same often happens in our own neighbourhoods. In this project, we use a popular and cost-effective form of transport, bicycles. We set up two of them side by side and connected them to their own strips of LED lights that lead to a screen in front. The bicycles were procured from the Cycle Market in the vicinity of the Burnes Garden and are thus hyperlocal. In order to be inclusive, we ensured one bicycle was designed for differently abled people. The faster you pedal, the faster the lights will glow. As you 'cover distances', the screen will display images from the areas around the park where you have 'pedalled'. This way, you can be fixed in one place but discover an entire area. See if you can go faster than your competition. Put on a show! Light it all up!
Sheesh Mahal – The Palace of Mirrors
Concept and Design: Talha Ahmed, Farwa Hussain, Sakina Ijaz, Zoha Jabbar, Fatin Nawaz, Saadia Pathan, Osama bin Rizwan
Concept Note: Mughal Emperor Shah Jahan (1592-1666 CE) told his beautiful wife Mumtaz Mahal that he wanted to give her everything. After showering her with the gifts of elephants, gold, precious stones and rosewater fountains, he asked if there was anything else she desired. She replied that if he truly loved her, he would give her the stars.
And so, in a spectacular feat of engineering and imagination, he gave her the Sheesh Mahal in the Lahore Fort. It consisted of a white marble pavilion inlaid with thousands of tiny mirrors and a shallow pool outside the structure. During the day the pool reflected the sky, so it was as if Mumtaz Mahal were walking on clouds when she waded in it. And at night, the moonlit water would reflect the light of the thousand mirrors, giving her the stars she had demanded.
We wanted to put a spin on this historic palatial beauty by using the old animation technology of a zoetrope to build miniature Sheesh Mahals in the hope of transporting the viewers in Karachi to a similar place of ecstatic wonder. The blinking lights inside help create a hypnotic effect within each of our models—it's a party at Sheesh Mahal!