On the occasion of World Book Day, organized internationally on April 23rd every year, Habib University Library and Information Commons (LICS) team organized four events prior, from April 19th to 22nd. The key objective was to strive for the efforts to promote reading habits amongst students.
Bazm-e-Kutub
On the first day, HU Lions were invited to share their love for books. They were asked to share a review of a book which they found dearest to themselves and what impact it had on their life. Eight students (both sophomore and freshmen) participated as book reviewers in the session. The names of the students and the books they reviewed are as follows:
Sana Rizwan Gondal: Fifty Shades of Grey
Zahra Sohail Mukhi: The Geometry Of God
Mahreen Khan: The Alchemist
Daniyal Hussain: Shahab Nama
Abdul Wahid Khan: The Kite Runner
M. Hussain Zaidi: Asmat Chugtai kay Afsanay
Sadia Pathan: City of Thieves
Fatin Nawaz: Slaughterhouse V
Mahawara Goi
HU Learning Community is diverse in terms of cultural and ethnic backgrounds. To provide an opportunity to celebrate and acknowledge this diversity, Mahawara Goi (celebrating diversity of idioms) was organized on the second day, where students and library team members shared various idioms in their languages, their meaning and use. Idioms were shared in Urdu, Khowar (Language spoken in Chitral), Mewari (Rajasthani), Kutchi (Spoken in Memon Community), Konkani (Language having roots in Delhi), and Persian (Iran and Afghanistan). The names of library staff as well as students who participated in Mahawara Goi are:
Kanz ul Iman (Rajasthani)
Anusha Aijaz and Sameer Nizamuddin (Urdu)
Aarti Lilaram (Sindhi)
Muhammad Daniyal Hussain (Saraiki)
Ramsha Meing (Memoni)
Wahid Khan (Khowar)
Hunza Irfan (Konkani)
Maisam Hyderali (Persian)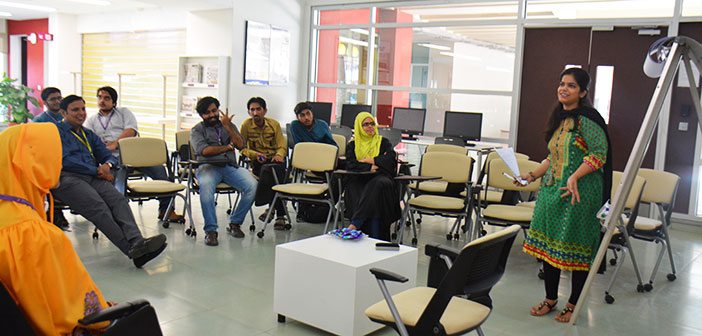 Getting to Know Banned Books
On the third day, HU faculty members Dr. Asif Aslam, Dr. Sahar Shah and Syed Afzal Ahmed were invited to share one book which is or was banned during the last few decades. Dr. Asif Aslam shared details of the book called 'Angaaray', which is still considered a banned and not published in Pakistan. Dr. Sahar Shah shared details and reasons of banning the poetry collection by famous Sindhi poet Shaikh Ayaz and Syed Afzal Ahmad shared particulars of the collection of stories 'Soz-e-Watan', written by Deputy Nazir Ahmad. Staff members were also amongst the audience taking interest in this event.
Book I recommended to be Read in a Lifetime
HU Learning Community was invited to share the name and author of a book which they would recommend as a must-read in a lifetime. A big panaflex was placed in Information Commons with image of blank books to write their recommendations. More than 40 recommendations were made by staff members and students. The book recommendations were taken on two days i.e. 22nd April and 23rd April 2016, which was the World Book Day. Library Information Commons team will also be placing recommended books on display at the beginning of Summer break and students will be invited to borrow one each.
Overall more than 100 HU Learning Community members participated and appreciated the efforts of the LICS team for organizing these innovative events.