Before joining Habib University's Electrical Engineering program, I was skeptical about how a liberal arts institution could produce world-class engineers. However, my thoughts changed when I saw a cousin of mine graduate with a BS in Electrical Engineering degree from Habib University and immediately excelled in his field. Following in his footsteps, I joined Habib on a 100% scholarship through the HUTOPS program for my undergraduate studies. After two years, I can confidently say that my experience as an engineer in training has been nothing short of phenomenal.
People may wonder why I chose Electrical Engineering and why Habib University when there are other prestigious institutions available. Here are my reasons for why I believe Habib's Electrical Engineering program is outstanding in comparison to other institutions:
1. Opportunities for learning outside of my Degree
One of the perks of studying engineering in a liberal arts institution is that I am exposed to ideas and concepts that are not typically covered in conventional engineering degree programs. This includes learning about world history, playing new musical instruments at CSAM, and using state-of-the-art machinery for my projects. The world needs well-rounded engineers who are diverse and adaptable, and this is a key strength of engineers from Habib University.
2. Studying from Foreign and Highly Qualified Faculty
The faculty at Habib are foreign and highly qualified professionals with first-hand experience with the latest advancements in the field. Most of my instructors hold PhD degrees and are experts in their subjects. It is no surprise that engineers from Habib are so well-equipped with the skills the world needs, as they are trained by the best.
3. Free Access to Learning Resources
One of the most remarkable things at Habib is that labs are always open to students and faculty, and we are free to use the resources available to our advantage. We can freely explore new ideas without any permission requirements as in other universities.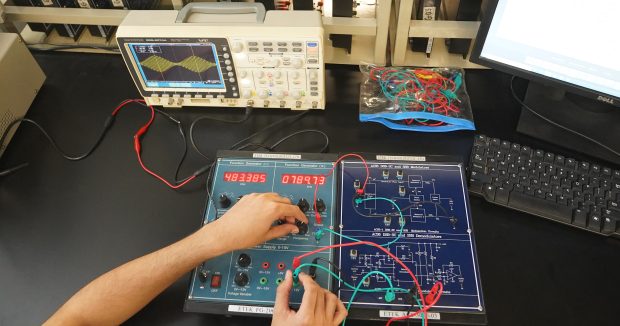 4. Student-to-Faculty Interaction
I feel fortunate to be able to have close relationships with my faculty, which is a hallmark of HU. Students here can approach faculty at any time by meeting them in person, emailing them, or scheduling a meeting. They feel more like friends and I have never been turned down for asking for explanations again.
5. Study Abroad Opportunities
Habib offers many opportunities for students to spend a semester abroad. It is truly a refreshing experience to study and work with students from different nationalities. Many of my seniors have had the chance to study at well-known universities such as Stanford, UC Berkeley and University of Michigan for a semester, and it's exciting to see the support Habib offers its students.
Watch Now to Learn More about Habib University's Electrical Engineering Program
In conclusion, these are my five reasons why I believe the BS in Electrical Engineering degree at Habib University is superior in comparison to other engineering schools in the country.
Apply Now for Admissions in Fall 2023
This blog is written by Shameer Mansoor, Electrical Engineering, Class of 2025.