Hello! As an engineering student at Habib University, I would like to share my personal experiences and highlights of my time here. When I first started my education, I felt uncertain about the future, with no clear end goal in sight. However, once I arrived at Habib University, I was overwhelmed with the many opportunities to learn, grow, and prepare for a successful future.
The engineering career services offered by Habib University have played a critical role in my personal development and preparation for a competitive career in engineering. The University provides students with an abundance of resources and knowledge, including internships, networking events, and career counseling, to help them succeed in the ever-changing industry and prepare for the challenges and opportunities that lie ahead. Through these programs, students gain real-world experience, sharpen their skills, and make meaningful connections in their field.
One of my favorite aspects of being an engineering student at Habib University is the availability of internships. I have had the opportunity to participate in two unique internships, each of which has provided me with new knowledge and hands-on experience. Not only have I been able to apply what I have learned in the classroom, but I have also had the chance to network with experienced professionals and establish valuable connections that will benefit me in the long run.
Another crucial aspect of career preparation is networking, and Habib University provides many opportunities to connect with experts in our field through guest lectures, industry visits, and networking sessions. These experiences have been crucial in giving me a deeper understanding of what it takes to succeed in my field and build meaningful relationships with those in the industry.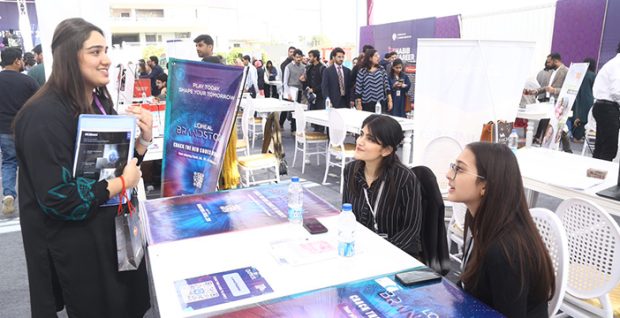 The Career Services Office at Habib University is truly outstanding. I had the opportunity to have a one-on-one session with a professional counselor who helped me clarify my career aspirations and provided me with customized guidance on how to improve my skills. In addition, the University offers numerous workshops and events aimed at enhancing essential career skills, such as creating an eye-catching resume and acing job interviews. This support has been invaluable in helping me, as well as countless other students, prepare for a successful career.
The Career Services Office also provides students with access to comprehensive job databases and career fairs. I was able to use these resources to research job openings that align with my career goals and apply for positions that match my aspirations. The department works closely with both local and international employers, ensuring that students have the most current information about job opportunities and providing support throughout the recruitment process.
In conclusion, my experience with Habib University's career services has been truly transformative. From internships and networking opportunities to career counseling and job search strategies, the University has equipped me with the tools and resources I need to succeed. I am deeply grateful for the support I have received from the career services office, and I am eager to see where my journey takes me next.
If you are an engineering student seeking to maximize your university experience and set yourself on the path to success, I highly recommend Habib University. Visit the admissions page to learn more about their engineering program and the incredible career services available to engineering students. Apply now and start your journey towards success!
Apply Now for Admissions in Fall 2023
This blog is written by Hamna Mansoor Rafi, Electrical Engineering student, from the Class of 2024.