For 48 hours, the sun never set on innovation. There were no borders, no boundaries, only a diverse group of talented and motivated individuals focused on developing innovative solutions to the problems that our planet faces. To my amazement, the 48 hours I spent at IFTP, Invent for the Planet, were some of the most rigorous, challenging, yet immensely enlightening hours of my life. Over the course of a single weekend, students from 35 universities across the globe joined a race to innovation aimed at solving high-impact global problems in just 48 hours.
The Playground: A Transdisciplinary Space
As I stepped into the Playground, a transdisciplinary space at Habib University where the event was held, the air was filled with enthusiasm, charm, and dedication. Soon, our eagerness to know our teammates was satisfied as the teams were announced with whom we would be working for the next 48 hours. With the announcement of the teams, we all dispersed into our respective groups and then began the exhilarating 48-hour challenge of critically thinking of innovative solutions to impactful problems.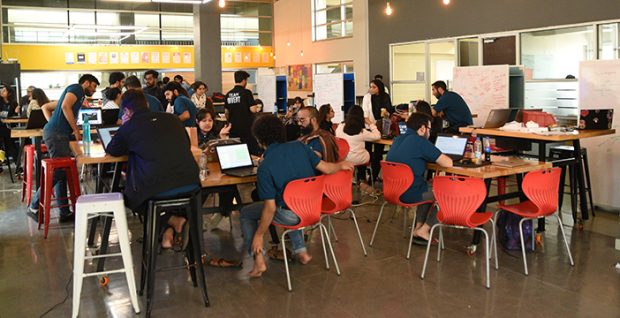 Ideation to Innovation: Unleashing Minds and Creativity
During the first few hours, our energy was at its peak, and some truly amazing solutions to our design problem sprung into our minds. However, after bouncing our ideas off the mentors, we discovered that some of the innovative ideas we had already existed. Therefore, with the same vigor, we unleashed our minds to think of even more innovative solutions for IFTP 2023.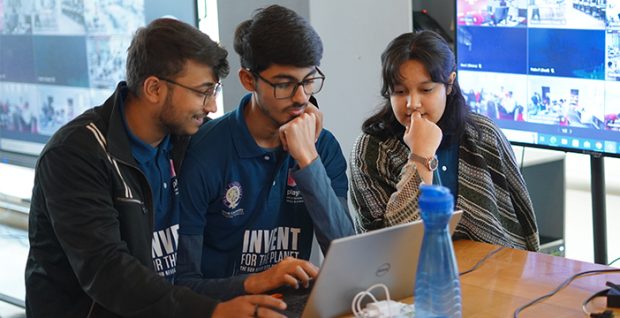 After rigorous research, we produced an innovative solution to our design problem, which focused on providing "Affordable and Clean Energy". With 24 hours remaining and our energy slowly draining, we were left with the task of implementing our design. As soon as we realized that time was running out for IFTP 2023, and we had a lot of work to do, we quickly divided the tasks among ourselves. My friend and I worked on the presentation while three of my teammates worked on the prototype. Amidst working relentlessly, each of us drank copious amounts of tea and coffee to stay awake and rejuvenated.
The Final Presentation for IFTP 2023: Rushing to Showcase our Innovative Solution
Finally, the hour of the final presentation of our prototype arrived, and we had to describe our solution to the judges. With the clock ticking fast, our heartbeats racing, and our sleep-deprived minds trying to finalize the presentation and the prototype, we were all in a state of frenzy. One truly cherished moment that happened while we were wrapping up our work was when we realized that only 15 minutes were left before the presentation, and one of our teammates shouted, "Guys, we only have 15 minutes left for the presentation!" We were all in our homely attire, completely engrossed in completing our design, but instantly, we stopped working and rushed to change into our formal attire.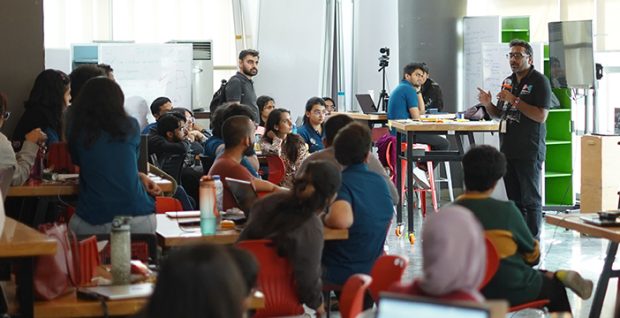 Gasping, we ran to the Playground with our prototype and rehearsed our presentation several times. The air was filled with the zest and anxiousness of the participants, and everyone seemed to be in a state of restlessness during the last hour of the challenge. However, as soon as the presentations started, silence descended upon the Playground. One by one, the teams presented their solutions to the judges, leaving them in awe of their ideas, efforts, and dedication.
Inspiration and Impact: IFTP's Most Memorable Moments
One of the most inspiring moments for me during the IFTP was when the entire Playground looked on with sheer wonderment and awe at our prototype while we were presenting. It was an incredible feeling to see our hard work pay off and to know that we had created something truly innovative and impactful.
I am truly grateful for the privilege of being part of Habib University and for the amazing opportunity to participate in an event that challenged me to think outside the box, hone my critical thinking and collaborative skills, and find innovative solutions to complex problems. Through this incredible experience, I wholeheartedly encourage everyone to seek out such opportunities as they are the key to personal growth and achieving our goals.
The blog is written by Lyeba Abid, Computer Engineering student, from the Class of 2025.