Dear members of the Habib Community,
22nd August 2016 marked the beginning of our new Academic Year (2016/17). The HU campus came alive once again with the buzz of the renewed vigor of our sophomores and juniors and the excited anticipation of our freshmen: The HU Class of 2020. The infectious excitement is apparent if one walks across the campus, greeted by students, both old and new. I hope we continue to sustain this excitement over the course of the academic year.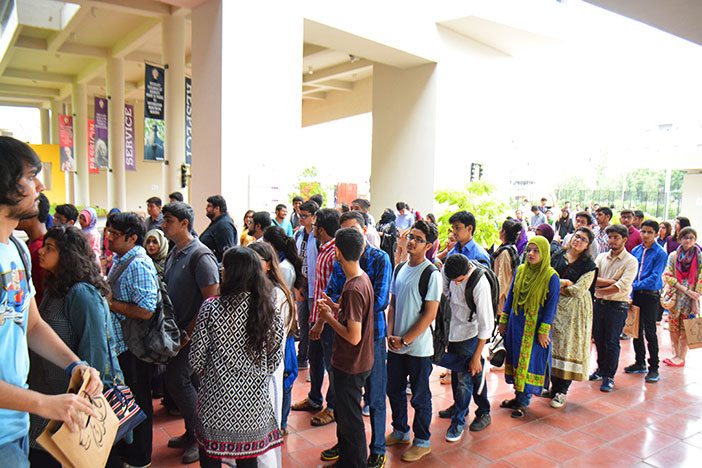 The freshman class of 235 students adds to the talent, diversity and intellect of an already dynamic community of 264 juniors and sophomores, bringing together a total of 499 young scholars at Habib University. Our largest intake of students so far, the freshmen are not only from all areas across Karachi, but across Pakistan: Hailing from small towns such as Turbat and Badin, the big cities of Lahore and Peshawar and the northern most corners of Chitral and Hunza. The geographical and socio-economic spread is perfectly complimented by a diversity of religions and ethnicities; not to mention our student body now consists of 54% females. They have displayed highest levels of merit in their schools and bring with them a plethora of aspirations: We have sports persons, debaters, photographers, artists and entrepreneurs: in short a cornucopia of talented young scholars.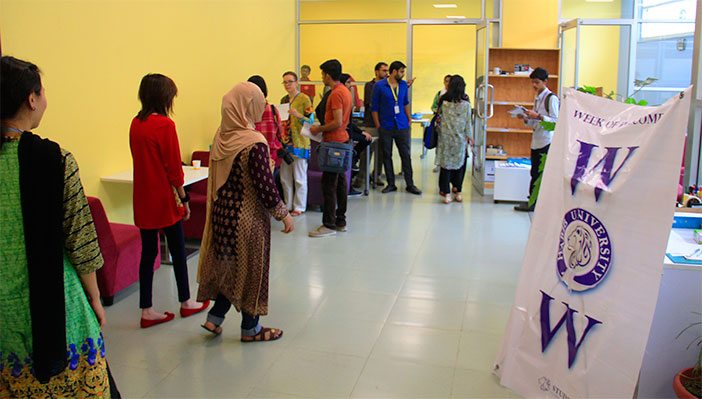 This is also the first time we are welcoming our HU TOPS (Talent Outreach, Promotion and Support Program) scholars on campus. The program was specifically designed to include high merit students from the local educational boards in the country. This year we are welcoming 48 students, provided with fully funded scholarship. This program is indicative of Habib University's mission of building a diverse and inclusive community of students.
I would like to recognize the efforts of student recruitment and admission team in not only admitting a larger group of students this year, and at the same time continuing to raise the bar for themselves by selecting academically bright young individuals to be part of the Habib community.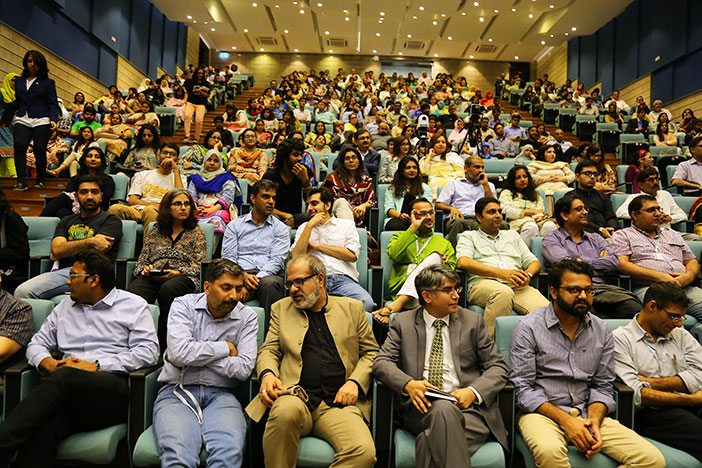 The beginning of the fall semester marked the arrival of 21 new members of our faculty, increasing the members of the academic community from 31 to 52 new scholars. The School of Science and Engineering has welcomed 9 new faculty members at the start of the academic year, and 12 new faculty members received by the School of Arts, Humanities and Social Sciences. The increased faculty numbers and disciplinary diversity has resulted in the development of three new academic platforms that will provide students the opportunity to undertake minors. The three new platforms include Arzu Program in Languages and Literature (minors in Comparative Literature, English Literature, Regional Languages), Comparative Liberal Studies (minors in Philosophy, History and Religion Studies), and Integrated Sciences and Mathematics (minors in Physics and Mathematics).
#HappeningNow at #HabibUniversity: Faculty meet & greet for our Trailblazers who have enrolled for our AHSS program pic.twitter.com/IBntWtXs2h

— Habib University (@HabibUniversity) August 17, 2016
Welcome back to our sophomores and juniors! Your responsibility now includes nurturing, guiding and supporting 235 freshmen. I am confident that you will inspire the incoming class to embrace the values of Yohsin, by creating a thoughtful and supportive community.
LIVE on #Periscope: What is our philosophy? #Yohsin https://t.co/d8tM8J8BMC

— Habib University (@HabibUniversity) August 15, 2016
Sincerely,
Wasif Rizvi
President
Habib University