Habib University's Talent Outreach, Promotion and Support (HU TOPS) Program kicked-off its final leg through summer classes from June 1st to June 30th; to hone academically gifted students from Pakistan's Board of Intermediate (BIE) and Federal Board (FB).
Learning opportunities provided by Habib University are phenomenal – they aim to equip students to think out of the box while empowering them to not only excel academically, but provide access to extraordinary co-curricular activities for the leaders of tomorrow. Committed to the fact that quality education should not be a luxury, HU TOPS targets students who are looking to excel but lag behind due to a lack of opportunity.
Currently, 56 out of the 103 students set to take the Entrance Examination on the 14th of July, are being trained to fully grasp the fundamentals of both linguistics and mathematics by Mr. Umair Khan and Ms. Fatima Khan. The classes are being held in the Raza Hussain S. Agha Multi-Purpose Hall and Standard Chartered Classroom.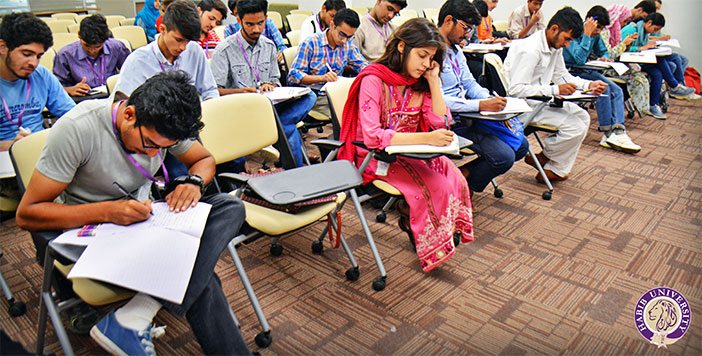 The University will ensure students enrolled through HU TOPS shape a thoughtful career and life path for themselves. They will be supported to grow as life-long learners, creative problem solvers and dynamic leaders with a passion to serve society.
The HU TOPS program aims to engage talented students enrolled at local government Examination Boards and provide them an opportunity to learn at a world-class institution in Pakistan. Habib University believes in providing equal opportunities and nurturing the talent and potential of young people irrespective of their educational, socio-economic and ethnic background and HU TOPS is an example of it.