Gilgit was always in my list of must visit places and when I received an internship acceptance letter from the Aga Khan Rural Support Programme, Gilgit Core Office, I was giddy with joy. Spending eight weeks of my summer up in the mountains, away from the scorching heat of Karachi, was something I was eagerly looking forward to.
The culture and lifestyle of the locals of Gilgit is entirely different than Karachi; slow-paced life, namak wali chai (salty tea), bland food (as compared to food prepared in Karachi), kissing the other's hand when greeting someone out of respect, comprehending the language, limited or no access to internet, and sitting or sleeping on the floor amongst other things…it was hard for me to adjust to my surroundings. However, sacrifices had to be made and the locals there were are so hospitable and welcoming that I felt inclusive in no time.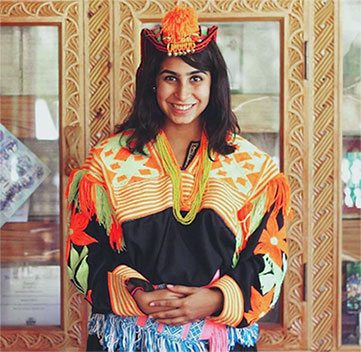 I had the opportunity to work on the Gender and Climate Change project and collected data on 'the effects of climate change and the role of women in disaster risk reduction.'
I travelled to Hunza, Bagrot Valley, Danyor and Oshikhandass for my field work and interviewed officials as well as others at Women's Organizations (WOs), regarding how they thought climate change affects men and women differently, and how women can play a role in mitigating the effects of climate change.
The overall findings as well as my life in Gilgit made me realize that I lead an incredibly privileged life. Sometimes travelling to such places makes one appreciate the importance of things that we usually take for granted. It also made me realize that life is really at peace without the internet! It gives you more time to reflect on yourself and your day, and an opportunity to connect with other people, feeling one with nature.
This blog was written by Shaheera Pesnani, HU Co-Founder and Junior at the School of Arts, Humanities & Social Sciences (AHSS), majoring in Social Development & Policy (SDP), Class of 2018. Her summer vacations were spent in the beautiful valleys of Gilgit, Baltistan, interning with the Aga Khan Rural Support Programme.
To read more Blogs by our HU Lions, click here.