Osama Rizwan, one of the Habib University students currently attending the Stanford Summer International Honors Program (SSIHP), writes about celebrating Eid away from his family for the first time, in his travel log.
We had an exciting Chaand Raat where we had decided that we would go with the other Stanford Muslim students to pray the next day.
All of the girls except for Sana Gondal went to a Chaand Raat Bazaar in Fremont, CA, where they had little celebrations of their own. The boys and I spent it by ironing our clothes and chatting with our dorm mates about the concept of Eid and Ramzan.
The girls upon their return upon from the Chaand Raat Bazaar told us about an Eid festival that was going to happen next to Lake Elizabeth in Fremont and we all decided that we would head there for Eid prayers as well.
We all left early morning to catch the morning prayers but unfortunately missed it by the time we reached.
However, the organizers had arranged food stalls so a lot of us found ourselves in search of good biryani (because we missed that the most), and eventually found it!
It was nice seeing Muslim families from all around the globe gathered and celebrating Eid in their own special little ways. We decided to take a stroll along the lake where the festival was taking place, all dressed up in Kurta Shalwars and fancy clothes (just like we would dress up back home on the occasion of Eid).
We returned from the festival around noon because most of us had to be on time for our classes that usually take place in the afternoon.
After classes while we were still dressed up and all fancy, we went to eat dinner with our fellow Stanford Muslim students. The dining hall at Stanford called 'Arrillaga' had arranged for a special Eid dinner for Muslims. It was surprising for me to see that so many Muslim families are at Stanford and they were from all around the world. We had a pleasant a home away from home dinner with Naans and Chicken curries, while chatting with the others about different programs that people were involved in at Stanford.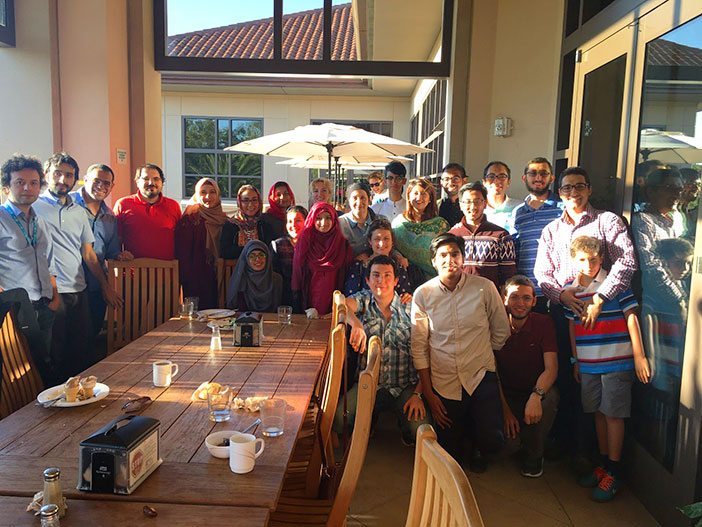 We ended the dinner with a big group photo, and while gathering for the snapshot it felt as if each of us were home with our own families. It made this Eid very different yet somewhat the same, but a great experience all in all!
To read more Blogs by our HU Lions, click here.