Habib University's Playground, the Centre for Transdisciplinarity, Design, and Innovation, hosted a weeklong series of Design Thinking workshops. The workshops, held from 26th – 30th March 2018, invited a lecturer and fellow at Stanford University, John Armstrong, to HU. John works with students at Stanford's d.school, teaching them how to use "design thinking techniques to tackle life's wicked problems". John also teaches courses with enticing names, such as Designing Your Life, Designing Your Stanford, and Designing the Professional at Stanford.
At Habib University, the Design Your Life workshop started with staff and faculty. The idea behind design thinking includes increasing one's empathy to be able to view different angles of a problem. He explained that the applications of design thinking were not limited to students, but can be used at any point in our lives. The hands-on workshop explored how we might be able to use design techniques to make better, informed decisions in our professional lives, too.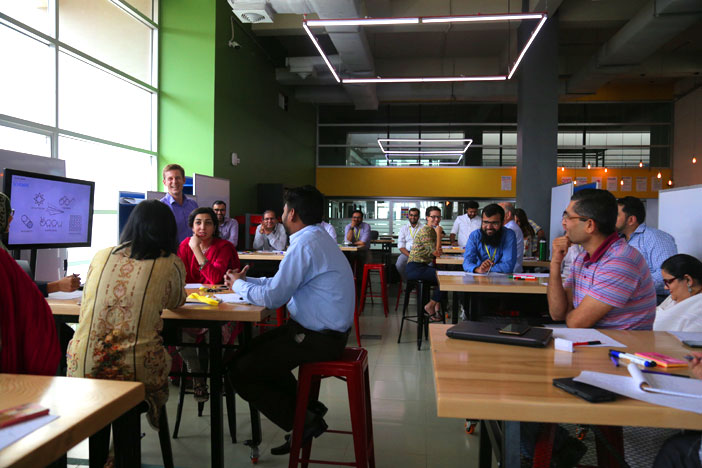 The workshops throughout the week were "very enjoyable and fruitful." John said he "had the opportunity and the privilege to do some workshops for students and also staff and faculty and a final session with [the IAB]industry partners, which was interesting and a new opportunity for me."
His closing event was a public talk, hosted by Dr. Anzar Khaliq and Gulraiz Khan of HU's Playground, welcomed John Armstrong as speaker. Introduced by Dr. Khaliq, one of the innovators behind the Playground, the lecture opened with an introduction to the Playground and how it promotes transdiciplinarity by bringing together individuals with similar ideas but different educational backgrounds and skillsets at the university and often beyond.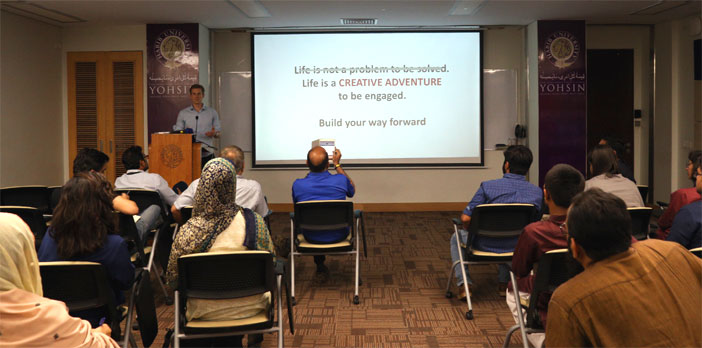 Gulraiz Khan, lecturer at HU, introduced the new Playground website, and explained the idea behind the Playground: a resourceful, yet playful way to bring innovative ideas to life. True to its transdisciplinary nature, the Playground encourages experimentation and design, even if it is messy. It encourages students from different backgrounds to come together to work on projects to create new approaches to local problems.
John Armstrong then introduced design thinking elements for solving day-to-day problems. Using what is called a "human-centred path to innovation", Design Thinking can be used to "design your life as you continue growing".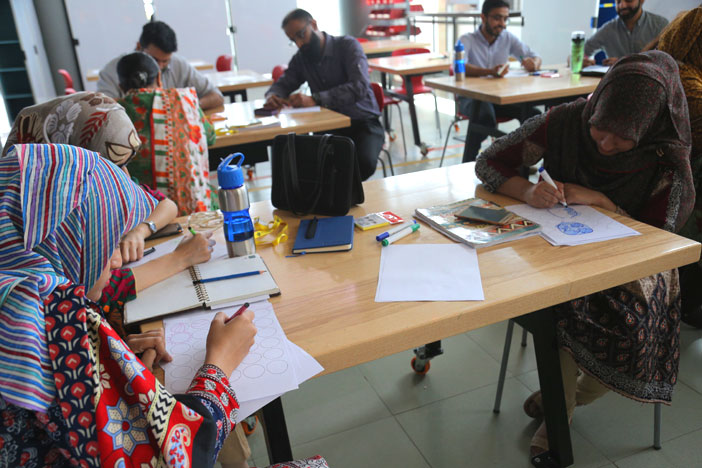 As John works mostly with students at Stanford, he spoke of the ways design thinking has been proven to positively impact students: "some of the notable student outcomes are: decreased anxiety, especially when thinking about their futures and career prospects; decreased sense of agency and loss of control; and greater creative confidence."
Design Thinking as an approach works extremely well with the Liberal Arts and Sciences approach, as it teaches individuals the importance of reframing problems and looking at them from different angles instead of just one. It also focuses on creating a collaborative atmosphere, especially when working with "people who are different from us". Design Thinking pushes the Liberal Arts benefits such as increased empathy and understanding of our environments, making solving problems innate, thereby increasing the chances of finding appropriate solutions.
Habib University has invited various Stanford lecturers over the last years to learn more on Design Thinking. HU faculty, too, has been to international Design Thinking conferences to share their learning of how the approaches have been adapted to be implemented at HU's Playground. Public events and learning workshops are a regular part of Habib University's happenings, which prove beneficial for the entire institution and far beyond to the wider public of Karachi.