Inaugural Event Leaves a Lasting Impression: 'Horizon' Unveiled at Habib University

Habib University, as Pakistan's leading undergraduate-focused Liberal Arts and Sciences institution, continues to pioneer innovative approaches to education. A recent milestone in this journey was the inauguration of 'Horizon,' an educational space that signifies a momentous pedagogical and learning shift towards ideation, collaboration and innovation.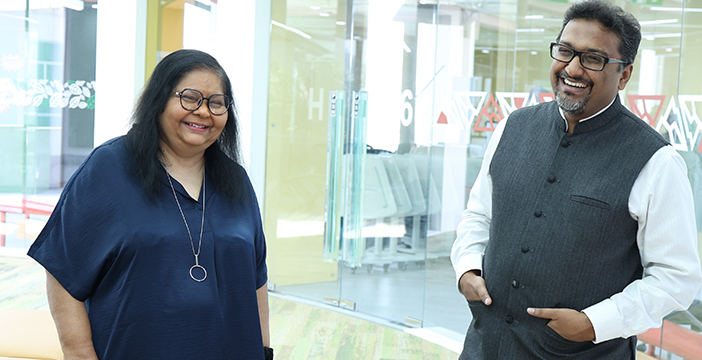 'Unveiling the Horizon' was a distinguished occasion graced by the presence of host committee members Mr. Amir Paracha, CEO of Unilever Pakistan Limited, Mr. Muhammad Azfar Ahsan, Founder & CEO of Nutshell Group, and Mr. Umar Ahsan Khan, Chief Executive Officer of Dawlance. Alongside these industry leaders, the event was attended by other notable figures from the corporate and academic world, and the senior leadership of Habib University.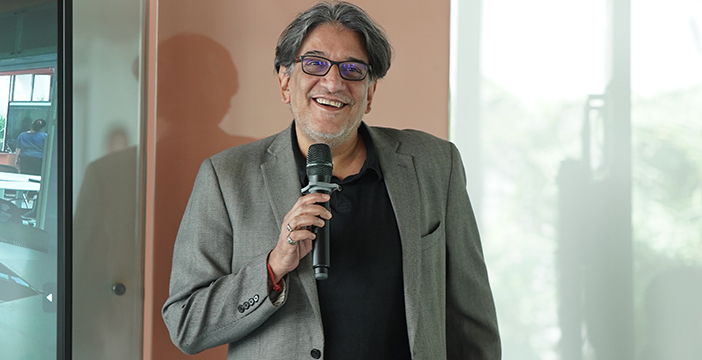 Mr. Wasif A. Rizvi, President of Habib University, expressed his gratitude to the community for their contributions to the cause of education. He emphasized the institution's vision, characterized by a "student-centric intellectual experience, with 'Horizon' representing a pivotal step in this direction."
This event also provided a platform to address the pressing need for educational reform in Pakistan. Mr. Rizvi highlighted the importance of inspiring young people to become engaged citizens, a goal that 'Horizon' aims to achieve by fostering a more engaging and collaborative learning environment.
Dr. Sarah Stein Greenberg, Executive Director, Hasso Plattner Institute of Design, Stanford University reflecting on the importance of thoughtful spatial design, noted that "Horizon challenges conventional norms and preconceived notions about learning and pedagogy. It offers students a space that ignites their intellectual journeys." Horizon at Habib University, designed in collaboration with Stanford d. School symbolizes the promise of discovering something new and groundbreaking – the environs of the 4th floor present opportunities that can transform the nature of teaching and learning, and shape the broader experience of higher education.
Inspired by the principles observed in the natural world, Horizon at Habib University incorporates elements from nature such as a growing chrysalis, tidal pools and beehives into its design. The intention behind this approach is to create user-centric spaces that reflect the interconnectedness and harmony found in nature's elements.
During a panel discussion, Mr. Amir Paracha emphasized the importance of collaboration within educational spaces like 'Horizon.' "If physical spaces are being created, there has to be collaboration, and through Horizon this is what Habib University is doing."
Umar Ahsan Khan from Dawlance underscored the critical role of education in today's world. He sees Horizon as a collaborative learning space that could create informed leaders for the betterment of Pakistan and the rest of the world.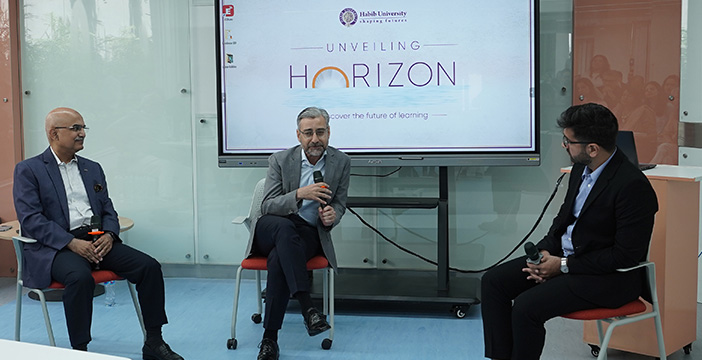 During the discussion, Mr. Gulraiz Khan, Head of CX and Design at UBL, said, " interaction is embedded in the Horizon; the furniture, the classroom, everything." Unlike the learning environments of the past which were characterized by fixed seating, limited mobility for students, and governed by rectangular blackboards, rectangular walls, and rectangular desks; Horizon's studios have: movable furniture and mobile writing surfaces; adjustable desks that can be arranged into different styles depending on the learning style chosen by the students and teacher; and multiple facilities to suit the needs of today's generation which is used to learning and working with technology.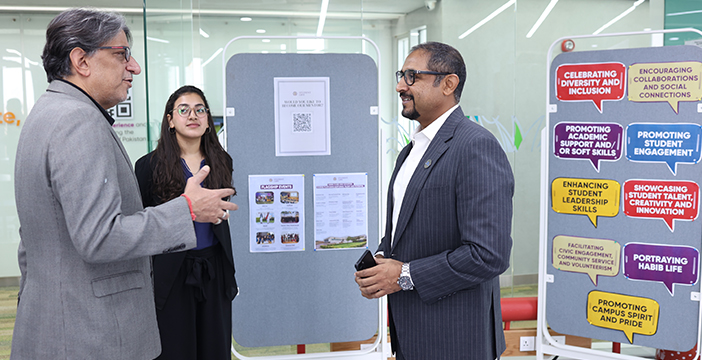 Following the formal program, an engaging networking session ensued, where guests from diverse backgrounds exchanged ideas and perspectives. The event provided an engaging platform for attendees to discuss and articulate their desire to establish a connection with Habib University and engage with its intellectual offerings. A 'Visual Display of Habib University's Student's Journey, co-designed by Student Success and Academic Affairs teams was also presented by the students and alumni. It was a vibrant atmosphere where the innovative spirit of Horizon being a collaborative learning space in Pakistan, continued to resonate. Guests found themselves inspired by the potential of this transformative learning space to reshape the educational landscape in Pakistan.
Habib University is at the forefront of educational innovation through a student-centered approach. The notion of a Horizon represents not only the boundary between the perceived end of the sea and the unexplored frontiers of the sky; but also, the boundary between what is known and unknown. Horizon, Habib University's latest intellectual investment, and the first of its kind collaborative learning space in Pakistan, reflects our intention to look beyond existing approaches to teaching and learning, and to engage with distant, outlying possibilities.
Explore more about Horizon by visiting our website: https://habib.edu.pk/horizon-at-habib/
To know more interdisciplinary learning at Habib University: https://habib.edu.pk/HU-news/unleashing-the-power-of-interdisciplinary-learning-habib-universitys/
#HorizonatHabib #RedefiningLearning #CollaborativeLearning #HabibUniversity #HigherEducation