The last 200 years have devastated everything existing on the planet earth. Colonialism and post-colonialism have exploited resources and have managed humans' cognitive thinking. Capitalism's destruction of the environment and its cultural and racial imperialism has programmed and managed our minds, reflecting upon it is a challenge and need of our times. Habib University which is a generous Liberal Arts and Sciences institution takes up this mission. In the session, 'Reparative Thinking: The Cognitive Challenge of Our Times,' the esteemed faculty of Habib University addressed and reflected upon this challenge.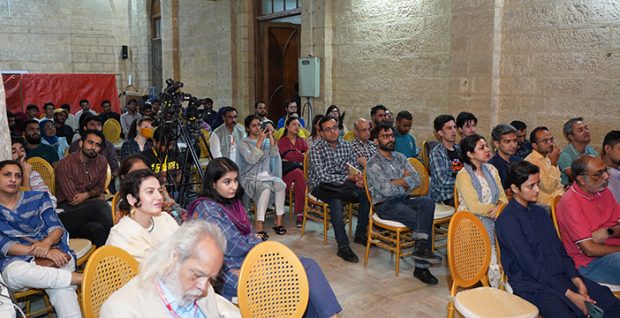 Dr. Nauman Naqvi, an Associate Professor, Comparative Humanities at Habib University, moderated the session. Haya Fatima Iqbal, Assistant Professor of Practice, Communication and Design, Dr. Noman Baig, Associate Professor, Social Development and Policy, Dr. Anzar Khaliq, Associate Dean for Teaching, Learning, Research, and Associate Professor, and Daniyal Ahmed, Assistant Professor of Practice, Comparative Humanities were the speakers.
In the session, Dr. Nauman Naqvi quoted the words of Shashi Tharoor, which he narrated, "In reparations, The British should give us one pound" which is supposed to be symbolic. 45 trillion dollars were transferred to the U.K from our region during British rule, he said while quoting Al-Jazeera's article. As a result of the floods, people have started talking about the reparations, which used to not happen in our region. The reparations, not just economically, but what needs to be repaired is the tremendous cognitive damage that was caused due to colonial rule and continued into the post-colonial period.
In the session, speakers tried to reflect upon how we can repair cognitive thinking due to capitalism's interest motive, which is destroying our planet. Dr. Anzar Khaliq said, "Never in human history, lead (Pb) was supposed to be in humans, but now it is in every human being "It is not good for human body but now humans have since last 150 years. He added further, "This is all happening in the name of progress." And quoted this maverick saying, "We Do Not Inherit the Earth from Our Ancestors; We Borrow It from Our Children."
Haya Fatima Iqbal, who is a renowned film and documentary maker said, "If we just look at the last 20 years of documentary filmmaking, we can know how colonized our documentaries and visual reflections are." In the first ten years, since 9/11, films and documentaries were made, constructed, and profiled that everyone who has a beard is a terrorist. After ten years, a positive image of Pakistan was portrayed which seemed like everything has been normalized. We need to look at different nations residing in Pakistan without any stereotypes."
Noman Baig said, "Repairing and reparations can be done in two ways; one is theoretical and the other is practical. Theoretical is done by ideology while practical is done by fixing our relationships with ourselves and our community and other people. The gap between ourselves and our soul should be reconciled. We need to focus on our soul which has been ignored in our intellectual discourse. One way to connect to our soul is classical poetry and its beauty of expression and its words. So, I included "Shah Jo Risalo" in our course. The soul is important to study as it has qualities of generosity, forbearance, and love. We need to find people from our indigenous history who we can mimic in terms of theory and practice."
Daniyal Ahmed while talking about music said, "In past it was not like this, now music is everywhere, but our listening capabilities have been weak." Talking about birds, he said, "Now, we don't listen to music of birds." Dr. Nauman Naqvi said, music is very important part of Habib university and quoted the words of Imam Shafi, "Music is intellect and generosity and who ever doesn't engage with music is not generous or intellect."