Living in a world where technology is growing and expanding rapidly, equipping students with additional skills is the need of the hour. In order to effectively engage students in the field of robotics while helping them learn how to design, construct, and program robots, a highly interactive and stimulating workshop was held at Habib University in collaboration with EDVON.
Striving to bring educational revolution in the country through practical learning and mutual collaboration between students and the industries, EDVON has emerged as Pakistan's first robotic company that develops educational robots and provides them to various schools for hands-on learning experience and for acquiring fundamental technical expertise in the given sphere.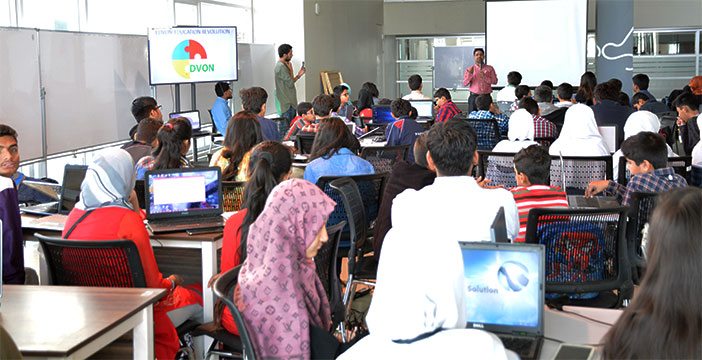 Speaking at the occasion, Muhammad Nabeel, Founder and CEO of EDVON said, "I have always been interested in the field of robotics, however, I find that there are not many opportunities available for project-based learning for students in schools. Recognizing the lack of it and knowing that things would eventually shift from manual to automation in the coming years, we decided to form EDVON so that we could play our role in accelerating the technological development in Pakistan."
Spanning across a week's time, the workshop consisted of two different levels being termed as Beginners Level and Medium Level. While the Beginners Level focused more on creating logic and constructing a 'line following robot' with an IR sensor, those being designated under Medium Level designed their own projects and also learnt about 3D modeling and 3D printing during the workshop.
The event saw participation not only from students at Habib University but also learners hailing from various schools in Karachi including Aga Khan Higher Secondary School, Al-Hadi School, Beaconhouse School System, Beacon Light Academy, Dawood Public School, Karachi Public School, Merit n Merit School, Pak-Turk School, The City School, and The Generations School, showed keen interest in the training.
"Although, I am a student of Pre-Medical Science, I always had an interest in mechatronics since Grade VIII but I could never figure out a place to study it as a subject. Workshops like these help in giving direction to our education and career. For instance, if I had opted for such a workshop before, I would have chosen electronics as my main subject so that robotics could be pursued later. Without a doubt, it has been an enriching learning experience," exclaimed Amna Farrukh, a student from Aga Khan Higher Secondary School.
"Making robots while working together with people from different schools and ages has been the most interesting part of the training," added another participant.
The intensive training was followed by a hackathon and an exhibit where various remarkable projects were displayed. A 'Jalebi Maker', 'Spy Car', and a 'Metal Detector' were amongst the winning articles.
The training week culminated with distribution of shields to participating students by Dr. Syeda Saleha Raza, Assistant Professor of Computer Science at Habib University. "I am really excited to see students being exposed to robotics at such an early stage," she commented.