For their outstanding and sustained service to furthering scholarship, excellence in teaching, and commitment to the strategic mission and vision of Habib University, seven faculty members have been appointed to senior ranks in their respective programs.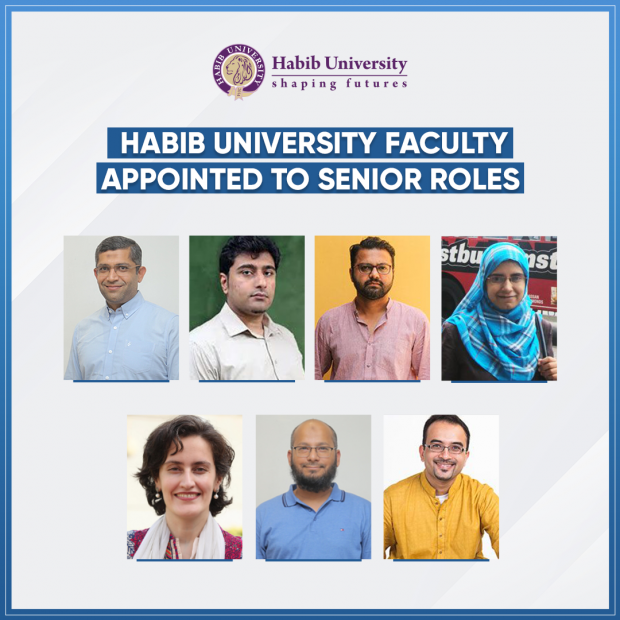 In Integrated Sciences and Mathematics (iSciM) Dr. Sameena Shah Zaman has been appointed Associate Professor, while Mr. Yousuf Kerai has been appointed Senior Lecturer with a joint appointment in the Comparative Humanities program.
Dr. Sameena Shah Zaman, is one of first two female faculty members appointed to the rank of Associate Professor at Habib University. She is a physicist who is committed to exploring new pedagogical methods to put student learning at the heart of teaching.
Mr. Yousuf Kerai is currently the only faculty member who is teaching in two programs across both schools. Mr. Kerai's talent in music and teaching in math has made him a favorite among students. He has developed interdisciplinary courses at Habib University and has led the start of the University's popular orchestra.
"It is always endearing to know that one is valued at an institution and that there are opportunities to grow and progress. However, being promoted to a Senior Lecturer position with a joint appointment to the Comparative Humanities Program and Integrated Sciences & Mathematics sends a clear message that Habib University truly values its commitment to interdisciplinary learning," said Mr. Kerai.
Dr. Saleha Raza has been appointed Associate Professor for the Computer Science program. With almost six years of association with the Computer Science program, Dr. Raza has been a role model for females looking to start a career in the STEM field.
Speaking about the pursuit of excellence in her teaching, she said, "Being an Associate Professor at Habib University has been an important milestone to achieve for which I am greatly thankful to Allah Almighty. While celebrating, I feel more conscious now to pursue excellence and have a profound impact on my students and on the community at large."
There have been three appointments in the Electrical and Computer Engineering program. Dr. Ishtiaq Makda and Dr. Muhammad Moiz Anis have been appointed Associate Professor, while Mr. Tariq Mumtaz has been appointed Lecturer II.
Dr. Moiz said, "The core of my endeavors as an individual would continue to revolve around giving back to the community and investing in the future-building of our generations to come. Dr. Anis has led the DSSE Public Lecture Series for two years – organizing over 40 lectures, both in-person and online. His commitment to focusing his teaching on student learning and understanding has been appreciated by reviewers.
Dr. Makda thanked the review committee for recognizing his hard work, saying, "I am delighted that my hard work was analyzed and recognized by Habib University's rigorous promotion process. I feel proud as I am associated with one-of-a-kind academic institution in Pakistan."
Commenting on his appointment, Mr. Mumtaz expressed his gratitude to the University, and said, "I am honored to get this appointment. Thanks to Habib University and management to provide a vibrant working place to excel and grow." Dr. Tariq Mumtaz has played an active role in the ECE Capstone Committee, which he has chaired for two years.
Dr. Noman Baig, a founding faculty member, has been appointed Associate Professor in the Social Development and Policy program. He has been involved in the development of the Social Development and Policy program since the start of the University.
"I am grateful to Allah for enabling me to teach and reach the rank of Associate Professor. The appointment demands greater humility and compassion as well as a stronger conviction in the search for the truth," he said.
Wasif Rizvi, President of Habib University, congratulated the exceptional faculty members on their appointments and expressed faith in the teachers and their commitment to the mission of transforming the landscape of higher education in Pakistan. He also thanked the external reviewers, faculty members on the Provisional Committee on Faculty for their feedback and the Office of Academic Affairs for their diligence in making these new appointments.