On September 4, 2018, Habib University's landmark space, the auditorium, was named after the legendary banker and noted philanthropist, the late H. M. Habib (1936-2013). Now known as the H. M. Habib Auditorium, this space honors his legacy and carves his memory into perpetuity.
H. M. Habib's daughter, Dr. Zehra Habib-Hasan, dedicated the endowment in his name and set a new milestone for the university in vertical community building, in which the values of caring are passed from generation to generation. The family of the late H. M. Habib graciously joined the larger Habib University community in honoring his legacy and showing gratitude. The convening of concerned citizens behind the cause of higher education, as symbolized in Habib University's Wall of Mohsineen, is representative of horizontal community building.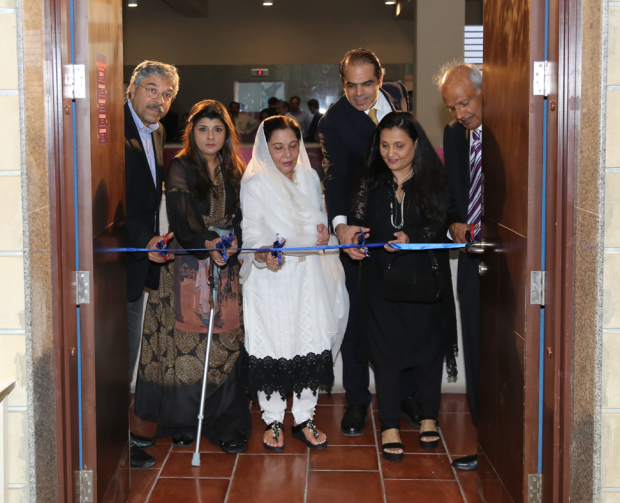 Remembering her father, Dr. Zehra recalled how "H. M. Habib was a benevolent and trusted leader, and had an uncanny ability to inspire people, and obtain their absolute devotion and dedication. He lived, breathed for Habib Bank AG Zurich and gave his all to the bank, and yet still managed to be there for his children and their most important moments in life."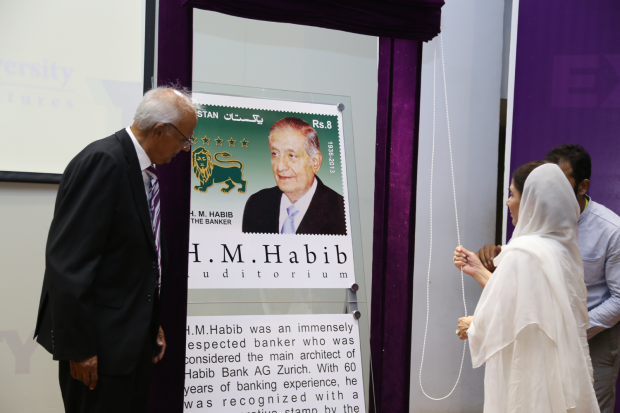 The H. M. Habib Auditorium is in many ways the center of the university, hosting a number of events ranging from conferences such as the PHEC and lectures of distinguished academics such as in the prominent Yohsin Lecture, to hosting prominent personalities including London's Mayor Sadiq Khan, but also contributes to the development of HU students as they regularly use this space for theatrical and musical performances. Centrally located, the H. M. Habib Auditorium provides a community space for sharing of knowledge and ideas.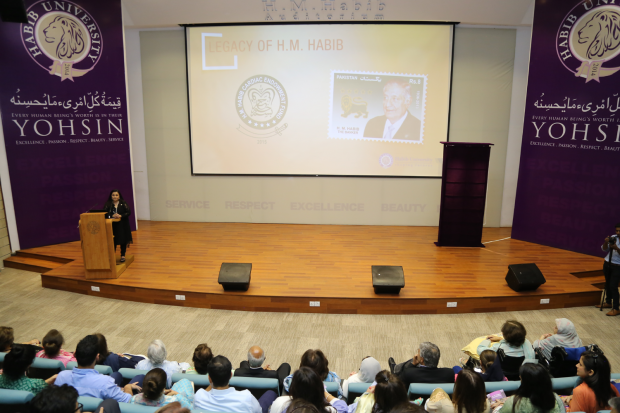 President of Habib University, Wasif Rizvi, noted that "The H. M. Habib Auditorium is the most prominent space on campus," and also embodies the Yohsin values – Beauty, Excellence, Passion, Respect and Service. These values were also held dear by the late H. M. Habib. Discussing the role of the founders in Habib University's journey, the President quoted Margaret Mead – "Never doubt that a small group of thoughtful, committed citizens can change the world; indeed, it's the only thing that ever has."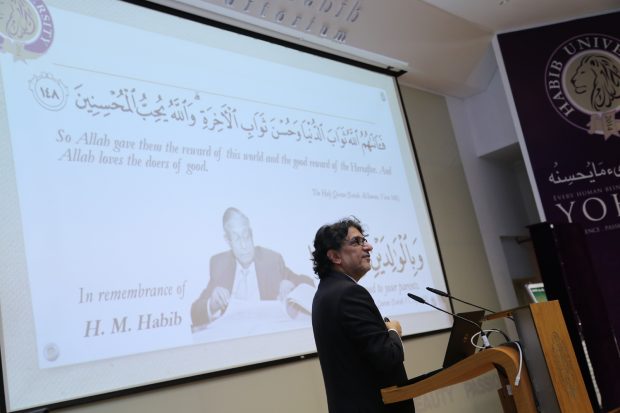 H.M. Habib is mainly remembered as a philanthropist, besides having had a prolific banking career. He was considered the main architect of Habib Bank AG Zurich. With 60 years of banking experience, he was recognized with a commemorative stamp by the Government of Pakistan in 2014.
This dedication ceremony was attended by Mr. H.M. Habib's family, members of the Boards of Governors and of Directors, and Mohsineen and friends of Habib University.
The H. M. Habib Auditorium contributes greatly to the learning experience of HU students, and the Habib University community is grateful to Dr. Zehra Habib-Hasan for endowing this unique and important space for nation building in her father's name.