On Monday December 17th, 2018, Habib University was honored to welcome Ms. JoAnne Wagner, US Consul General, Mr. Stephen Valen, Acting Public Affairs Officer, and Mr. Ali Chauhan, Education Advisor, to campus. Since the university's inception in 2014, all three of Ms. Wagner's predecessors have been hosted for a visit.
Welcomed by Chancellor Rafiq Habib and President Wasif Rizvi, Ms. Wagner expressed great awe at the campus' impressive architectural, which impresses in Karachi's landscape. President Rizvi guided a very comprehensive campus tour for the visitors to showcase the variety of community, learning, and project spaces, and to give a real feel for the type of academics, pedagogy, and interactions between the diverse campus community that allow the Liberal Arts and Sciences model to unfold. The visitors were impressed by the list of academic institutions that Habib University is partnering with, as well as growing number of donors that are recognized for their important contributions to Habib University.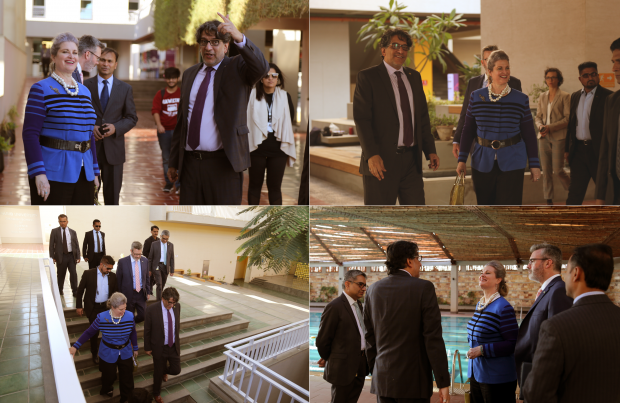 To elucidate more of the context of the higher education landscape and Habib University's unique offerings, President Rizvi gave a short presentation, drawing out the intellectual, structural, and sustainability challenges that have limited quality higher education in Pakistan. He explained, "having partnered from the early planning days with some of the best universities in the US has allowed Habib University to learn – including drawing on the liberal arts model – while at the same time we have ensured that we remain grounded in the local realities and needs."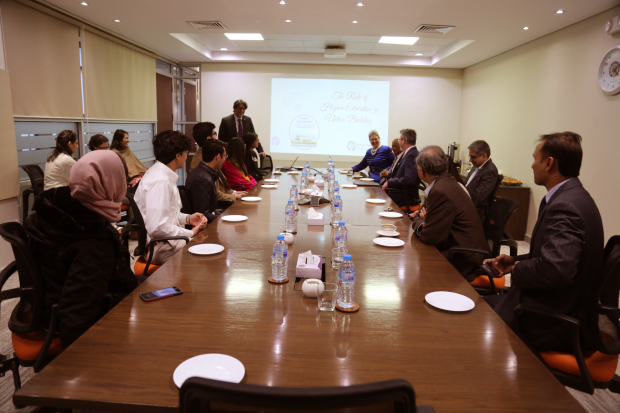 Ms. Wagner was most interested to hear from the students on what factors had attracted them to Habib University. Six students of various programs shared their experiences and reflections, pointing out that it is the holistic nature of the academics, more specifically, "just being an engineer is not enough anymore today, and most engineers don't have the social impact in mind. The Liberal Core exposes us to ideas that are so different than anything we have heard before. So this university is challenging us in new ways so that when I become an engineer, I can help to design solutions that are more relevant and better solve the problem for the people in question and can inspire them." The students further reflected on their HU study abroad experiences last summer, during which they of the attending students completed the summer semester in the University of Michigan, Stanford University, or the University of California-Berkeley: "Studying Habib Liberal Core courses such as Hikma, Pakistan and Modern South Asia, or Research Methods was really tough, but when I reached Michigan I realized that it is because of courses like these that I am able to not just keep up with students from all over the world, but could contribute during classes and discussions with faculty members."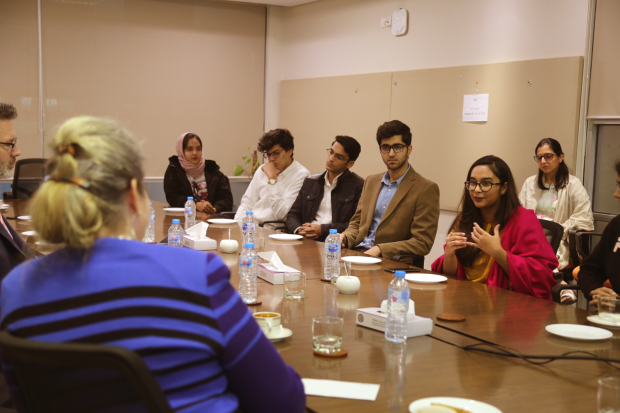 Ms. Wagner concluded about her joy at hearing about the experiences of this innovative institution, and emphasized the opportunities that lie ahead: "I believe there is huge potential in the US-Pakistan relationship, especially in business and even more importantly in people to people ties." Habib University is grateful for her visit in the larger context of Habib University's strong investments in the relationship between both country's institutions of higher learning and its peoples.