Dr. Craig Calhoun was accompanied by LSE's South Asia Centre Director Dr. Mukulika Banerjee and Deputy Director, Dr. Nilanjan Sarkar
Karachi, February 25, 2016: The Director of the London School of Economics (LSE), Dr. Craig Calhoun, LSE's South Asia Centre Director Dr. Mukulika Banerjee, and Deputy Director, Dr. Nilanjan Sarkar, visited Habib University on Thursday, February 25, 2016 to discuss the LSE's engagement with Pakistan. They were welcomed by Habib University President Mr. Wasif Rizvi, Board Member Mr. Ali S. Habib, and Deans Dr. Shoaib Zaidi and Dr. Asif Farrukhi.
One of the world's leading research universities, LSE, like Habib University, was founded by a small group of individuals with a mission of creating a positive impact on society. As Dr. Banerjee observed, LSE had originally been founded with programs that resemble HU's Liberal Core – broad in scope, interdisciplinary in design. It is now increasingly re-embracing that model after decades of following strict disciplinary structures.
South Asia's particularities constantly challenge conventional social science thinking, and LSE recognizes that radical new approaches are needed for meaningful engagement. "What Habib University is doing [in this regard]is so cutting-edge that a lot of people will find it interesting," said Dr. Banerjee, referring to the University's liberal arts approach, innovative teaching models, and courses and programs that address the core issues of contemporary Pakistan.
This is a very interesting moment in Pakistan's history, said Dr. Banerjee, and to deepen the LSE's engagement with the country, the South Asia Centre is developing a Pakistan Program, which will comprise academic collaborations, research, public lectures, seminars and other academic events.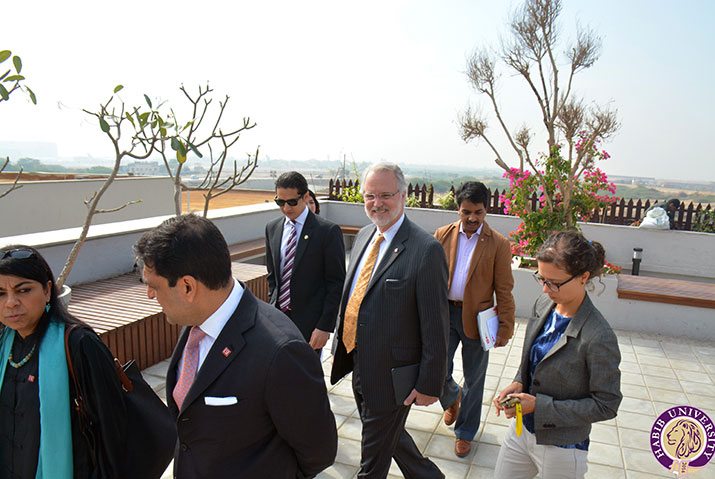 Established in 2015, the LSE South Asia Centre focuses on public engagement and impact, capacity and skills development, and the creation of a global platform to engage with South Asia. As an undergraduate liberal arts and sciences institution, HU too is committed to promoting research and discourse on the critical challenges facing Pakistan. The HU academic experience is grounded in a Liberal Core curriculum aimed at producing critically-conscious graduates who can positively impact society through programs designed to examine social, developmental and scientific issues in an increasing dynamic region of the world.
The delegation's tour of Pakistan has included visits to various academic institutions and meetings with government officials in Karachi, Lahore and Islamabad. This is the first visit of an LSE Director to the Pakistani region since the University's founders, Sidney and Beatrice Webb, visited Lyallpur (now Faisalabad), Peshawar and Lahore in 1911.