Habib University (HU) warmly welcomed the Class of 2023 at the 6th Annual Admissions Offer Ceremony. The two-day annual event, organized by the Office of Admissions, celebrates the success of candidates aspiring to join the university, and was held on the 28th & 29th of March 2019 at the university campus.
Head of Admissions, Mehreen Soomro, welcomed successful candidates and their parents at the event.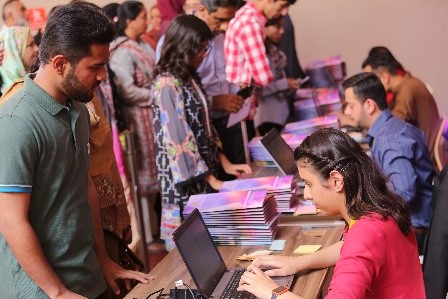 In her speech, Ms. Soomro lauded the efforts of the aspiring candidates "who successfully made it through a very rigorous admission process". She further pointed out to the attendees, that this year's "student body is just not restricted to Karachi, but also includes students from far off areas such as Gilgit, Chitral, as well as international students from the United States, China, Saudi Arabia and the United Arab Emirates".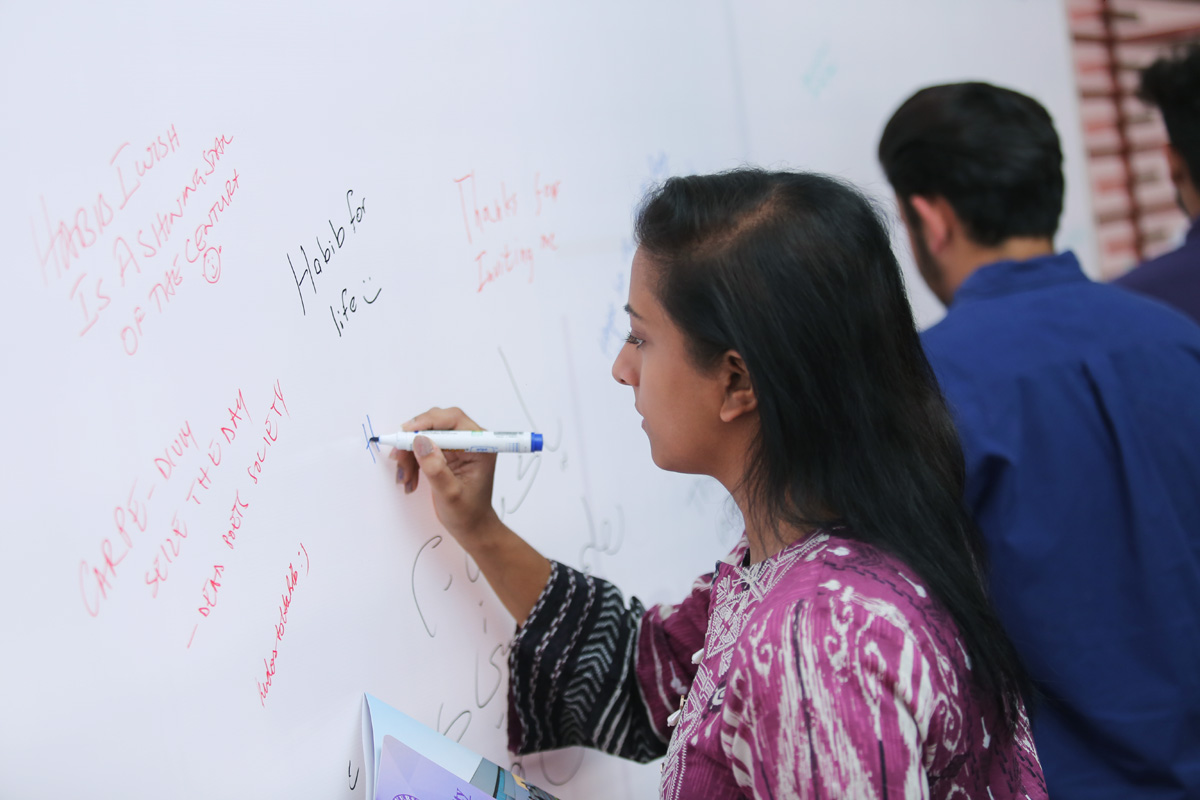 Dr. Sabyn Javeri, Assistant Dean of the School of Arts, Humanities and Social Sciences (AHSS) shared the philosophy of the AHSS programs at Habib and she explained the HU life in the following words: "Your journey at Habib University is not just going to be limited to just an educational experience. It is also going to be about self-growth, self-discovery, self-development and about becoming a better human being."
Representing the Science and Engineering Faculty, Dr. Anzar Khaliq, Assistant Dean, Dhanani School of Science and Engineering (DSSE), explained Habib University's unique approach towards educating students. He said that the best educational experiments that are happening today across the globe are the ones where science and engineering are merging with a liberal arts educational experience.
Habib University boasts one of the best academic support centers, led by Yasmeen Bano, Director and Head of Academic Operations, who welcomed the incoming class and explained how HU's Office of Academic Performance (OAP) integrates freshmen into the university life, along with other support services provided by OAP.
She further added that; "Today is a very important day for you because you are going to take an important first step towards your undergraduate education… at Habib University, the doors of opportunity will be open for you."
The attendees over the two-day event also witnessed some of the projects that HU's current students were working on. Day 1 saw a group of Social Development and Policy students showcasing their field work on 'Lasbella', Balochistan led by Maisam Hyder Ali, who highlighted the culture, socio-economic and polity of the area influenced by various civilizations.
A student of Communication and Design later showcased her two minute short film, which received a heart-warming applause from the crowd.
On Day 2, attendees acquired a sneak peek of the work being done by senior Science and Engineering students, where a group showcased their final year project which was a robot that maps its current surroundings.
HU's alumni members, who shared how the University's liberal arts program enabled them to be better prepared for challenges presented by the job market, also graced the event. Lastly, special panel sessions were arranged both days, which included the faculty members from both AHSS and DSSE.
These panel sessions were arranged to provide a detailed insight into the objectives and thrusts of each program, along with possible career prospects and some of the factors that should be used by prospective students when choosing a university for themselves.
The ceremony ended with participants receiving their offer packs, which includes their offer letter and other important documentation to complete their enrolment process.
Students and parents appreciated the effort put into organizing an event of this scale, and paid tribute to the help they received in understanding the university environment and the support their child will receive at HU.