I've been thinking of writing a poem about Bangalore, but

I'm not sure where to start.

– Zoha Jabbar
So begins a story of three Habib University students:
Zoha Jabbar, Fatin Nawaz, & Shameneh Majid,
who walked across the Wagah Border with four others, to perform at
India's first ever Poetry Slam in Bengaluru.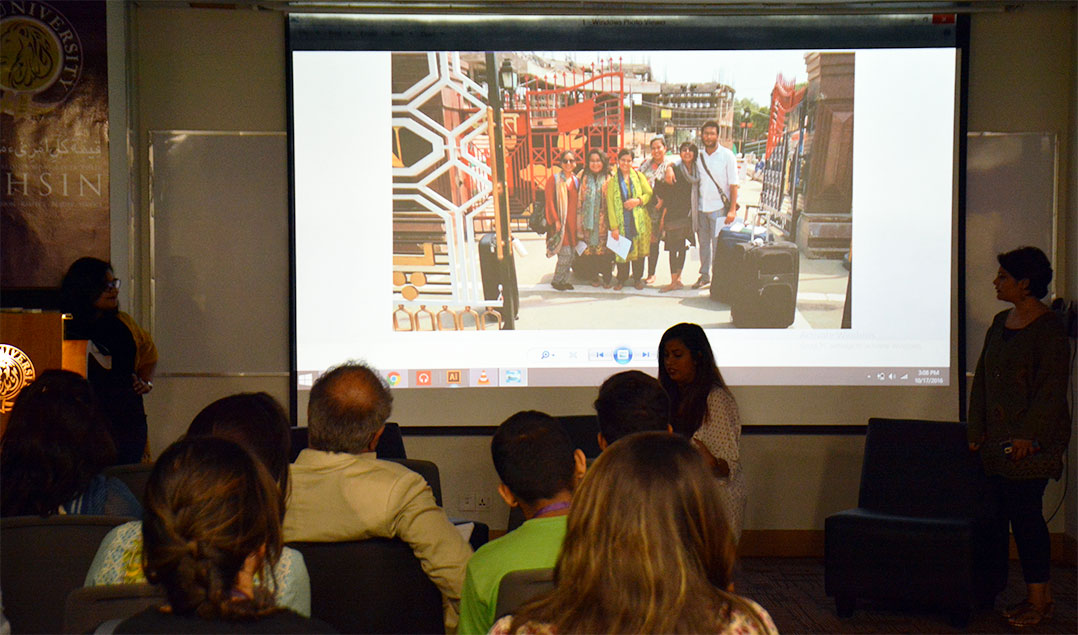 The following extracts have been reproduced from an intriguing interview by HU Junior, Saadia Pathan, originally posted on Media Studies Asia, titled 'Reaching Out Across the Border: Spoken Stage in India – Interview with Zoha Jabbar by Saadia Pathan.'
Spoken Stage is an organization that promotes the art of performance storytelling and spoken word poetry in Pakistan. It was created by Mariam Paracha in 2013, because she felt that there was no platform for youth in Karachi to express themselves. It was a portable booth that she would carry around with her to visit schools, where she would recruit poets. Zoha Jabbar was one of these school poets, and has been working with Mariam since the organization began. Starting from a regular performer, she is now the managing director of the organization. In September, Airplane Poetry Movement hosted India's first ever National Poetry Slam, and invited Spoken Stage along with teams of poets from colleges all across India. I had Zoha sit down with me and share her experience.
First of all, congratulations. It's great how Spoken Stage has been growing over the years. It's taken on a new form.
Thank you. Yes, we have more of a social media presence and followers, and now we organize poetry showcases and slams all over Karachi.
And Airplane Poetry Movement, that is kind of like your sister organization across the border, right?
Yeah, it was founded by Nandini Varma and Shantanu Anand around the same time that we started up.
I wonder why they call themselves Airplane Poetry Movement. As if they're a school of poets who write about airplanes …
I wondered that too – I actually asked Nandini why they named their organization that, and she said it was sort of a tribute to hers and Shantanu's favorite poem, For Those Who Can Still Ride in an Airplane for the First Time, by Anis Mojgani. It's really a beautiful poem, and I can understand why they would be so inspired by it.
How did you feel about going to India? A Pakistani going to India, that's always a big thing, right?
I've always wanted to go to India, because I feel like so much of our history and our culture was lost to us when these borders were created. There is hatred and animosity to this day, but it was all constructed by outside forces. I was looking forward to traveling to the part of the land that we lost, and I felt a strange connection it. I had also never traveled before, so of course I was very excited.
Tensions between the two countries increased shortly after you came back. While you were there, how did you feel the relations were?
If you saw the way the Indians treated us, knowing we were Pakistani, you would forget that there were any tensions at all. They were so welcoming and so hospitable. And after the event, many of the poets we met added us on Facebook, and I see the stuff they share and post, it's all very anti-war. But then again, we only met poets and activists, so we can't say everyone thinks like that. Just like in Pakistan, you have people who just want peace and good relations, and then you have the nationalist fundamentalists.
How did you get around India?
Most people in Bangalore aren't actually locals – they are students and young professionals from all over India, so it's kind of like the New York of India. These people usually don't have cars – we didn't meet a single person who had their own car. They either ride bikes and vespas, walk, or use Uber. It was amazing to see all these women in their brightly colored clothes moving around the city on Vespas. I even rode on a bike once with Rishabh (an acquaintance there) and it felt incredible. The best part was the walking though. I really love walking, and I don't get to do it much in Karachi. In Bangalore though, the weather is so lovely all the time that you want to get outdoors. We would walk down streets at 2 a.m. and it wasn't a problem- we could wear what we wanted and do what we wanted, and as women, that's very rare.
India and Pakistan were once one country. Did you see this connection in the people, in the culture?
Definitely. We spoke to our hosts and discovered we had all grown up watching the same TV shows and Bollywood movies, that we had similar kinds of ghost stories and ate a lot of the same food. We had similar relationships with our families and cities. It really was eye-opening, because we sometimes feel that whatever we do is in isolation, but it's experiences like these that remind us of how similar we all are.
      

____________________________________________________________________________
We literally walked into India.

–    Fatin Nawaz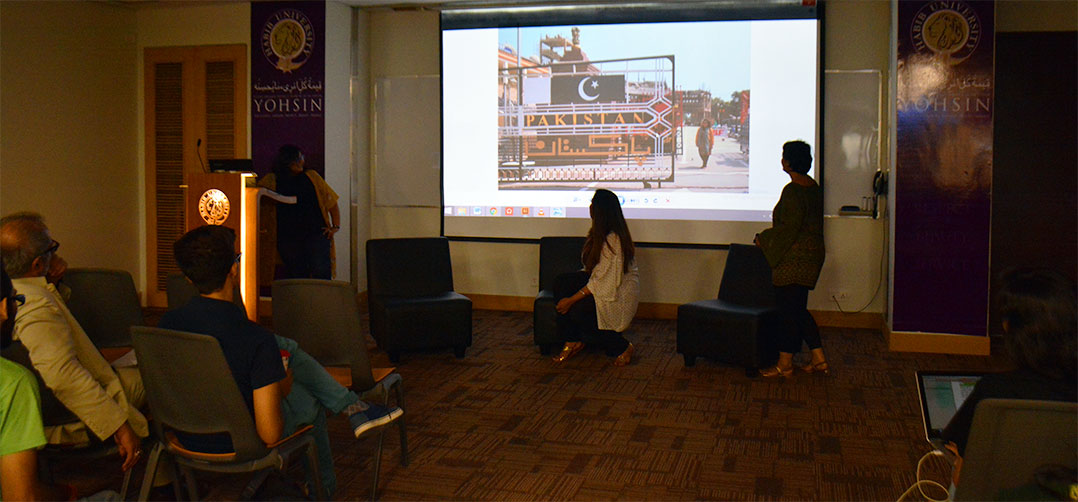 Habib University's philosophy is to encourage students to think differently, challenge the norms, constantly explore their interests, and apply their learning on different projects and research: now, through different platforms, its students are encouraging their peers to share their experiences as well as best work and inspire and encourage others to be good at something too.
The 'Mulaqat' series of events, organized jointly by Habib University students, faculty and staff, is one such platform. Held at the University's Raza Hussain S. Agha Multipurpose Hall, its recent iteration featured highly delightful stories by the HU travelers to the Poetry Slam: Fatin Nawaz (Junior at HU's School of Science & Engineering, majoring in Computer Science, Class of 2018), Shameneh Majid (Sophomore at HU's School of Arts, Humanities & Social Sciences, majoring in Social Development & Policy, Class of 2019), and Zoha Jabbar (Junior at AHSS, majoring in SDP, Class of 2018).
Along the way, they met with many (mis)adventures and finally reached a beautiful city full of beautiful people. They learned that Indians really do have a pronounced accent, that women can own public space, that horror folk stories across the border are the same, that South Indian food isn't all that, and that brown girls can weave together words that make you cry more than Sarah Kay can.
They [event organizers in India]  said to us, Aap Ko Pata Hay, 48 percent of our viewership [on Facebook Live for the event]  was from Sindh?

We were like, YES! Those are our friends!

–    Shameneh Majid
In India, they experienced that though there are decades of trauma and violence between the countries, the people of the subcontinent want nothing more than to reach out across the border and share poetry, art, music and love, instead of war and hatred.