The Habib University recruitment drive for the year 2016 kicked off with HU TOPS, Habib University's Talent Outreach, Promotion and Support Program. The program has been designed specifically for students who are enrolled in Pakistan's Board of Intermediate Education (BIE) or Federal Board (FB), to ensure talented students can apply to HU and find their calling based on their academic talent and passion to learn.
Since the inception of the HU TOPS program earlier this year, a dedicated team from Habib University has been actively conducting presentations at several colleges. These include Adamjee Government Science College, Dehli Science and Commerce College, Pakistan Educational Foundation College, Bahria College MT Khan Road, Fatimiyah College (girl's campus), Bahria Foundation College, Nazimabad, and Khatoon e Pakistan Government Girls College.
These presentations teach students how to take control of their future through the opportunities provided at Habib University, especially for students who have performed exceptionally in academia.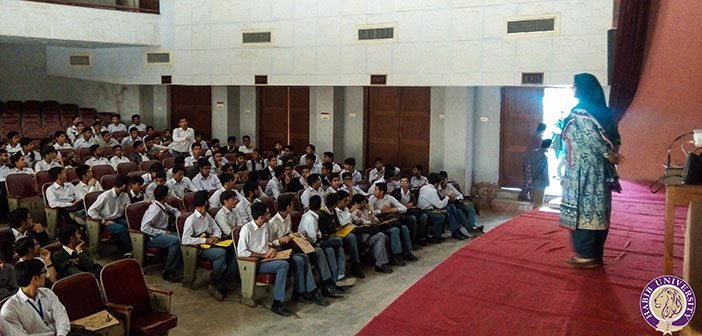 Several more colleges will be visited in the next few weeks by the HU TOPS team, including Jauhar Degree College, Bahria College, Karsaz, Commecs College, Fazaia Degree College, St. Patrick's College, Government College for Women, Shahrah e Liaquat, DJ Science College, and Aga Khan Higher Secondary School.
The HU TOPS team will also be participating in the Education Expo taking place on 6th and 7th February 2016.
For students wishing to apply for HU TOPS, please click here. The deadline to apply is 13th February, so hurry!