Hello I am Roha Ali Khan, I am an undergraduate student at Habib University batch of 2021 who is majoring in Computer Science.
The year 2020 will perhaps always be etched in our memories as the year when the whole world came to a halt. Businesses, opportunities, personal milestones – all became suddenly clouded with doubts and uncertainties. For a lot of us, it has been a difficult time to dream – or even to live out our pending dreams.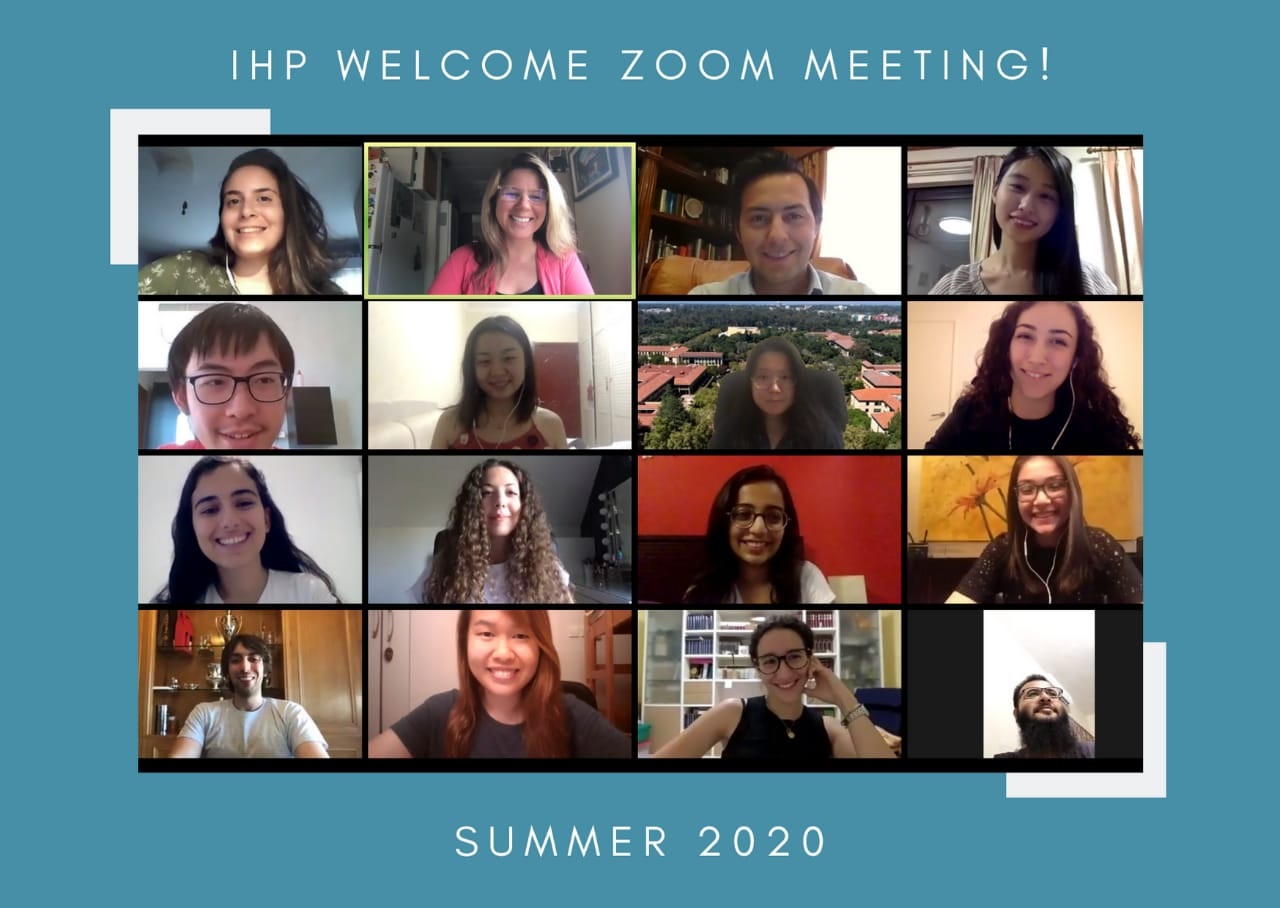 Welcome session for the IHP Summer 2020 cohort
Around 3 years ago, I joined the Habib University community with a dream. I never told anyone, but the one biggest wish I had from my four upcoming years was to attend the prestigious International Honors Program (IHP) at Stanford University. Every year, Habib sent a cohort of the most brilliant students to Stanford and I remember always being so awe-inspired by their pictures, stories and journeys! I did not consider myself adequate for the program and slowly and gradually, started to brush aside this (what seemed then) futile dream.
It was in my 5th semester, when a friend convinced me to put aside my doubts and go ahead with my application. After all, the regret of not trying can turn out to be our heaviest burden. And thus, I went ahead and sent in my application. In December 2019, when I received the news of being accepted into the program, I realized just how grateful I was to be at an institute which did not conform to a conventional standard of measuring a student's merit – but rather sincerely recognized the big and small contributions that students made to the community, inside and outside the classroom.
I started to prepare for the program early on, and by the end of February, was able to secure enough sponsorship to cover my program fee too. However, with the outbreak of COVID-19, all plans were disrupted as Stanford announced that they would be shifting the program to an online platform. After a lot of deliberation, I decided to go ahead with my enrollment and promised myself that, despite being at a serious disadvantage in regards to the social experience, I would do my best to make meaningful connections through all the classes and sessions I attended during the time.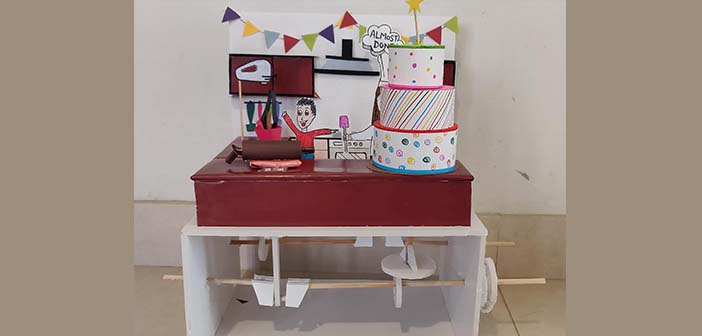 Project I for the course, Visual Thinking: An automata working on kinetic mechanism and designed along a birthday story line with 4 group partners
These were circumstances beyond anyone's control, but as Jean-Paul Sartre wrote, "Freedom is what you do with what's been done to you." I could see that in every class, every professor, every student felt the sense of longing just as much as I did. The professors maybe even more! But instead of dwelling on what we were missing out, I could see Stanford's faculty and staff going above and beyond to deliver a community experience as best as possible.
I enrolled into the three courses that interested me the most but the one that stood out and challenged me the most was an introductory design and ME course, Visual Thinking (ME 101). Designed along the lines of Stanford's Design Thinking framework, the course not only offered a unique introduction to creativity philosophy, but also focused on developing one's visual, spatial, kinesthetic, and intuitive skills, to augment a student's already well-developed arithmetic and verbal/written thinking skills. Teamwork was one of the most essential parts of this course experience and for the first time, I got to work on not one, but three hands on group projects with different group partners from all over the world.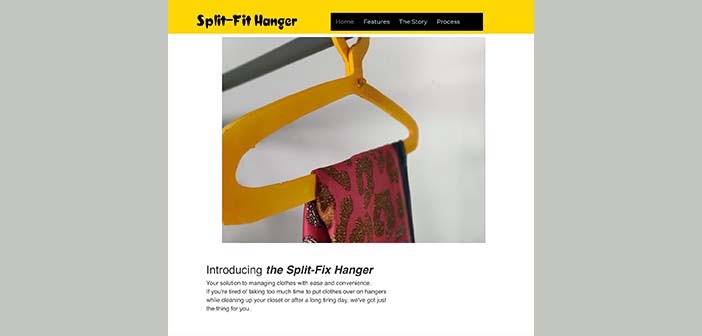 A website I designed for Project III of Visual Thinking, where we have to prototype and build an innovative solution to any every day 'design bug'.
Every week, we had the entire cohort of IHP students come together for a virtual session; we played online games, shared vlogs of our hometowns and pictures of our pets… we even had virtual Potlucks with our traditional meals! While Stanford's faculty and staff facilitated most of these sessions to help us gain a better sense of community, we ended up having a lot of independent sessions with the friends we made in our groups too – sometimes to study, sometimes to build connections and sometimes just to sympathize and rant over never-ending amount of course work. After completing a total of six projects, I finished my Summer of 2020 with a deranged sleep schedule, a new found addiction to Zoom, a dozen new skills, a heart filled with gratitude for my professors and loads of memories with all the friends I made.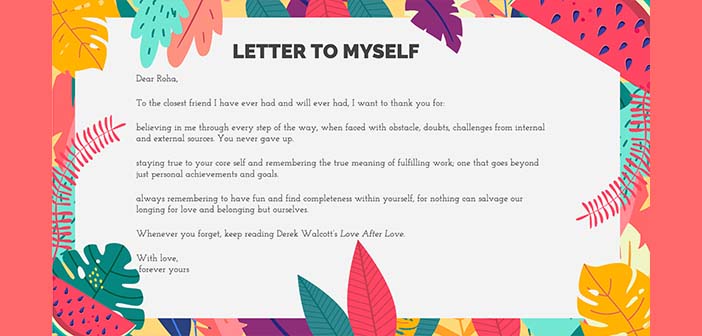 A letter to myself as part of the final assignment of the Designing Your Life course, during which we drafted our 'Odyssey' plans and shared them with one another.
During the time when everything came to a halt, I still got to live that one small dream that I came to Habib with. Things hardly ever turn out the way we plan and intend, but that in itself is the wonder and excitement of life; the joy of being sweetly surprised and the spirit to look forward to life, even when things seem to be dark and desolate. Going back to the words of J.R.R. Tolkien:
"I wish it need not have happened in my time," said Frodo.
"So do I," said Gandalf, "and so do all who live to see such times. But that is not for them to decide. All we have to decide is what to do with the time that is given us."