On his first visit to Habib University, the United States Consul General in Karachi, Rob Silberstein was warmly welcomed at the campus on October 23, 2019.
President Wasif Rizvi, Dr. Christopher Taylor, VP Academic Affairs and Dean of Faculty, and Ms. Tatheer Hamdani, President's Chief of Staff, received Mr. Silberstein and his entourage as they arrived at the University. The Consul General's delegation also included Cultural Affairs Officer, Christina Tribble.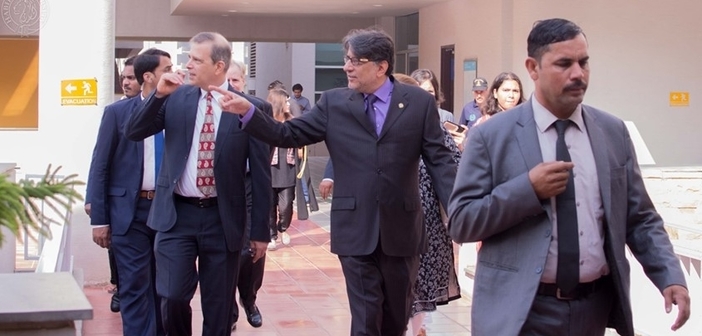 Mr. Silberstein became the US Consul General in Karachi in August this year and is a career member of the US Senior Foreign Service. Most recently, he served in Washington, DC with the Office of Inspector General, where he worked to improve the operations of the US State Department and its overseas missions.
Having wide diplomatic experience, Mr. Silberstein has served as Deputy Chief of Mission at the US Embassy to Lithuania, Office Director for Nordic-Baltic Affairs, and Deputy Director in the Office of South Central Europe. The Consul General's other assignments include service in the US Consulate in Ho Chi Minh City, Vietnam, the US Embassy in Zagreb, Croatia, and the US Consulate in Chennai, India.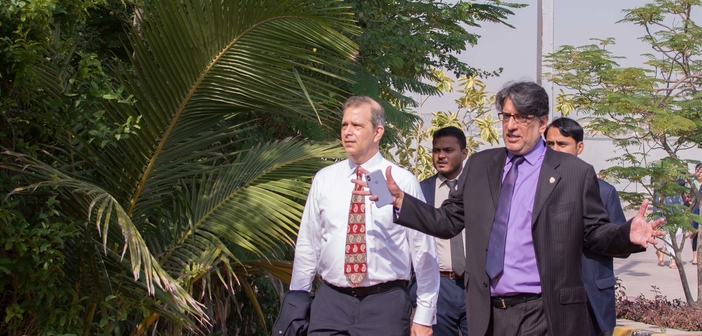 Upon his arrival, President Rizvi took Mr. Silberstein on a guided tour of the Habib campus including the library; lecture halls, courtyards, film studio, sports complex, cafeteria and other locales. He was told about the university's unique city location, the significance of its architecture, and how the utilization of campus space creates a sense of community where students can interact with each other in a holistic environment.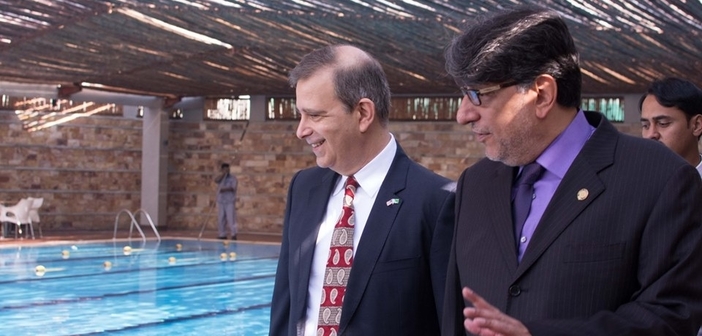 After the tour, President Wasif Rizvi made a presentation for the Consul General on the university's history, long-term goals and its mission to transform higher education in Pakistan. He explained about structural problems in Pakistan, the history of private universities in the country and their sustainability model, which has affected affordability for potential students.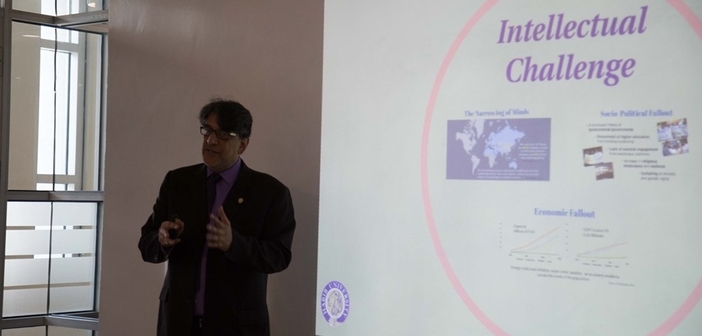 President Wasif Rizvi explained to the Consul General that there is a correlation between higher education and the development of a country, and that lack of proper access to higher education has resulted in a socio-political fallout in Pakistan.
Given the examples of Harvard and Yale University, Mr. Silberstein was intrigued when Mr. Rizvi explained to him the US model of a private university that is co-owned by the community was a blueprint for Habib.
While meeting members of faulty and administration, Mr. Silberstein was given a detailed description of Habib University's diverse and dynamic community of professors, who were brought together to help build and sustain this unique institute.
Giving his viewpoint during the meeting, the Consul General spoke about the need for creating opportunities and structure in Pakistan that will help ordinary people succeed. He said that Pakistani expatriates are amongst the most dynamic and successful communities in the United States and have reached their full potential due to the opportunities they have had there.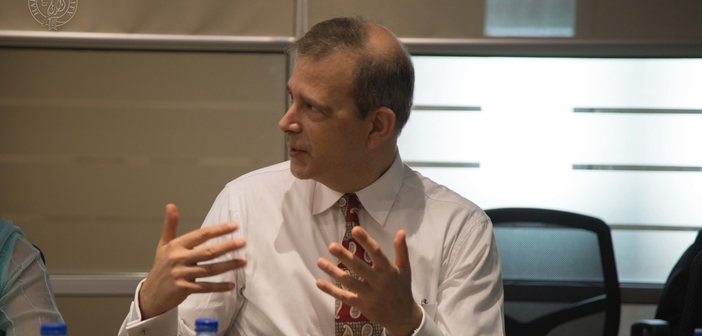 Mr. Silberstein said the US knows the huge potential of Pakistanis and recognizes the importance of building good relations in Pakistan with institutes like Habib University.
After the presentation, Mr. Silberstein and his delegation had a small interactive session with HU students who told him about the unique opportunities they had during their Learn Abroad experience at Stanford and Texas A&M earlier this year.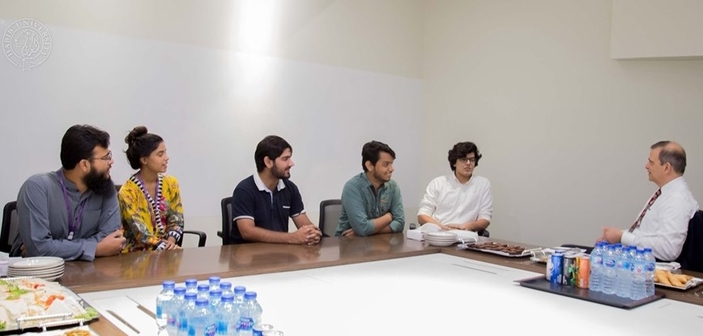 Towards the end of the visit, Mr. Silberstein and his delegation were presented with gifts and thanked for coming to Habib University to better understand its vision and objectives.