The newly appointed US Consul General to Karachi, Mr. Mark Stroh, paid a maiden visit to Habib University on November 5, 2021.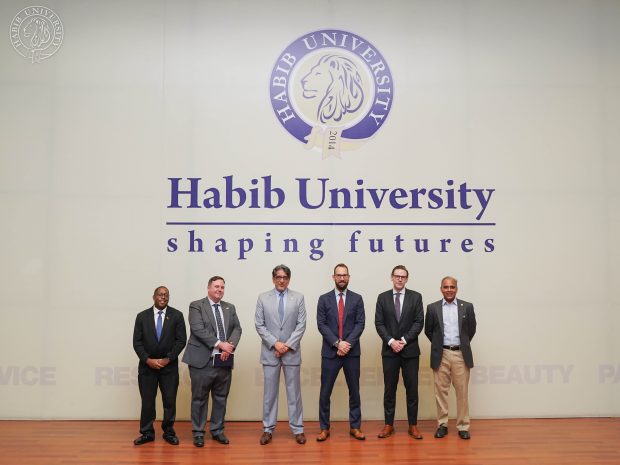 The US Consul General was accompanied by Deputy Cultural Affairs Officer, Keome Rowe, Deputy Consul General, Matthew Ference, and Cultural Affairs Officer, John Rhatigan, and was received by President Wasif Rizvi and Dr. Aamir Hasan, Interim Vice President Academic Affairs and Dean of Faculty.
Mr. Mark Stroh assumed role as US Consul General in August and is a career member of the United States Senior Foreign Service. He has most recently served in Washington, D.C as the Managing Director for International Media in the Bureau of Global Public Affairs. He was Executive Secretariat Staff in Washington and a Director for Strategic Communications and Assistant Press Secretary and Deputy Spokesman of the National Security Council. He has also served as acting director of the Press Office in the Bureau of Public Affairs and worked as a journalist for a number of publications.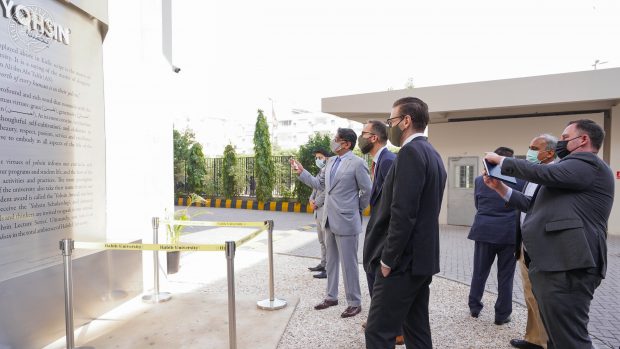 Upon his arrival, Mr. Mark Stroh was taken to the Yohsin Wall, located near the main entrance of the University. The Wall displays the motto of Habib University, Yohsin, which translates to thoughtful self-cultivation, which is further broken down into five components – excellence, passion, respect, beauty and service. He was told how students are encouraged to ingrain each of these traits into everything they do while at university and beyond.
During the tour, Mr. Mark Stroh was shown the scale model of the state-of-the-art campus located near the entrance. President Rizvi explained how the award winning architectural design of the campus catered to the low height requirements of the nearby airport and maximized students' learning experience.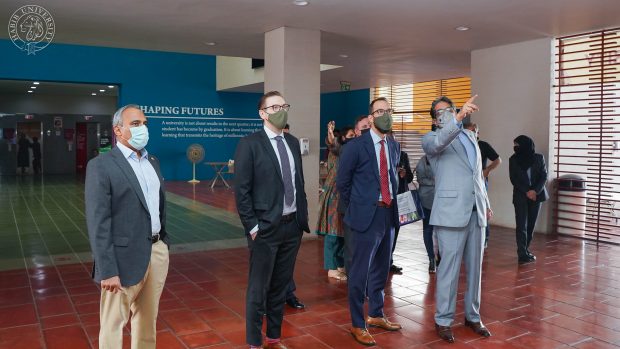 At the Wall of Mohsineen, which honors the founding community and donors of Habib University, President Rizvi pointed out that Habib University was in collaboration with some of the leading universities in the United States such as University of California, Berkeley, University of Michigan and Texas A&M and had introduced the liberal arts and sciences model of higher education to Pakistan.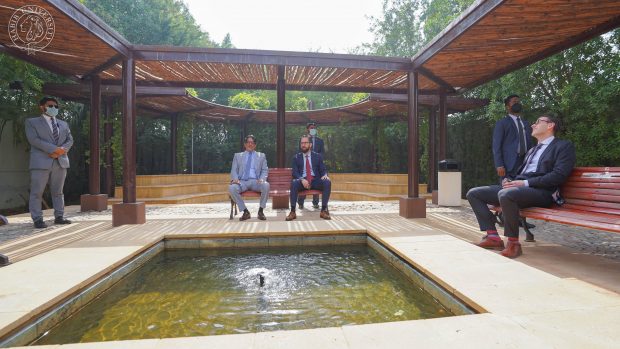 The tour of the main campus included stops at the student center, the library, recreational facilities and Habib's own green space, the Zen Garden.
During the official briefing, Mr. Mark Stroh was briefed about how Habib University is a one-of-its-kind community owned institution, which enjoyed support locally as well as from the Pakistani diaspora in Houston. He was apprised of the University's mission of providing high-merit students irrespective of their socio-economic or educational backgrounds access to a world-class education.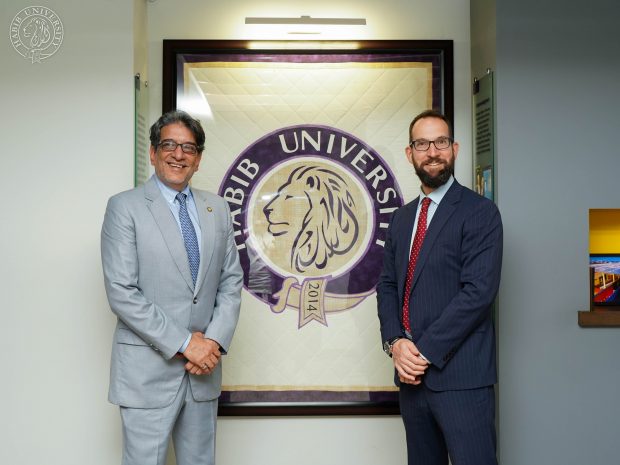 Mr. Mark Stroh was appreciative of Habib's efforts while stressing the importance of an interdisciplinary approach and the need for liberal arts education in a developing country such as Pakistan. Towards the end of the visit, the US Consul General and his delegation were thanked for coming to the university to better understand its philosophy and mission.