In a world constantly seeking innovative solutions to complex challenges, the Class of 2023 at Habib University emerges as a beacon of brilliance and ingenuity. With their capstone projects pushing the boundaries of knowledge and addressing pressing societal issues, these exceptional students are poised to make a lasting impact in their respective fields. Let's delve into more remarkable achievements and discover the transformative power of their research showcasing more than 100 projects.
Habib University's Class of 2023 has left an indelible mark through their pioneering research across diverse disciplines. From the realms of artificial intelligence, digital security, and bioengineering to design thinking, subaltern studies, philosophy, social issues, filmmaking, women empowerment, and mental health, their projects tackle pressing concerns with unwavering determination and unparalleled innovation.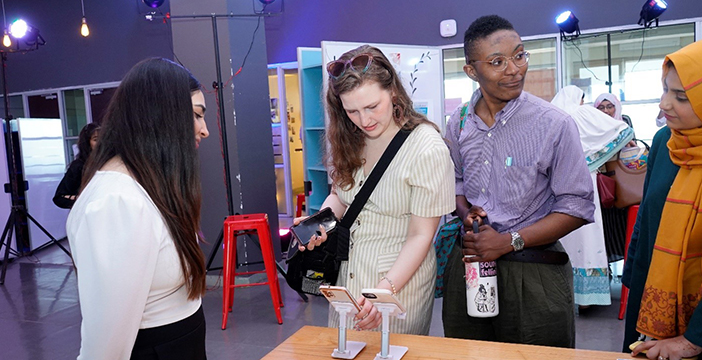 Among the exceptional projects showcased, Tashkeel stands out as an endeavor with great potential for social impact. Led by Hana Ali Rashid, Iqra Siddiqui, and Tasmiya Malik from the Computer Science Program, Tashkeel is an AI Screener designed to assess the risk of dyslexia in Pakistani children. This insightful project addresses the urgent need for accurate dyslexia diagnosis and intervention in a society where access to such services remains limited due to awareness gaps and social stigmas.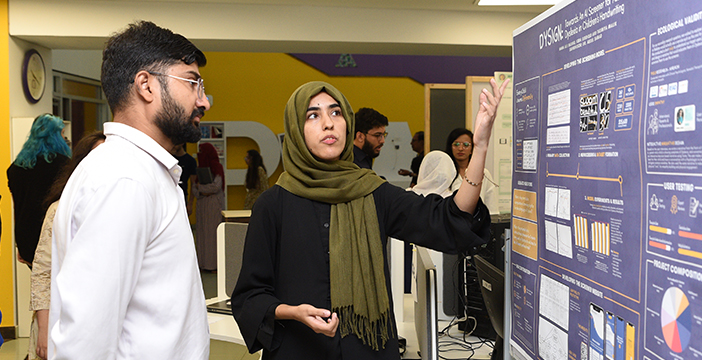 Insert a paragraph on ECE projects, A Virtual Reality-based Training Platform for Emergency Fire Handling Services
In another noteworthy project, Kiran from the Social Development and Policy Program explores the experiences of mothers who are primary caregivers of children with Autism Spectrum Disorder (ASD) in Karachi, Pakistan. Through her project, "Mothering a Child with Autism in Karachi, Pakistan," Kiran sheds light on the complexities and challenges faced by these mothers in a social context that often places unrealistic expectations on motherhood. This research draws upon feminist and disability theories to advocate for a more inclusive and supportive environment for families affected by ASD.
While talking about CND and SDP Muhammad Haris, Program Director and Assistant Professor, Comparative Humanities at Habib University said, "The CND and SDP showcases are well organized, the audience is enthusiastic, and the topics are innovative. In their projects, the CND and SDP students have shown remarkable capacities to explore continuities between the curriculum they studied and the issues they worry about, which are simultaneously personal and social, thus they have emerged with ideas and articulations that are socially impactful, affectively deep, and aesthetically engaging."
In Comparative Humanities, the projects offer unique perspectives on colonialism, technology, and gender. Syed Maria Wahab's project, "Colonialism: Peering through a Philosophical and Literary Lens," explores the multifaceted forms of violence enacted under colonial rule and the psychological impacts on both the colonized and colonizers. Jannat Zeeshan's project, "Violence in The Anthropocene: Thinking with Technology," investigates the impact of advancements in computer science and technology on the environment and our relationship with nature, aiming to foster a more sustainable future.
The capstone project showcase at Habib University attracted an esteemed panel of faculty members, an internal and external jury, and professionals from various industries. This diverse gathering included local talent, researchers, filmmakers, cinematographers, writers, past alumni, and esteemed professors. The collective presence of these distinguished individuals underscores the significance of the Class of 2023's contributions to the realm of research and innovation.
Habib University takes immense pride in fostering an environment that nurtures intellectual curiosity, critical thinking, and interdisciplinary collaboration. The accomplishments of the Class of 2023 serve as a testament to the university's commitment to excellence in education and research. Through their exceptional projects, these students have proven their ability to navigate complex challenges and offer transformative solutions.
The Electrical and Computer Engineering (ECE) program offers a comprehensive and multidisciplinary curriculum that prepares students to become leading computer and electrical engineers. Students are exposed to a diverse set of exciting sub-disciplines, such as artificial intelligence, robotics, and software development, providing them with the skills needed to tackle the challenges of the evolving technological landscape. To brighten your future and pursue your goals, Join Habib University.