Sharp, provocative, and uncompromising … She was special.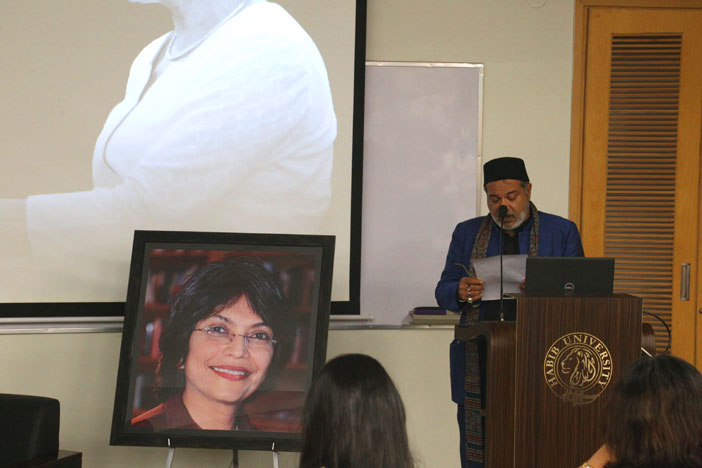 Dr. Nauman Naqvi welcomed students, faculty, friends, and guests of HU to the Tariq Rafi hall on 10th March, 2018, to honor Dr. Saba Mahmood. Dr Mahmood passed away on 10th March at her home in Berkley, California, after a two-year battle with pancreatic cancer. "This is barely enough time to honor such a great personality", said Dr. Naqvi as he opened the event in Habib University's full Tariq Rafi Lecture Theatre.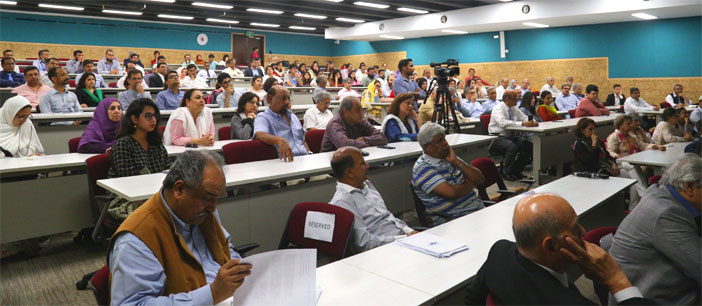 "Saba was a woman with a mission, and she was in a hurry," said Mr. Khalid Mahmood, Dr. Mahmood's brother, who spoke of his memories growing up with her. "Whatever she did was with passion", he said, "and she spoke with truth. I hope that the young people sitting here and also those not here get inspired by her words and her research. I thank Habib University and all those who have made this programme possible today."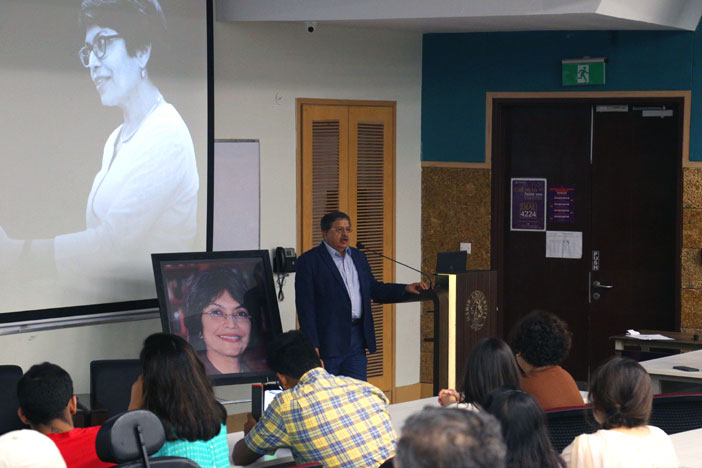 Besides holding degrees in Architecture and Urban Planning, it was in the field of Anthropology, in which she held a PhD from Stanford University that Dr. Mahmood would assume an indomitable stature. A well-respected author, she wrote on issues that mattered to her most; Politics of Piety and Religious Difference in a Secular Age: A Minority Report encouraged questioning cultural norms and the seemingly relentless struggle between the secular and religious particularly in Egypt and the Middle East, where she conducted much of her field work.
A short video that honored her was played, which included her work as well as her involvement with Habib University. Her association with HU links back to 2013, when she moderated the first Mohammadali Habib Distinguished Lecture Series at Berkeley that welcomed Asma Jahangir, an institution formally linked to HU as an academic partner, and via the student study abroad program and research collaborations.
Dr. Kamran Asdar Ali of LUMS was a colleague and close friend of Dr. Saba Mahmood. He spoke of her work as "deeply involved in feminist" especially when it came to its "applications to women's lives and their complexities (…) in the post-colonial world"; and remembered her as "a source of sustenance and support to a new generation of scholars." He continued to say with great pride, "she will be remembered for a long time indeed!"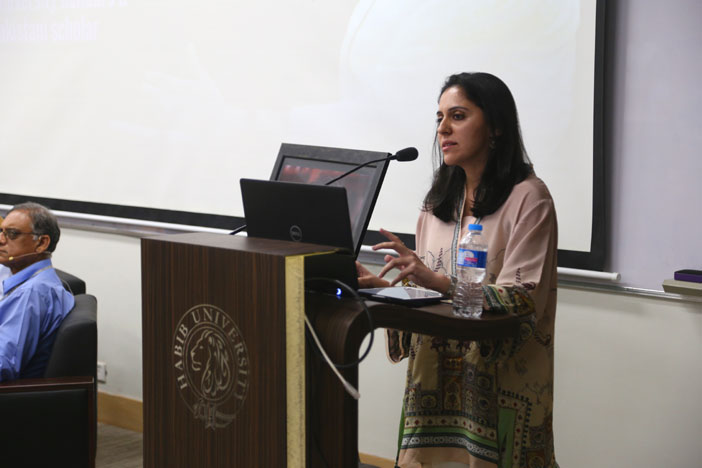 Dr. Mahmood had an impact on all those who came in contact with her. One such student, Ms Zehra Hayat, recalled their time together, "the theme of my last graduate seminar with Saba at Berkeley was on hope (…) your phenomenal work is your legacy, we are your legacy." She continued to remember how Dr. Saba as "a mentor and a confidant", and how she inculcated in her students a passion for their research, a commitment to truth, and a belief there are always opportunities to get involved, even in the last moments.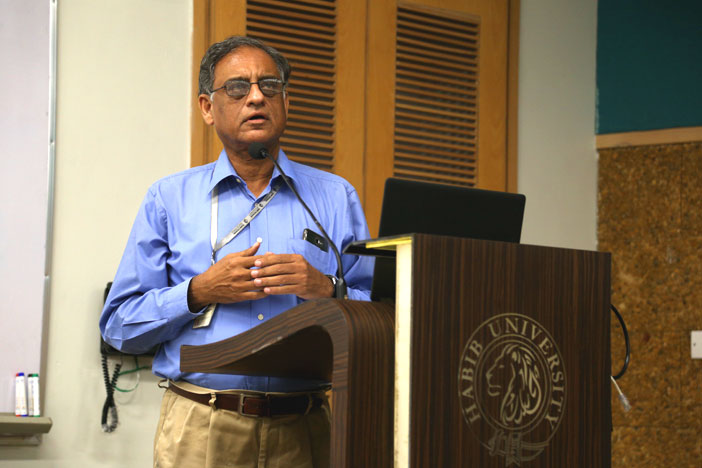 Two of Habib University's senior faculty members spoke to the audience about how her work influenced their classes at HU. Dr. Asif Farrukhi recalled her views of the world, one that was "not black and white, or had narratives of one kind" but "is the (kind of ) intellectual discourse this part of the world particularly needs."
"Even though she was very eager to come back to Habib University, she was unable to. She wished to make up for the time that she spent abroad", he said.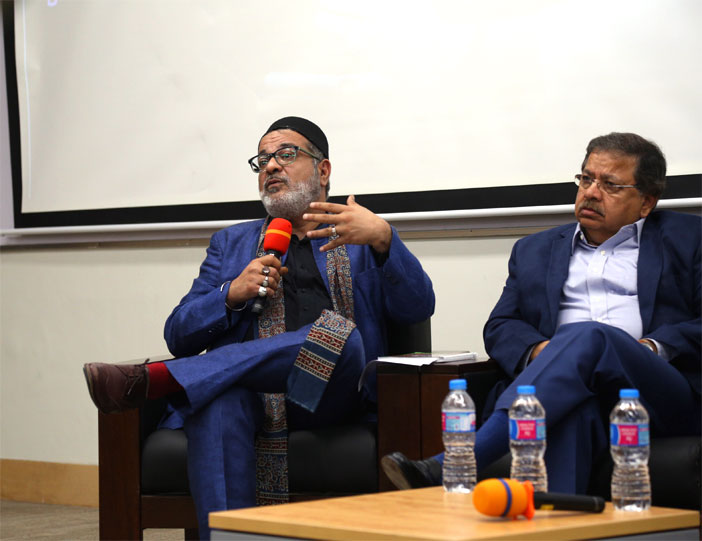 Dr. Nauman Naqvi spoke of her last book, Religious Difference in a Minority World, and how it looked for the possibility other that the division this part of the world seems to have in terms of religion and politics. "She had only just turned to her study of Pakistan, and that is one of the greatest losses." Even though she was unable to complete her works on Pakistan, Dr. Mahmood has a great influence on the works of others. In fact, a final year student, Shaheera Pesnani, was inspired by Dr. Mahmood's works for her final year thesis: "her book gave me a sense of direction. While writing I had this dream, this imagination, that I was sitting with her, and telling her how she was the inspiration behind my thesis."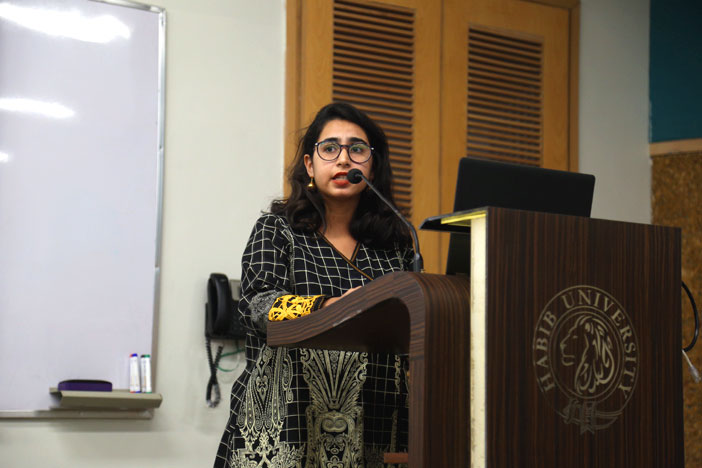 Dr. Saba Mahmood was a great inspiration for generations of Pakistani students, and opened our eyes to things and thoughts that we would otherwise be blind to. The Habib University community is deeply honoured to have worked with her, and is especially grateful to Mr. Khalid Mahmood and his daughter for allowing the university to host this event.