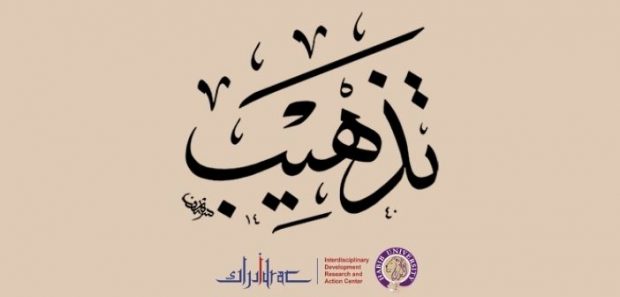 Tezhib is Habib University's first undergraduate academic journal, initiated in 2018 by the Interdisciplinary Research and Action Centre (IDRAC). The word 'تذهیب' – not to be confused with 'تہزیب' (culture) – literally means 'illumination' i.e. ornamenting a surface with gold. Allegorically, Tezhib signifies the tree, with roots of knowledge as its grounding, and its branches climbing towards the Infinite. As an art form, its patterns are based on geometric construction, which in Islamic symbolism represents a basis of 'Haq' (the truth), as well as the notion of finiteness alongside infinity. In keeping with Habib's focus on interdisciplinary learning, Tezhib is a confluence of the arts and sciences, and publishes works that pay homage to non-Western knowledge.
At Tezhib, our scope extends to fields of comparative literature, religion and philosophy, political economy, political science, history and postcolonial analysis, arts informed research, computational social science, systems analysis and more. Gulzar, which is a subsection of Tezhib is especially dedicated to works of creative expression produced in Urdu and regional languages of Pakistan. Tezhib provides a platform to highlight the research work produced by students at Habib University under the guidance of our faculty. These projects are the outcomes of collaborative efforts of their authors and our instructors who, in keeping with Habib's philosophy, allow us space to think and create in inclusive and non-limiting ways.
Volume I of Tezhib journal has been published and is available on our website. This volume is a compilation of two years' worth of submissions by Habib students. It comprises research papers on diverse themes and subjects including, but not limited to, comparative literature, political science, migration diaspora, and urban planning. English, Urdu, and Punjabi are used as mediums of expression.
Tezhib accepts submissions from students of all batches and majors of Habib University. The journal is published annually and submissions are open from December to January. The journal is open to all academic work, which incorporates social scientific research in some capacity, including but not limited to original and secondary research papers, book reviews, and creative pieces in the regional languages. Currently, Tezhib only publishes the work of Habib University students, however; we aspire to welcome research work from other undergraduate universities soon.
At Tezhib we also have a blogs category for which we accept short entries dealing with contemporary socio-political themes. Furthermore, we have a podcast project titled In The Now. Our podcasts are short discussions with field experts on themes including recent social and political developments (both global and regional), historical events and movements, as well as culture and the arts.
The journal's managerial structure comprises an Editorial Board and a Faculty Advisory Board. The Faculty Advisory Board includes experts in the various fields that fall within the purview of the journal. The Editorial Board consists of senior and junior-year students from different disciplines, who work on individual parts of the publication process. An organizational structure with students and faculty working conjointly allows editors to learn experientially from scholars, and maintains the integrity and quality of the works published.
For more details regarding Tezhib please visit us at: https://habib.edu.pk/Tezhib/