Local startup incubator Arpatech holds summer internship recruitment session; Digital Rights Foundation holds information session to help users develop a deeper understanding of technology-related abuse
HABIB UNIVERSITY, APRIL 2016: The School of Science & Engineering (SSE) successfully hosted its first formal industry recruitment session with local startup incubator Arpatech here at Habib University's Tariq Rafi Lecture Theater.
A team from Arpatech, "a boutique technology services company delivering business solutions to its global customers", held an interactive session with Habib University's SSE students for their Summer Internship Program. Arpatech delivers a broad portfolio of information technology and business process outsourcing services to clients in the financial services, healthcare, communications, energy, transportation, and consumer and retail industries, according to the company's website.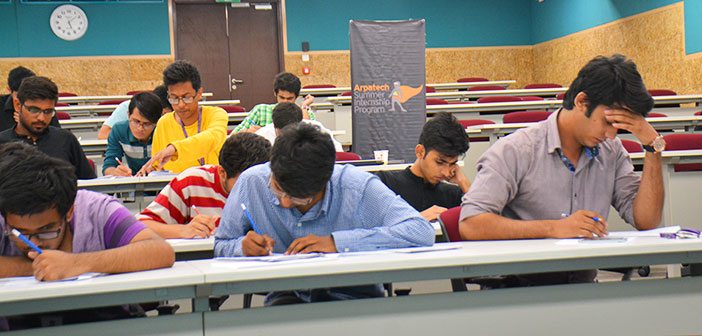 As part of Arpatech's 'Talent Hunt Drive', under which this session was held, the company will select 16 shortlisted candidates from 10 leading technology institutes in Karachi for an internship program of six to eight weeks. The recruiters are looking for students who identify with their philosophy and are eager to set up their own businesses once they graduate from university.
Students from diverse backgrounds are encouraged to apply by the recruiting team, who promise a hands-on working experience in various departments, and multiple opportunities to showcase their skills and abilities, enhance their learning, and prepare for entry into a competitive market.
The session held at Habib University included a presentation, activities and assessment, along with a Q&A session.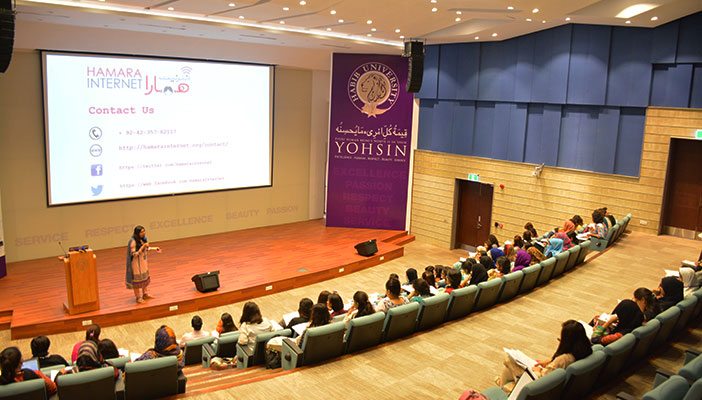 Presentation & Information Session on Digital Rights
The Women in Computer Science & Engineering (WiCSE) initiative of Habib University's School of Science & Engineering organized an information session for HU's female students here at the campus Auditorium on April 22, 2016.
An interactive presentation was delivered to HU students by representatives of the Digital Rights Foundation, who coached the attendees on how they can use online spaces more safely; how to avoid cyber harassment; report cases of online harassment; and look at real-life examples of issues that can result from online harassment and digital carelessness.
The talk was part of the Hamara Internet Project (HIP) initiated by the Digital Rights Foundation. "The HIP was created by the Digital Rights Foundation to help educate women about their digital rights," according to the organization. "It has previously been implemented to help working women learn how to stay safe from cyber stalking, online harassment and more."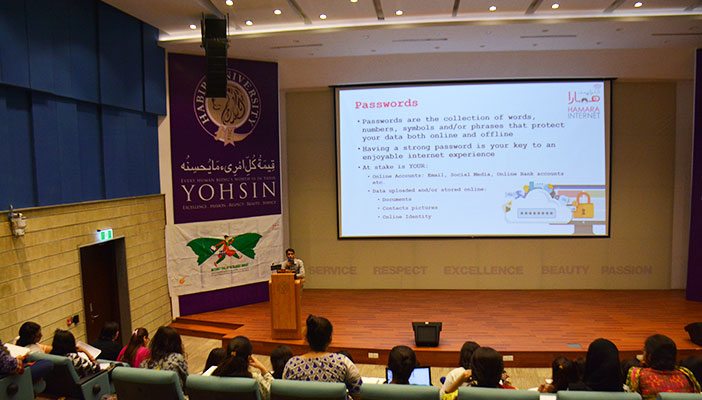 According to the Digital Rights Foundation, around 70-80% of all online users on Pakistan are men. "HIP aims to change that and help young girls realize that they are the leaders of tomorrow – and there is no reason their participation in the digital world should be limited in anyway."