The skills of learning today are more important than knowledge itself […] we don't know what jobs will exist in the future but we do know the skills we teach the students today will take them a long way […] if we look at the world's best education system rankings, you learn they have lesser time for regular in-class learning, in fact a large part of it comprises of extracurricular activities.
Zartaj Waseem, a STEM (Science, Technology, Engineering, and Math) educationist and a software engineer, is also the founder of the Robotics and STEM Studio at Mrs. Haques Academy in Karachi. Zartaj's talk was centered around her experience in using STEM as a transdisciplinary approach to education, integrating concepts across subjects and emphasizing knowledge application over book-learning.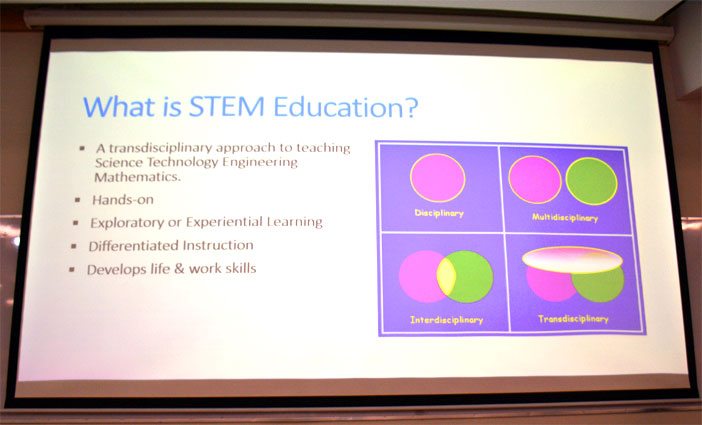 Zartaj first started working with students from ages 9 to 16. In collaboration with the First Lego League (FLL), she taught robotics and had a team of students participate in the FLL Competition in the United Kingdom. Additionally, she was head of the FLL planning committee in Pakistan, and a certified mental arithmetic trainer for IQ based brain development.
According to her, STEM education aids in a student's learning more than a regular class as a lesson or unit in a STEM class is typically based around finding a solution to a real-world problem and tends to emphasize project-based learning. It is a hands-on method of learning that allows students to develop life and work skills which are often not taught in traditional classroom settings. The project-based teaching method allows each and every student to learn at their own pace after experimenting and strategizing, which helps them develop important skills that help both in student life and a professional workplace. However, this method does not have to be intimidating and can be easily employed. Zartaj stated, "A STEM curriculum is not like an alien, it is not from outside, it is from within the books, from within your lesson plans, it is just a change of strategy, and a way of teaching the same concept in a different manner."
Zartaj pointed out that a problem teachers face is that students are not attentive in classes and she believes it is the teachers' responsibility to engage them. According to her, teaching methods and curriculum need to be modified to engage the students and a crucial part of this change are the integration of tools and practices they enjoy. For example, flowcharts can be taught to first graders but the idea is to do so in a way that captures their interest. Zartaj teaches her students the process of making a banana milkshake as a flowchart.
In the present digital age, there is a need for STEM education since, she argues, children are naturally inclined towards technology. It can be used as a tool for learning rather than simply being viewed as a distraction. Technology engages students in a way which traditional teaching methods do not seem to. Therefore, there is a need to integrate the two methods. Futurist Alvin Toffler has said, "The illiterates of the 21st century will not be those who cannot read and write, but rather those who cannot learn, unlearn, and relearn."
As a teacher, Zartaj emphasized the need to have better education systems, bringing in the examples of countries such as Finland, Singapore, and Hong Kong. She also highlighted that education needs to be geared towards extracurricular activities, where learning is done mostly outside of the classroom. From her comparison of different teaching models, regardless of being study-centric or heavy on extracurricular activities, all optimal models included a focus on math.
Zartaj stressed the importance for Pakistani youth to be equipped with STEM qualities. She said "teachers need to be inspired and motivated" in order to ensure students get the best out of their school, especially at a younger age. While they may have to put in extra time to learn about technology to convey it to students, "watching the students get inspired is in itself motivating".