On February 19, 2021, Habib University was honored to welcome Mr. Shabbir Diwan, Executive Director of Gatron Industries Limited, along with his family members on campus for their first visit.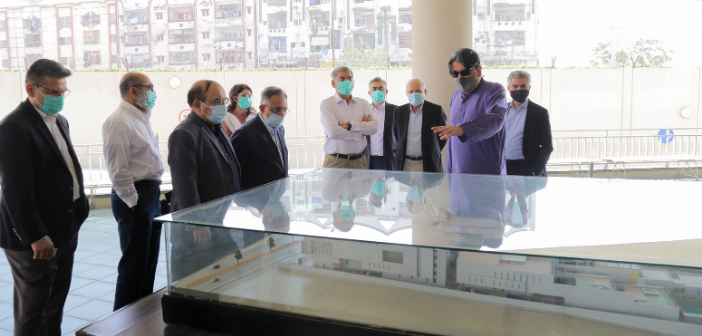 President Rizvi provided the visitors an overall prospective of Habib University's unique architecture due to its proximity to the airport and also the how its development had led to the betterment of the surrounding community.
President Wasif A. Rizvi along with Mr. Parvez Ghias, CEO, Habib University Foundation, warmly received Mr. Diwan and his entourage to Habib University. During the guided campus tour, the visitors were briefed about the significance of the campus spaces and how they aid students in acquiring a unique intellectual experience and help them grow in a conducive learning environment. President Rizvi also elaborated on Habib University's educational model and how it is focused on equipping students with 21st century skills such as critical thinking and team-building to become engaged, empathetic and thoughtful future leaders of Pakistan.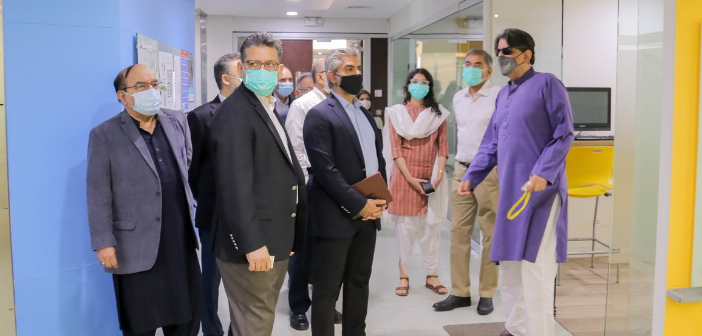 The visitors listened intently as President Rizvi highlighted the function of the Student Center, a one-stop exclusive zone, where students' could seek assistance regarding queries ranging from their grades to student government.
Mr. Diwan was deeply impressed by the ingenious infrastructure of the campus and expressed his great admiration for the cutting-edge facilities Habib offers to its students. He also showed great trust in the abilities of the Habib students in light of their outstanding contribution to society.  He further inquired about different possibilities of how he could extend his support to help Habib University.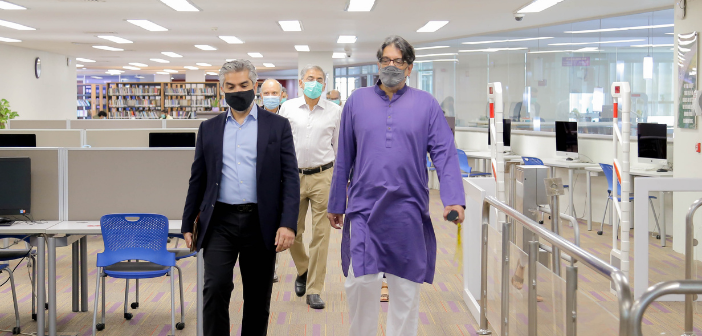 Rizwan Diwan (L) and President Rizvi discussed the importance of a well-equipped Library, such as Habib's in ensuring that students have access to the latest information.
Following the campus tour, President Rizvi gave a brief presentation to the guests in which he highlighted the serious challenges facing higher education in Pakistan. He explained the grave issues encountered by students in Pakistan in terms of intellectual experience and access challenge and how there is an urgent need for reshaping philanthropy towards higher education in order to create an engaged and thoughtful community of supporters.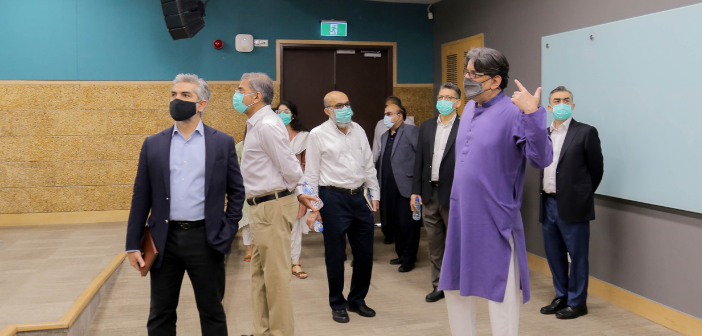 Mr. Rizwan Diwan and Mr. Shabbir Diwan showed keen interest in the facilities provided in the Tariq Rafi Lecture Hall.
Mr. Diwan was informed about how Habib University, Pakistan's premier liberal arts and sciences university was created to bring about a societal transformation by making interdisciplinary education accessible to all. President Rizvi also explained that Habib University believes in supporting deserving students so they can rise above financial constraints and contribute to building a compassionate society.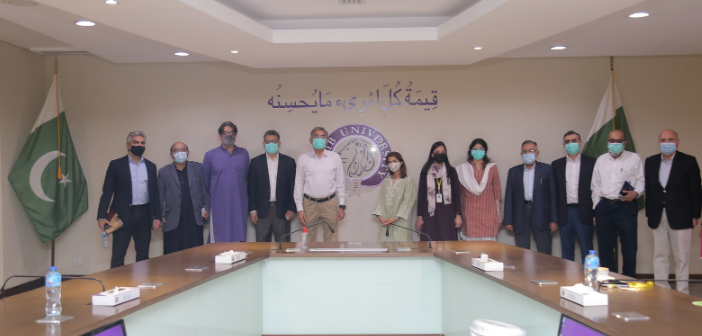 A group photo was taken to commemorate the visit in the Habib University Board Room. From (l-r) Rizwan Diwan, Salim Bilwani, President Wasif Rizvi, Iqbal Bilwani, Shabbir Diwan, Lubna Ahmed, Sukaina Bhagat, Rabeeah Diwan, Rafiq Noormohammed, Saqib Bilwani, Taufiq Bilwani, Parvez Ghais.
Mr. Shabbir Diwan is an Executive Director of Gatron (Industries) Limited, the largest manufacturers of Polyester Filament Yarn & PET Preforms in Pakistan, and Novatex Limited – largest non-textile exporter of Pakistan producing PET Resin, PET Preforms, and BOPET film.