Habib University hosted a special farewell dinner on June 10, 2019 for this year's 'Pioneer' batch of graduates, as part of a weeklong series of events that culminates in the 2019 Convocation.
The graduating class, as well as members of the Habib University family, including President Wasif Rizvi, Vice President Academic Affairs and Dean of Faculty, Dr. Chris Taylor and others attended the event, held at Karachi's Movenpick Hotel.
At the dinner, students from the Class of 2019 interacted with Mr. Wasif Rizvi, Dr. Chris Taylor and others, where they engaged in meaningful conversations about their years at Habib University and its importance.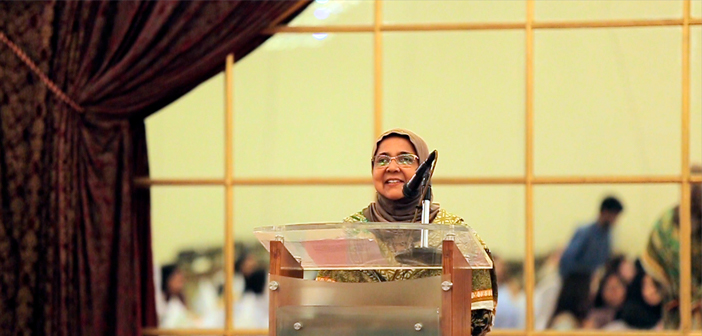 In her introductory remarks, Ms. Yasmeen Bano, Director and Head of Student Affairs, welcomed all the attendees and spoke about the immense pride Habib University had in this year's graduating batch. She said that, "we all have placed great hope in you, and we have no doubt that you will become responsible and engaged citizens of our society."
Ms. Yasmeen Bano stated that the past four years has been a journey, which has changed not only the students, but also faculty members and administrators.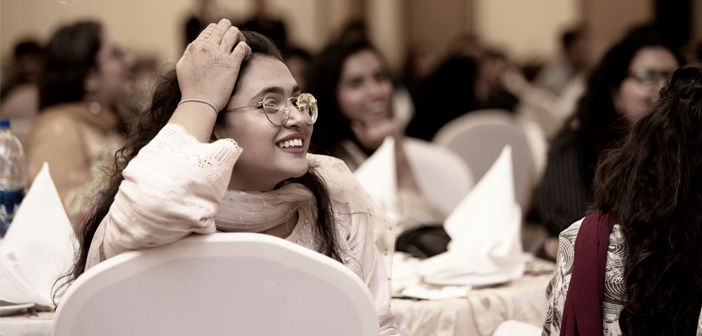 In a lighter moment of the evening, a short video was shown to the audience, which was a joyful reminiscence of the Class of 2019's four-year journey. The guests were delighted at the video clip, which exhibited photos of the graduating class when they first arrived on campus, and their student life years at Habib University.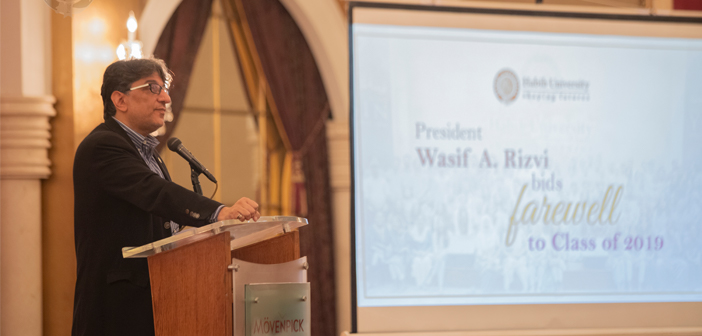 Later on, President Wasif Rizvi gave a speech in which he paid tribute to the Class of 2019. He spoke about the history of higher education institutions around the world, and that the most common thing about great universities was their sense of mission. Mr. Rizvi narrated about the hurdles faced in the early years of Habib University and of the pivotal role that the Class of 2019 had played in helping to make the University into an institution. "Thank you Pioneers. I cannot explain our gratitude for helping this institute grow…you all have played a vital role in the story of Habib University," he said.
Mr. Wasif Rizvi went on to express his hope that in the years to come, the Class of 2019 would play their part in serving communities and giving back to society. "The only real education, freedom in life after graduation is when you sacrifice yourself for others. Even in the smallest way, a selfless act will take you a long way. This is the heart of Yohsin," he said.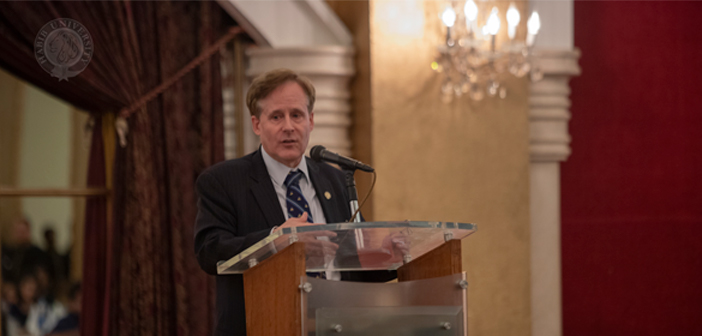 Dr. Chris Taylor also spoke at the event where he congratulated the graduating batch and gave them some parting advice as they close an important chapter in their lives. "Tonight is about you and your friendships with each other. Friendships made here will last a lifetime, whether it is your 5th, 10th or 25th reunion," he said. Dr. Taylor also expressed his great hope that Habib University's values and its philosophy of Yohsin, "will continue to help guide you throughout your lives."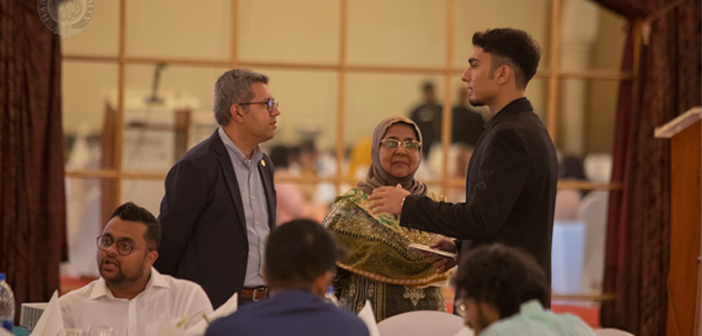 At the end of the event, Ms. Yasmeen Bano wished the Class of 2019 the very best, thanking them and members of the HU faculty and administration for attending the dinner.