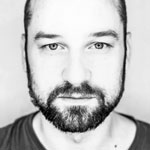 Saima Jawed, a student of Social Development and Policy at Habib University met and interviewed German photographer Manolo Ty about his journey in becoming a photographer, his thoughts on Pakistan, and his photobook titled PAKISTAN NOW in which the photographer 'invites you to come face to face with Pakistan's local communities and witness their previously untold stories'. Below is an edited version of the piece which was originally an interview.
Pakistan – what an interesting and diverse country! Different than any other I have seen before, and I must admit, different than what I had expected. It was only upon my arrival did I realize just how many of the stereotypes didn't hold to be true. In the West, the only platform Pakistan is highlighted on is sadly the news and more often than not it is in the negative.
Growing up in my hometown Hagen wasn't the easiest. I always seemed to want to escape what I call the 'grey monotony' of Hagen. To do this, I tried different things – ranging from taking up martial arts to – well, photography. When I think about it, my love for photography started with me wanting to leave Hagen behind.
When I finally got to travel, I wanted to preserve those memories forever – because I didn't believe I would be able to travel so much. I wanted there to be a visual archive, like keeping a diary. And that was the beginning of my photographic journey. Did I always want to be a photographer? No. My dream had always been to become a film director. I was working in the film industry, a job that requires a visual approach to everything, which is why my digital camera would always come along with me wherever I travelled. Without giving it much thought, I started taking photographs for myself.
I myself never thought of doing it professionally and it was only when I got offered to photograph the Tiananmen square in China did I consider it. Later I was asked to show my photos in an exhibition – and that was the first moment that I realized it can be a profession. I got into it very gradually though, and it took a lot of time to see it as a job.
You see, I love the movies – but at some point I realized not only is it really beautiful but it is much more challenging, in my opinion, to tell a whole story with one photo, in one frame. Normally, we'd watch a movie once. But photographs…you go back to those. You can look at it again and again, every day, and you do look at photographs every single day – that is a different quality, I really like that.
In retrospect, another situation that became a catalyst for my dedication to arts was when my passport was once stolen. Soon after the incident, I somehow ended up on a sailing boat. And I had a lot of time on that boat – time to think, reflect, and contemplate. In my old life I had studied Economics, and I had worked as a hotel manager for five-star luxury hotels. My life had been a busy one, dominated by deadlines and completely structured – and all of a sudden I found myself on a boat with a lot of time on my hands. While traveling, meeting people and taking photographs it occurred to me that if it was up to me, this is what I would do all my life. And it was up to me. I had no idea at all whether it would work out of course, but I was willing to take that risk. Taking that risk regardless of the outcome is always better than forever regretting not to have taken it at all.
I haven't abandoned filmmaking though. I was and am currently working on an independent documentary with Larissa Rausch about the music scene in Pakistan. During a talk about my book I was approached by the United Nations Development Project about filming a documentary about transgender rights in Pakistan. At first, I did not think my interest lay in political legislation, but I learned I was allowed the artistic freedom while creating the film so it became an offer I could not refuse. That should be out in a few months.
Working on these documentaries made me realize that while I am more of a photographer now, I never stopped wanting to make films. I find comforting in creating images, and both these professions involve just that.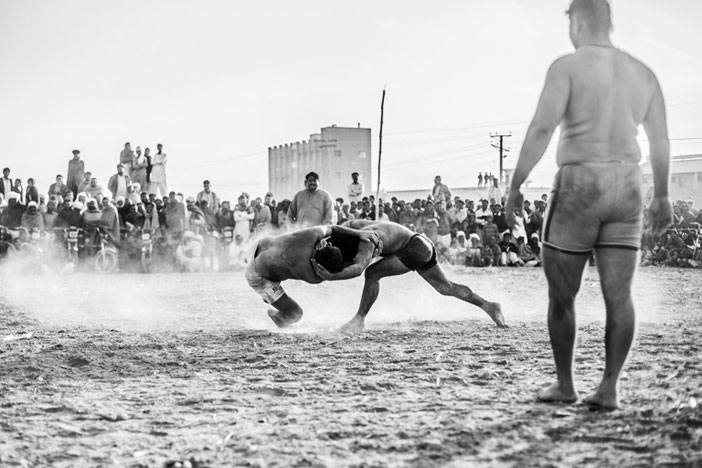 There is a photograph of me with a machine gun, titled 'Jesus with a Machine Gun', which got quite a bit of criticism for glorifying guns. Honestly, the West always told me how dangerous it is in Pakistan without even having been here – and one by one I took pictures of me in exactly that situations that people said I would find myself in: I will be held hostage. I will be executed in the desert. I will become a fighting religious fundamentalist. I want to make the people think. Maybe the people who were convinced I will be killed upon my first visit will realize how wrongly they think of this amazing place.
Yes, Pakistan and Germany are poles apart. But I say travel sheds light on what holds the world together. When I travel, I do see all the huge differences between Germany and, for instance, Pakistan. Cultural, political, religious. But it boils down to talking to people. When you talk to people, you find how much a German guy from Hagen like me has in common with a guy from a small village in the North. There is a connection between all of us, and a prime example of this is Goethe, who felt that connection with Hafiz and his poetry.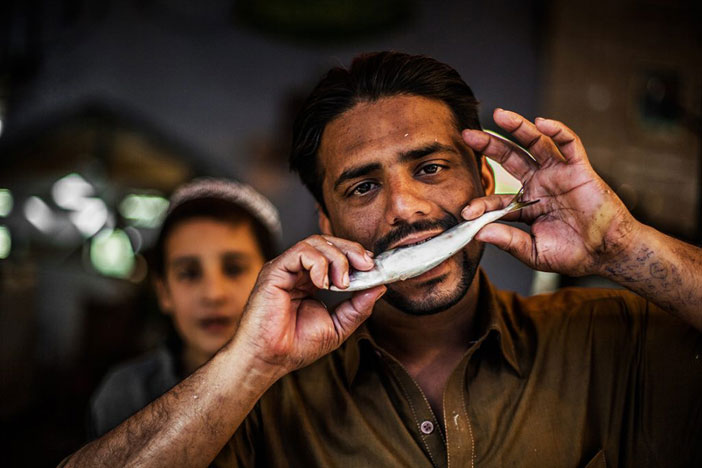 When it comes to photographing Pakistan, I don't mean to present it to the West as this exotic, mysterious country, focusing only on the beauty and not the hardships that Karachiites face every day. Yes I don't show the misery, the dirt and the suffering which is a part of the culture, but I don't agree that you can't see hardship in my photographs. Amidst suffering, people are proud of who they are and what they do. Its impressive and inspiring, and why would I not capture that and why should I take that away from them and make the photograph depict misery? The 'chai wala' in the street has pride and it is in his eyes. I want to show that.
I want to give these people a voice, and to show that they are the caretakers of this culture. They still live this old culture, they live these traditions, it is because of them a lot of this old knowledge is still alive. Especially the handicraft knowledge. They are actually preserving your culture, but they don't get a lot of recognition for it. I wanted to shed light on this – I think it is very important to keep this old knowledge alive which is surely getting neglected all over the world but not so much in Pakistan.
Of course there exists the other side to Pakistan too. Skyscrapers, beautiful buildings, a night life. But for my first book, I wanted to focus on the resilient Pakistani and his everyday life. The typical Pakistani lifeworld. Interestingly the whole book was supposed to be in black and white because I do a lot of black and white photography. But when I compared the black and white ones with the colored ones, in Pakistan's case very often the colored ones won. Pakistan is not just black and white, there is a lot in between. It was as if the photos told me 'you can't do that, we need to be in color'. Pakistan is very colorful, and it's about time people see it.
Photos by Manolo Ty (manoloty.com)