Habib University's Career Curation Program (HU CCP) is an initiative aimed at fostering symbiotic relationships with industry leaders. Its primary goal is to provide students with meaningful industry experience and offer market insights to HU. Simultaneously, it provides the industry with access to a future talent pool. A crucial component of the Career Curation Program is the Summer Career Academy, which plays a fundamental role in introducing students to essential skills and knowledge required for success in their professional careers. The academy also helps students build sustainable networks within their respective career fields and encourages a multidisciplinary approach to exploring their prospects through experiential career counseling.
The Career Curation Program focuses on equipping students with specific and industry-relevant career skills to enable them to pursue relevant internship opportunities and summer internships in Pakistan. The Summer Career Academy of 2023, held from June 5th to June 23rd, provided an extensive and enriching experience for participants. Over the course of three weeks, students embarked on a journey of self-development and professional curation tailored to their career aspirations. They were provided with tools and skills to continue learning during the summer vacation.
The academy employed three main components: Skill Development Workshops, FutureYou Seminars, and Industry Visits, all of which aimed to prepare participants for a seamless transition from campus to careers through carefully crafted interactions and experiences.
Under the FutureYou Series, a panel discussion was held with industry experts who shared their inspiring journeys and explored dynamic career trajectories with the enthusiastic group of 60 rising sophomores attending HU's Summer Career Academy. This series featured distinguished leaders from various walks of life, including Safia Ali, Chief Design Officer at Rayn and former Googler; Eram Hasan, Chief Information and Transformation Officer at Engro; Fizza Shah, Executive Creative Designer at IAL Saatchi & Saatchi; and Hafsa Abbasy, CEO of Human Edge.
The skill-based component of the Summer Career Academy focused on strengthening relevant competencies among undergraduate students, enabling them to navigate a highly competitive and dynamic industry market. The program provided a balanced blend of technical and creative skills, along with highly demanded soft and transferable skills, allowing students to excel in their interpersonal and professional goals in the long run. The Skill Development and Training programs included a series of workshops on UI/UX, where students developed prototypes of their own applications. Additionally, there was a one-day Excel Workshop led by Master Trainer Irfan Bakaly, who helped students build an organizational dashboard. An 8-hour workshop series on Project Management, covering Effective Communication, Stakeholder Management, Negotiation skills, and project management tools, was also included.
Furthermore, the program emphasized the development of pivotal soft skills crucial to career development. Interactive segments focused on networking and relationship building, receiving and integrating feedback, personal branding, and building S.M.A.R.T. goals.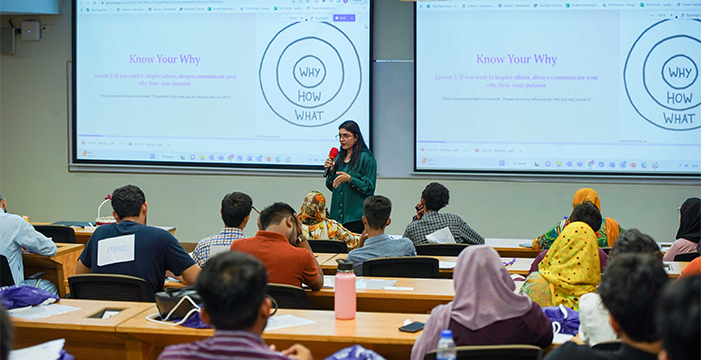 At the conclusion of the Summer Career Academy, students presented their Ravish (in Urdu), where they interviewed and showcased exceptional career journeys of professional leaders such as Ghias Khan, CEO of Engro, and Ahmed Saaya, an educationist who received the Cambridge Most Dedicated Teacher award, among many others.
"Pehla Qadam," another distinctive feature of HU's Summer Career Academy, served as a steppingstone for undergraduate students to observe industries and gain a deeper understanding of their dynamic work environments. This initiative aimed to help students begin understanding various industries and explore interdisciplinary roles through interactions with senior leadership and tools like informational interviews. Throughout the three-week program, participants visited four distinguished and diverse industries, engaging with executive teams and employees.
At Systems, students had the opportunity to engage with top management and gain practical insights into real-world work environments in digital businesses. They also fostered meaningful connections with industry professionals. At Dawlance, students gained firsthand exposure to industrial processes, technologies, and operations, witnessing the application of their academic knowledge in a real-world setting. This visit allowed them to develop a deeper understanding of the available roles for graduates.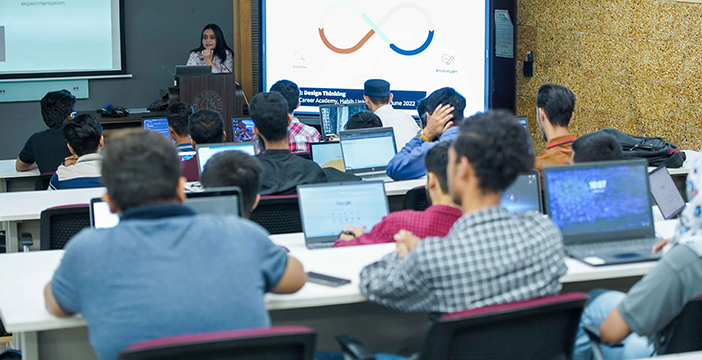 During the Industry Expo visit to HBL, students had the rare opportunity to engage with higher management across various functions. They had the platform to inquire about FinTech directly from the leadership of one of Pakistan's biggest and fastest-growing banking networks. The visit included a networking lunch for students to interact with industry professionals.
This enthralling experience provided students with foundational skills and self-awareness to continue their Career Curation Program and prepare for industry placements and internships within the four-year program.
The Summer Career Academy offered a holistic experience to participants, enabling them to map out their professional journeys through engaging activities, networking with exceptional individuals, and creating lasting memories with their peers. The academy instilled insightful learning and fun in the participants, fostering personal and professional growth.