Habib University held its annual New Student Orientation on August 16, 2019, a week long program designed to facilitate new students and their families in understanding HU's programs, campus culture, policies, and expectations as they embark on a four-year journey for their undergraduate degrees.
The program is a consciousness initiative taken by HU to help students and their families understand the unique and dynamic opportunities available to them at Habib. Through interactive sessions and workshops with faculty members and seniors, the Class of 2023 will get a thorough comprehension of their chosen academic major and its requirements. They will also get the opportunity to explore Habib's cutting-edge facilities, resources and services.
The first day of the orientation was Parents Night and during the opening ceremony, held at the H.M. Habib Auditorium, HU President Wasif Rizvi gave a warm welcome to the new students and their parents and thanked them for selecting Habib as their university of choice. In his remarks, Mr. Wasif Rizvi spoke about the history and journey of HU and its vision to bring about a transformational change in Pakistan's higher education landscape. He explained that Habib's interdisciplinary curriculum is unique to Pakistan and gives students an entirely holistic education.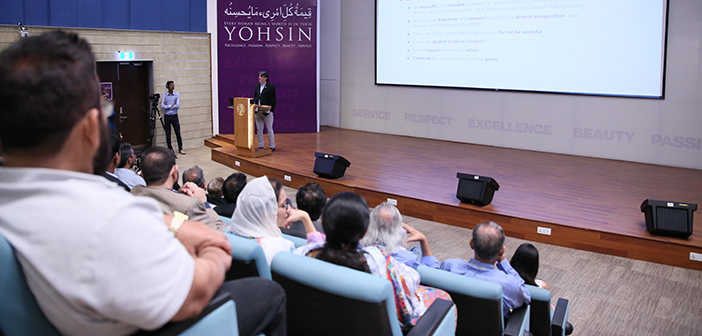 "Our educational framework and mission, being the first Liberal Arts University in this part of the world, has attracted attention from global centers of excellence," Mr. Wasif Rizvi said.
He explained to the incoming students that there is now a Meesaq-ul-Ilm (Covenant of Knowledge) between them and Habib University and that the Class of 2023, in terms of potential, has the ability to become the best class to have ever graduated at HU.
Following Mr. Wasif Rizvi's opening statement, the Vice President Academic Affairs and Dean of Faculty, Dr. Christopher Taylor said a few words during which he welcomed the new students as they embark on a transformative four-year journey in their lives.
He explained to the students and their parents that Habib's unique approach towards education, which is a synthesis between Liberal Arts and Science, makes it stand out from other institutes of higher education in Pakistan.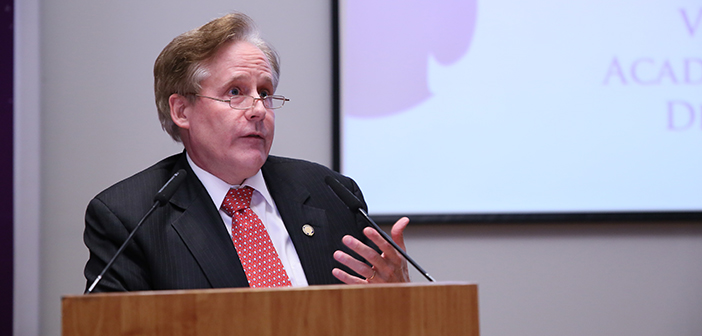 "In this ever changing world, Habib's transdisciplinary curriculum will allow you to become a well-rounded person…all of you must be proactive in your education, because this is going to be a new chapter in your lives," he emphasized.
Dr. Taylor went on to reassure parents that now that their children have joined HU, they all would still have a critical role to play in leading and guiding their sons and daughters. "The role now will be more of listening than just telling, because your child is transitioning into an independent young soul," he said.
Following the opening ceremony, two separate and simultaneous sessions were held on campus. One session took place at the Tariq Rafi Lecture Hall in which President Wasif Rizvi had a vibrant interactive discussion with the Class of 2023. During the session, he explained to students the history of private universities in the United States, such as Harvard University and Yale, and how Habib seeks to emulate their example in Pakistan by making an institute that "the community would co-own".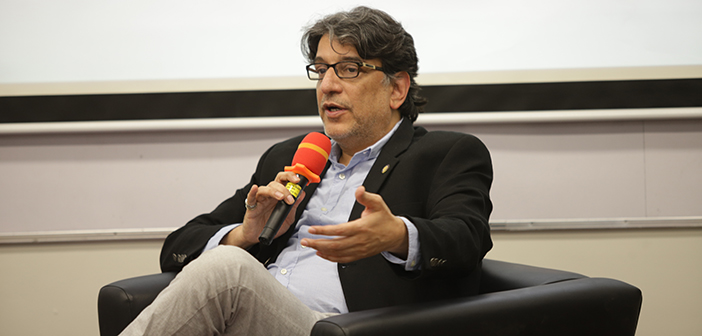 He highlighted this very important point because through a student's well being and a sense of serving the community, students would be able to instill in themselves the qualities of leadership that would benefit Pakistan in future. While taking questions from the students, President Wasif Rizvi emphasized his great hope that by the time they all had graduated, Habib University "would be one of the world's key universities."
In the second session, which was held at the H.M Habib Auditorium, a discussion was held between the parents of new students and the faculty of Habib University. Dr. Anzar Khaliq, Assistant Dean, DSSE and Director playground (Centre for Transdisciplinary Design and Innovation) moderated the panel in which he and other members of the panel answered questions that parents had regarding Habib and the future prospects and opportunities their children would have at the University.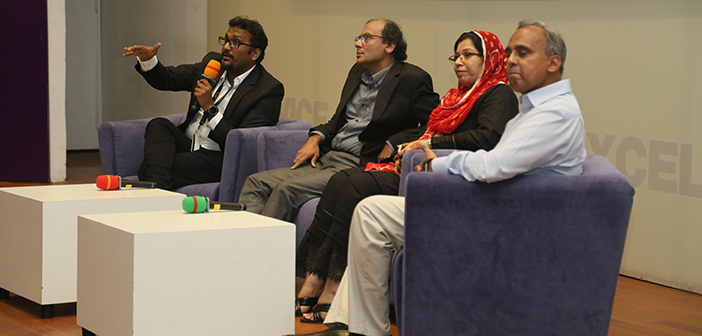 Dr. Anzar explained to parents that Habib University maintains a strong bond not only with the students but also with their parents, who are regarded as partners of the institute. "The transition from high school to university is a phase of major transformation…the doors of HU are always open for guidance and support of parents," he told to the gathering.
Ms. Yasmeen Bano, Director Student Affairs, also spoke at the session in which she advised parents to encourage their children in whatever they want to study."You must always motivate your children to maximize the resources provided by the University," she said and emphasized that HU offers multiple avenues of help for students, including Academic Support, a Health and Wellness Centre, and offices of Student Life and Career services.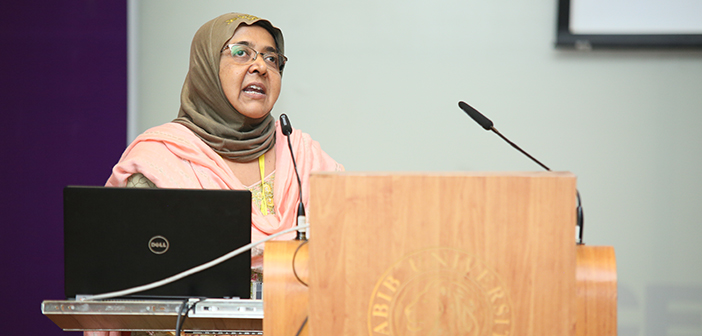 At Parents Night, students and their parents were able understand Habib University's mission and values, and provided comprehensive information about the institute's academic and student service resources and programs. Through this orientation, parents understood that their children will now be joining a University whose unique and transdisciplinary approach to education will help secure their future as leaders and engaged citizens of Pakistan.