KARACHI: Habib University, in collaboration with the Consulate General of the Federal Republic of Germany held a tribute to the city of Karachi within its campus walls, November last year. The university's Center of Media and Design held a tribute of sorts to the city, with corridors lined with colorful street vendors, food, entertainment and a general air of chaos offering a true representation of Karachi.
One of the highlights of the evening was the ambient sound, a looping soundtrack of Karachi streets, complete with sounds of raging buses, street vendors, "thelay-walas", ice-cream trucks and so on.
We caught up with the artist behind this "soundscape", Asad Aly Zulfiqar, a bright eyed, eager freshman undergoing his Communication Studies and Design degree at HU's School of Arts, Humanities and Social Sciences.
The aspiring graphic designer shared with us his inspiration and the idea behind undertaking this project, offering great insight into his vision for Karachi. "I want people to really see Karachi for its beauty, its sounds and its approachability", said Asad.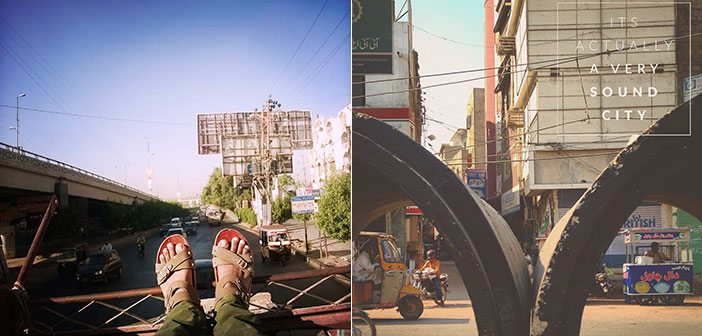 Karachiscape's "soundscape" was a personal project for Asad, who worked on a series of projects in order to "Redefine Karachi". The project was initially only shared with the student's faculty, Markus Heidingsfelder, but once reviewed, it was deemed perfect for Karachiscape.
"I encourage everyone to go out and about and really see Karachi, connect to their space and listen to its sounds", said Asad. What with the city being marked as unsafe till recently, he feels that we need to push past our discriminations connected with the city, and to consider it home in all its senses.
Asad has also received very good feedback about the soundscapes, saying that people considered it soothing to listen to the sounds of Karachi. On top of that, his Soundcloud channel, also named "It's actually a very sound city", has started generating audience who are contributing with soundscapes of their own cities, like Lahore and Islamabad.
"This project has the potential to go nation-wide and that makes me so excited, we can get more and more people to contribute and really come to love their cities through this. It reflects how serene and peaceful their cities are, as opposed to the kind of thing we see on media about Pakistan all the time".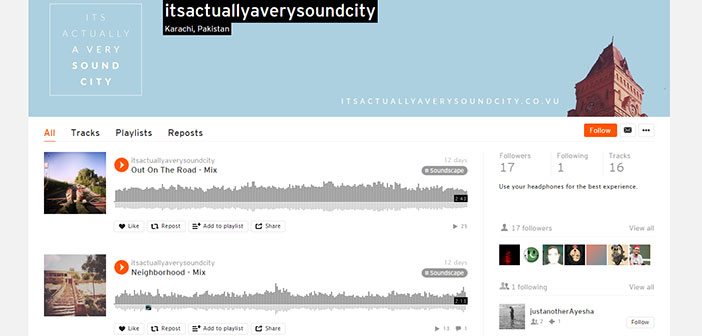 In keeping with the audio and visual focus of Habib University's Metropolis exhibition, several other students contributed to the Karachiscape event in various forms. One of these was photography, wherein students displayed various parts of the city through their own individualistic lens. These projects were displayed along the corridors of the campus during Karachiscape, and were also available for viewing separately.
Karachiscape was just one of the many different projects and events arranged by Habib University to reclaim the city of Karachi, to display it as a center of energy and creativity to its internal and external public.