HABIB UNIVERSITY, August 29, 2016: Habib University hosted Syed Babar Ali – founder and pro-chancellor of the Lahore University of Management Sciences (LUMS) – here at the Tariq Rafi Lecture Theater on Monday for a talk titled 'The Past, Present and Future of Higher Education in Pakistan'. The event was a novel occasion for both Mr. Ali and the HU community to learn from each other's experiences.
A veteran businessman and philanthropist, Mr. Ali is responsible for setting up some of the most prominent business and social institutions in Pakistan. At Habib, he traced the trajectory of higher education in Pakistan using his experience as founder of LUMS, one of his most prominent contributions to the country's educational landscape, as a case study. He talked about the opportunities and challenges the Lahore-based institution has faced over its 30-plus year history, and drew parallels with Habib University's story.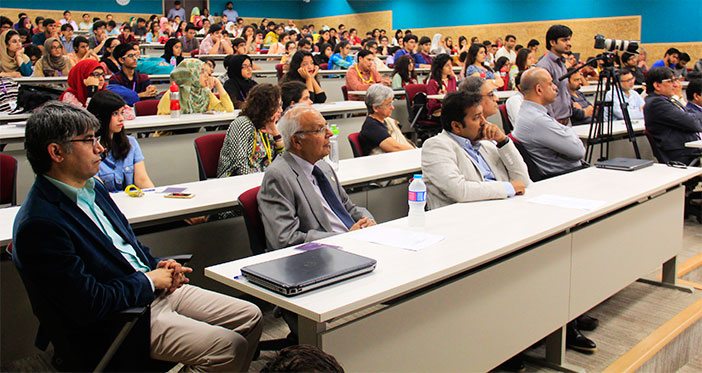 While speaking on the potential of both institutions, he said: "Both LUMS and Habib University share a similar pedigree of academic excellence, but our efforts are a drop in the ocean considering the dire situation of higher education in Pakistan." In order to further their mission, according to Mr. Ali, institutions such as LUMS and HU should nurture a critical mass of young minds by providing a holistic educational model.
LIVE on #Periscope: #HUFaculty Dr. Nauman Naqvi moderating the session with #SyedBabarAli – asks about history and … https://t.co/mLySyB5zFR

— Habib University (@HabibUniversity) August 29, 2016
Mr. Ali kept the session interactive, repeatedly expressing that he was there to learn, and that he had been "looking forward to speaking with the students here". His eagerness to learn was reciprocated by HU's faculty and students, who, while interacting with him during the Q&A session, sought his insights on the state of higher education in Pakistan.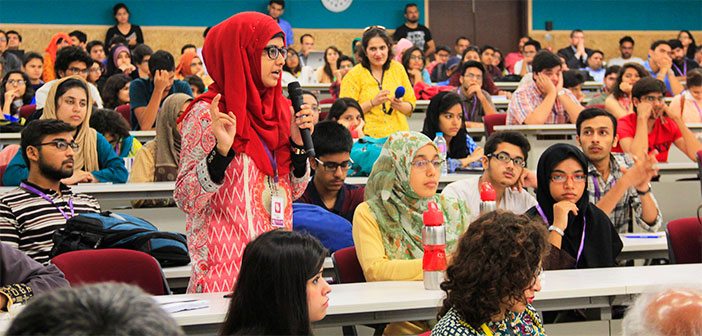 The talk was moderated by a distinguished member of the HU faculty, Dr. Nauman Naqvi, who is currently serving as Director, Habib Liberal Core. As a token of appreciation, Mr. Ali was presented a memento by the Habib University Chancellor, Mr. Rafiq M. Habib, who also thanked Mr. Ali for taking time from his busy schedule to visit and appreciate the HU campus.