With the world heading a deadly pandemic marauded the streets, renowned Urdu poet Kishwar Naheed reminded us that there is a need to heal our souls and to revive ourselves.
She said this during a poetry recital, Poetry in a time of Pandemic. The event had been organized by the Arzu Centre on 4th March, and had been moderated by Mr. Inamullah Nadeem, Assistant Professor, Arts, Humanities, and Social Sciences.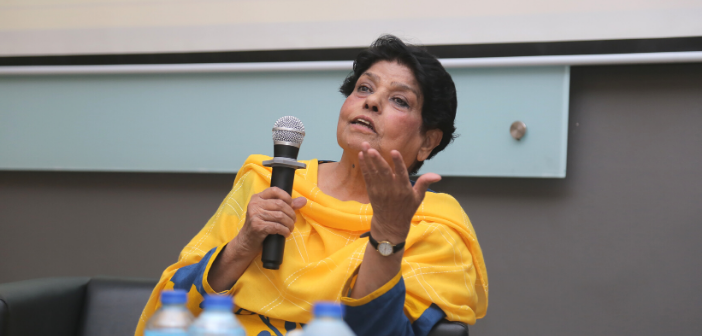 Kishwar Naheed talks about her experience of remaining in isolation while infected with Covid-19 and how the pandemic shaped her poetry.
Naheed had paid a visit to Habib University to speak about her latest book, Darya Ki Tashnagi (The Thirst of the River, Sang-e-Meel publications, 2020) and to illuminate healing in the time of disease as a profound human experience beautifully illustrated by poets and writers. The talk began with Naheed recalling the time she spent in isolation after contracting the Novel Coronavirus in June last year.
"I was told I was to isolate for 15 days," she said, as she narrated her ordeal.
"I could not meet anyone nor touch anyone," the poet said. Describing her trip to the doctor, she said that when she got there se was quite anxious. When the doctor asked her to sit down and relax, she instead asked for a book.
"The doctor told me that a book isn't medicine but I retorted that if I sit idle, my blood pressure may shoot up even more so please give me a book so that I can read while I isolate."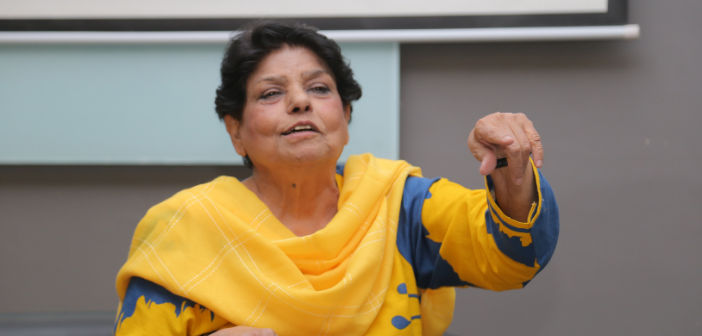 Kishwar Naheed recites verses from her latest poetry collection, Darya Ki Tashnagi.
She summarized her illness and the accompanying isolation as being "synonymous to feeling scared about death – we're never prepared for it."
Nadeem described it as, "aisa lagta hai kay kisi ki buri nazar lagi hai" (it feels like we have been cursed) noting that the pandemic had spread uncertainty, darkness and sadness everywhere. The Sitara-i-Imtiaz award-winning poet spoke about how social distancing is difficult to practice in a culture such as ours.
"Embrace holds a different implication altogether. Whether we meet someone old or young, we feel the depth of our existence and love by embracing each other."
Naheed mentioned that she learnt not to let depression consumer her during the pandemic.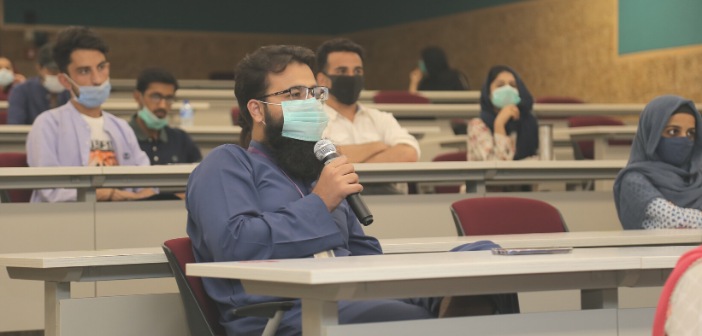 A student asks Kishwar Naheed a question during the session.
"I used to read for two hours, look for old books, watch videos," she shared. "Whenever I felt my breathing complicate, I would read or write. When you read something or think about something, there is a dialogue progressing inside of you. Try and keep that dialogue going. Stories about our childhood give us strength. Keep thinking about the why's and the how's, and let some things remain incomprehensible. The mind will start to open up."
However, she admitted that the scenario was quite horrific given how many people would go amiss after contracting the virus.
"When I watched people disappearing on the stairs, knowing that they had contracted the virus, I would wonder what will happen [to me]," she said noting that she saw a lot of people scared, and some people not scared at all in the isolation ward.
"The distances grew between people."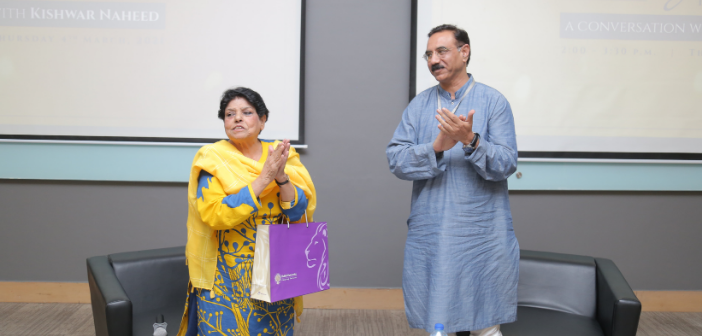 Kishwar Naheed receives a gift presented on behalf of Habib University by Mr. Inamullah Nadeem.
Naheed went on to recite some of the poems she wrote during isolation including 'Dhoop say Aagay' and 'Ghalib aur Mahatma Gandhi ka Mukalma' (dialogue of Ghalib and Mahatma Gandhi). The later asks Ghalib to take note of the bold women of the Shaheen Bagh protests before shedding light on Urdu's diminishing presence in India and rising hatred in the region.
Ae nosha-e-sukhan saaz
Teri Urdu ko tamasha bana diya gaya hai
Tum ne apne zamane ka ghadar dekha tha
Is zamane ke ghadar mein
Gairva rang chhaya hua hai
Ab dozakh ki aag
Nafraten ban kar, shehr shehr dahak rahi hai
Dilli ki galiyon mein Amir Khusrau
Bain karta hua phir raha hai
Oh happy poet
Your Urdu has been made into an exhibition
You had seen your own period's sedition
In our own time's sedition
Spread is the colour of saffron
Now the fire of damnation
Is burning from city to city, becoming an abomination
Amir Khusrau, in the streets of Delhi, wandering
Is engaged in wailing.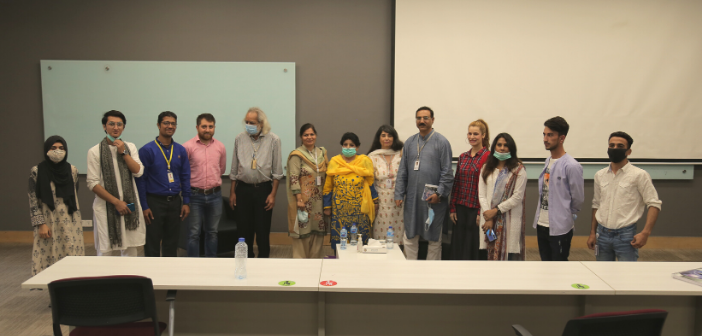 Kishwar Naheed and Mr. Inamullah Nadeem pose for a group photograph with Habib University staff and faculty.
When asked about the activist element in her poetry, she recalled her participation in women's day marches over four decades ago and how they were baton-charged and arrested by the police.
She also narrated a time during partition when a female student of Aligarh was kidnapped and how when she visited women in a remote village, and the sanitation issues they faced there.
Naheed explained that instances like these should be noticed, not ignored.
During the question-and-answer session, she advised the listeners to keep reviving themselves by living, laughing and enjoying.
In the end, she paid tribute to the late Dr. Asif Farrukhi, who was her introduction to Habib University. She also appreciated the work being done at Habib University.
"Universities are a means to further knowledge," she said, adding that Habib University has succeeded in creating an environment where sciences and literature can be taught with freedom for intellectual discourse where students learn to ask the right questions.